5.19.10
Unsung Heroes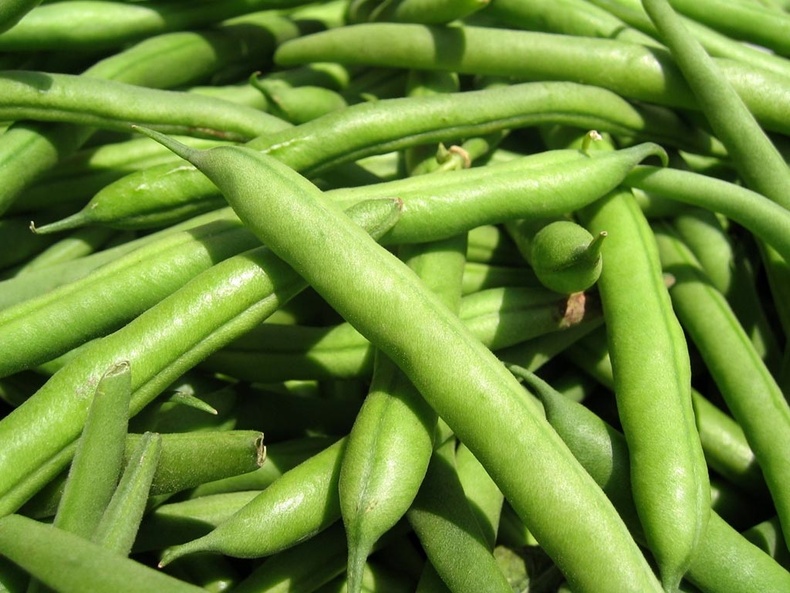 My dear friend Jamie asked me to post a few recipes for some "regular old vegetables," the kind she picks up at the grocery store and wants to whip up on a weeknight. There's no shame in throwing carrots, green beans and broccoli in your basket, but try to get them from the farmers market, or at least buy organic. The quality and flavor are just that much better. I'm still exhausted from writing yesterday's post about fats, so I'm not going to drone on too much. Just letting you know that a few of my favorite "common vegetable" recipes follow, including some quickies pulled right from one of Mark Bittman's articles in the Times, where he lists 101 salads, or 101 things to do with chicken. (Don't you adore Mark? Didn't he almost save that On the Road show from being completely mired down in Mario & Gwyneth's repellent self-love?)
GREEN BEANS WITH MISO-WALNUT SAUCEserves 4from Mark Bittman in the New York TimesSalt10 ounces green beans, strings removed1 inch-long piece ginger2 tablespoons light (sweet) miso1/2 cup shelled walnuts1/2 teaspoon soy sauce, or to tasteBring pot of water to a boil and salt it; blanch beans in water until they are bright green and just tender, about 5 minutes. Drain and refresh in cold water, then drain again. Place in a serving bowl.Grate ginger over bowl, then place in small fine strainer and press out juice, about a teaspoon. Combine ginger juice with miso, walnuts, 2 tablespoons water and soy sauce in blender and blend until smooth, stopping machine and scraping down sides if necessary. (You may add a little water or soy sauce if mixture is too thick.)Toss beans in sauce, and serve at room temperature.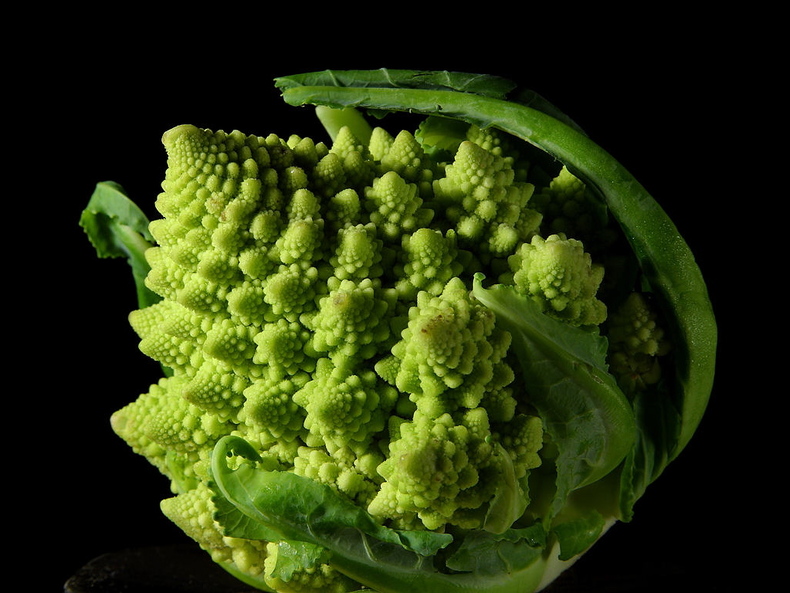 The following recipes for broccoli can also be made with this beautiful romanesco broccoli (sometimes called roman cauliflower) which you may have marveled at but not known how to eat. It's a bit more tender than "regular" broccoli, so cook it a bit less. You could also substitute cauliflower, for that matter.ROASTED BROCCOLI WITH ALMONDSserves 2adapted from arielleclementine on Food521 head of broccoli, cut into floretsextra virgin olive oil, for drizzlingsea salt, for sprinkling¼ cup extra virgin olive oil1 teaspoon spicy pimentón (paprika)1 garlic clove, minced1 ½ tablespoon cider vinegar1 pinch sea salt¼ cup marcona almondsPreheat the oven to 425 degrees.Toss the broccoli florets on a baking sheet with a drizzle of olive oil and a hefty sprinkling of kosher salt. Roast for 20 minutes.While the broccoli is roasting, prepare the vinaigrette. Heat 1/4 cup of olive oil in a small skillet over medium heat until quite warm (about 2 minutes). Stir in the minced garlic and the smoked paprika and remove the pan from the heat. Let stand 10 minutes.Put the sherry vinegar and a pinch of salt in a small bowl. Slowly whisk in the paprika oil. Try to leave most of the solids (paprika and garlic) in the skillet, if possible.After 20 minutes, remove the broccoli from the oven and toss the marcona almonds on top. Drizzle with a few tablespoons of the vinaigrette, toss and serve immediately.BROCCOLI BAGNA CAUDA serves 2adapted from mariaraynal on Food52 1 head of broccoli, chopped into florets3 tablespoons butter1 tablespoon olive oil2 cloves garlic, minced2 anchovy filletsa splash of white winea big squeeze of lemonParmesan cheese, for dusting1/4 cup toasted almonds, choppedsea salt and pepper, to tastePreheat oven to 425.Arrange broccoli florets on a parchment-lined cookie sheet. Season with salt and pepper and drizzle with olive oil. Roast for 20-25 minutes and remove.In a small skillet, melt butter and olive oil over medium heat. Add garlic and anchovy and saute for about three minutes. Add wine and lemon and reduce for a minute or two. Season with black pepper if desired.Drizzle sauce and sprinkle toasted almonds and cheese over broccoli.BITTMAN QUICKIESHe's just riffing as he makes these up, and so can you. Ginger, garlic, mustard, vinegar, lemons, parmesan, olive oil, raisins, nuts, spices, chiles—these are all things you should routinely stock, so that when you bring home fresh vegetables you can improvise.*Grate carrots, toast some sunflower seeds, and toss with blueberries, olive oil, lemon juice and plenty of black pepper. Sweet, sour, crunchy, soft.*Make a vinaigrette spiked with minced ginger. Soak a few prunes in it while you slice a fennel bulb. Combine and enjoy this unusual combination.*Classic Moroccan carrot salad: Thinly slice carrots, or grate or shred them (the food processor makes quick work of this). Toss with toasted cumin seeds, olive oil, lemon juice and cilantro. Raisins are good in here, too. There is no better use of raw carrots.*Shred or finely slice Napa cabbage and radishes. Make a dressing with roasted peanuts, lime juice, peanut oil, cilantro and fresh or dried chili, all whizzed in a blender. Deliciousness belies ease.*Dice cucumbers (if they're fat and old, peel and seed them first) and toss with cubes of avocado, a little rice vinegar and soy sauce.*Blanch spinach, then drain and shock in ice water. Squeeze it dry, chop it and toss it with toasted pine nuts, raisins, olive oil and a tiny bit of balsamic vinegar.*Boil bite-size red potatoes (or any ones you like). While still warm, dress them with olive oil, lemon juice, whole grain mustard, capers and parsley. Chopped shallots, chiles and bacon are all welcome, too.*Roast beets whole, then slice or cube and toss with a little chopped garlic (or a lot of roasted garlic or a shallot), toasted walnuts, orange juice and olive oil.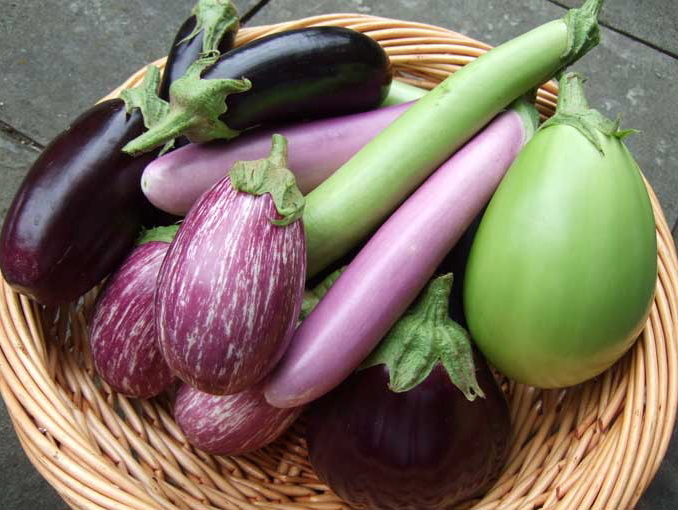 This last recipe is an all-time favorite of mine. I call it Caro's Eggplant Salad after my friend who used to make it, but she really got the idea from the old classic Silver Palate Cookbook, an '80s staple. I know quite a few people don't care for eggplant, though I've never really understood why. I love the way it absorbs the lemon and olive oil flavors here. You can make this ahead as it's best eaten at room temp or even cold. It goes great with grilled lamb or even heaped on a burger.SILVER PALATE EGGPLANT SALADServes 63 medium eggplants (4.5 lbs or so), skin on, cut into cubes1 cup olive oil1 tablespoon coarse sea salt4 cloves garlic, peeled & minced2 large yellow onions, peeled, halved & thinly sliced1 cup fresh basil leaves, coarsely choppedJuice of 2 lemonsGround black pepper, to tastePreheat oven to 400.Toss eggplant with salt, minced garlic and half the oil. Spread in single layer on foil-lined baking sheet or pan and roast for 35 minutes, until soft but not mushy. Cool and transfer to a bowl.Meanwhile, saute onions in remaining olive oil over med-low heat for until quite tender, about 20 minutes. Add to eggplant. Toss with lemon juice and basil, add freshly ground pepper and adjust seasoning to taste. Serve at room temp.