4.22.10
Lady Who Lunches
Can I tell you a little secret? I absolutely love eating lunch out by myself. As much as I enjoy meeting friends, I really like taking an hour out, relaxing with a book (on my Kindle!) or just taking in the sights. It doesn't have to be a fancy place—I'm a huge fan of the very low-key
City Bakery
—but I'll confess to having a weakness for fine dining. (
What, you didn't know?!
) I was in the Madison Square Park area, scarcely having recovered from dinner the previous night at Momofuku Ssam (where I accidentally ate a big piece of kimchi and had the WORST garlic breath for about 12 hours; OK,
and
I ate the MOST delicious lo mein noodles with trout roe and the skinniest ramps all afloat in pools of butter), and I had an hour or so to kill before a meeting, so I decided to duck into
11 Madison Park
for a little luncheon. I knew I could eat at the bar there, having done so in the past, and I often prefer that when I'm alone. It's a very beautiful room, as you can see above, and pretty much everything about the place is perfection. The service, as at all of Danny Meyer's restaurants, is very friendly, but it's also rather formal here.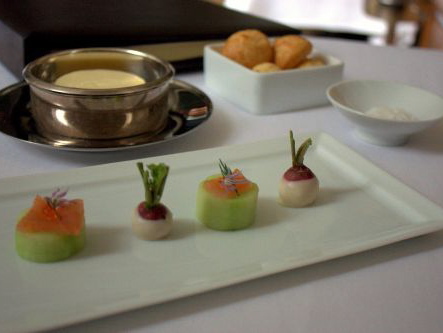 At the bar you get all same incredible attention as sitting in the main room, plus a gorgeous leather placemat. Although the menu is set up as two prix fixe menus and a larger tasting, I was able to order whatever I wanted a la carte. They started me off with a few gifts from the chef: a carrot marshmallow (!) that was intensely flavored and lovely to look at (sorry, I didn't take any pictures); a tiny square of foie gras topped with a thin layer of green cucumber gelée; and a little plate of warm gougeres (little cheesy choux puffs)—such an abundance of riches, in fact, I had to pass the gougeres down the bar to the lovely Nicole who was reading a book and nursing a glass of wine on her own.Here's what I ordered:Salad of Spring Asparagus with Poached Egg Yolk and GrapefruitBig Eye Tuna Tartare with Sweet Peas, Mint and Sheep's Milk YogurtLemon Meringue TartSounds simple enough, right? The divine is truly in the details. Frank Bruni gave 11 Madison Park 4 stars in 2007, about a year after Swiss chef Daniel Humm took the helm, and it's still clearly of that caliber. The produce they source is extraordinary and so beautifully showcased. The tiniest baby peas, the most slender white asparagus, microscopic greens—the onset of spring seemed to be happening before my eyes. That poached egg yolk that came with my asparagus salad? It was disguised as a couple of little breaded and lightly fried balls that I thought would be goat cheese but turned out to be encasing perfectly soft and brilliantly yellow yolk. So clever. Alongside the tuna tartare were icy droplets of mint sorbet that burst on my tongue. And the lemon meringue tart (I also shared this with Nicole—a purely selfish move so I wouldn't eat the whole thing!) was perfectly executed, a floppy, pale lemon curd and a burnished swirl of creamy meringue, with a smear of tart creme fraîche glossing the plate.Everything was delicate, just so, but none of it seemed overly fey or fussy. And the price was truly right. It's actually a bargain to sit at the bar for lunch. I didn't spend much more than I would have at the salad bar in City Bakery. I hope you get the chance to pop in when you're out and about and feeling like you deserve a little treat.