4.8.10
Prints Charming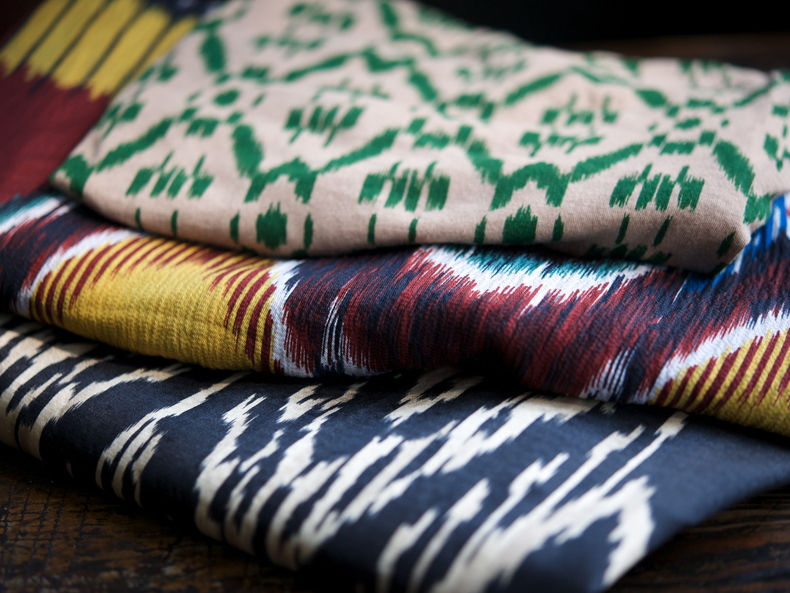 Ikat is all the rage now, so I'm sure you've seen it on the runways and in plenty of shelter blogs and magazines. I've been madly in love with it ever since I encountered my first piece in Indonesia about 15 years ago. Since then, I've looked for it in many places, with varying success. Although I always associated it with Southeast Asia, and had found different types in India and Cambodia, it was thanks to the internet that I discovered it's also a national art in Uzbekistan! The three types shown above are all from the spring 2010 collection of Dries Van Noten. The top and bottoms ones are woven ikat, and the middle one is an ikat print. They were absurdly expensive but I can't say I regret it: I am officially obsessed with ikat and know I will wear these pieces for the rest of my life. (Note to self: must not get any fatter!) What exactly is ikat, you ask? And well you might.
Ikat (meaning "to tie" in Indonesian) is a style of weaving that uses a resist dyeing process (like tie-dye) on thread to create a pattern or design before it is woven. One theory claims that ikat was taken to Southeast Asia from southern India during the diffusion of the Hindus. Anyway, however it spread, I'm just glad it got around. The stuff is beautiful. Now I've learned that it can be found in Central and South America and even Japan. The amazing Uzbek ikat, using especially striking color palettes, is almost all made from silk. Ikats are often symbols of status, wealth, power and prestige, undoubtedly because of the difficulty and time required to make them.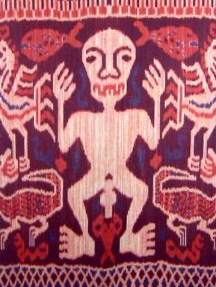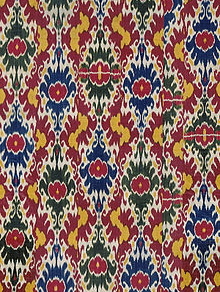 Now, because I love you very much, I'm going to let you in on a little secret. You may think that the only way you're going to get your hands on any of this gorgeous ikat is by a) traveling to one of these exotic locales; b) shelling out beaucoup bucks to
Dries
or that talented
Madeline Weinrib
who is charging astronomical amounts for the custom-designed silk ikats she's having produced god-knows-where (Side story: I wanted to cover a couple of lamp shades in ikat and went to her "atelier" at ABC Home to price it out—$1,200/yard, 2 yard minimum—eek!); or c) learn to weave it yourself. A little investigating online and I was the ecstatic recipient of 2 yards of gorgeous silk ikat, straight from Uzbekistan (the package was wrapped in brown paper and sealed with wax!), for $70. Yes, $70. I also bought an unbelievably gorgeous cotton-&-silk ikat robe on ebay for around $100. Wait, I'm going to go take a picture of it for you right now.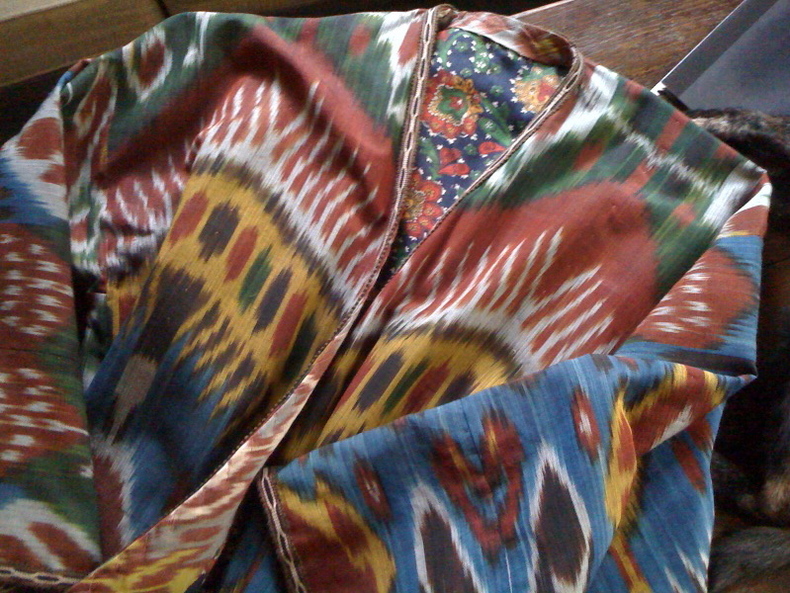 You, too, can go online—on ebay or sites such as
this one
— and shop up a storm for some beautiful ikat fabrics, or scarves, pillows, even clothes. A touch of ikat might be just what you need to revive your dull little couch, or lamp, or wardrobe...