2.7.10
Agent Orange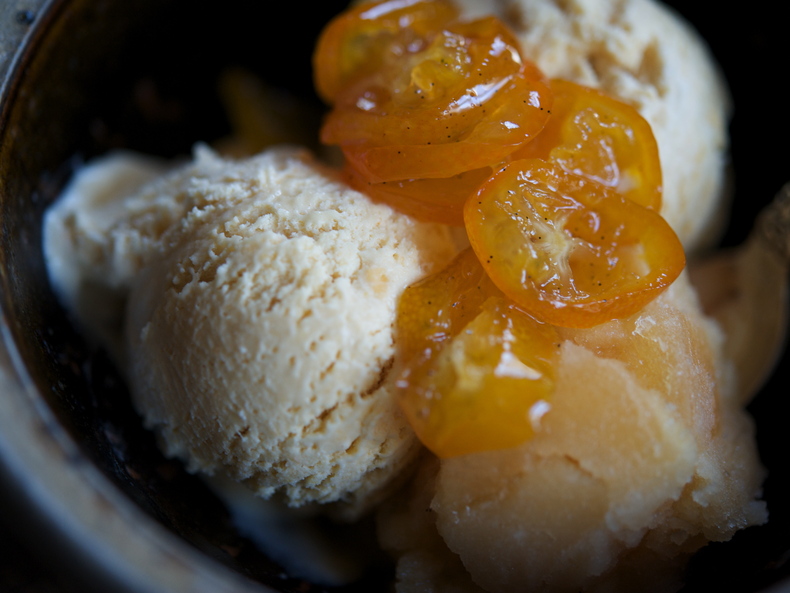 Here I am, still carrying on about citrus. Have you bought any of those gorgeous Cara Cara oranges yet? These juicy, low-acid, virtually seedless navels are an excellent source of Vitamins C and A, fiber, potassium, and Lycopene, a disease-fighting antioxidant. Plus their bright coral flesh is super-sweet and delicious. They're wonderful just peeled and eaten plain, or sliced with fennel for a simple salad, or squeezed for juice. But last night I used them to make a special treat: ice cream! I found a great recipe that Sheila Lukins (R.I.P.) managed to weasel out of Bill Gross, the former executive sous chef from Café Gray, Gray Kunz's now sadly defunct dining palace in the Time-Warner building. (I've been a huge fan of Kunz's since his glory days at Lespinasse in the St. Regis.) I really enjoyed making this ice cream. There are a couple of extra steps essential to its rich, complex taste, but the resulting adult creamsicle extravaganza (shades of Orange Julius if you grew up in California) is so worth it.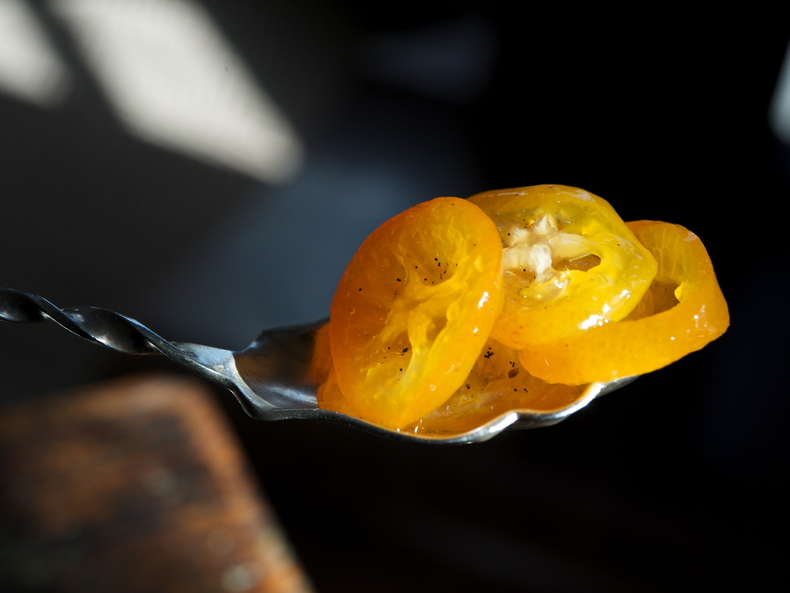 I served it alongside a scoop of leftover
citrus sorbet
, and over the top I plopped a few candied kumquats—yet another citrus that's in season at the moment. These small, oval fruits—originally from China and now deeply fetishized in Japan—have an almost inverse quality to oranges: their rind is sweet and their flesh is tart and salty. They can be eaten raw or sliced into salads, but are often candied or made into marmalade or jelly. The Cantonese preserve kumquats in salt, much the same way the Moroccans preserve lemons. A batch of the fruit is buried in dry salt inside a glass jar. Over time, the juice diffuses into the salt and the fruit shrinks, becoming wrinkled and dark. The salt combines with the juice to make a dark brown brine. Several salted kumquats with a few teaspoons of the brine may be mixed with hot water to make a remedy for sore throats, not unlike
this one
. A jar of such preserved kumquats can last several years and still keep its taste.I was inspired to make these candied kumquats after lunching recently at Craftbar. It was restaurant week, so dessert was part of the prix fixe (I probably would not order dessert on a regular weekday lunch outing) and mine was a divinely creamy panna cotta topped with these sweet, slightly bitter and wonderfully chewy little rounds of candied kumquat. There's a jar of them in my fridge now, to be spooned over yoghurt or mixed into a salad of frisée and goat cheese. Let me know how you like them...
BURNT ORANGE ICE CREAM
from executive sous chef at Café Gray, procured by Sheila Lukins for her book
Ten: All the Foods We Love and Ten Perfect Recipes for Each
makes 5 cups
FOR THE ORANGES:
2 1/2 cups granulated sugar4 tablespoons (1/2 stick) unsalted butter, at room temperature2 large navel oranges (each about 6 ounces)
FOR THE ICE CREAM:
3 cups heavy (whipping) cream2/3 cup half-and-halfSeeds scraped from 1 vanilla bean*, or 1 tablespoon pure vanilla extract2 large egg yolksPrepare the oranges one day ahead. Position a rack in the center of the oven, and preheat the oven to 450°F.Place 1/2 cup of the sugar on a plate. Rub the butter over the oranges, then roll them in the sugar.Pour the unused sugar from the plate into an 8-inch square baking pan, and shake it around to cover the bottom of the pan. Place the oranges in the pan and bake, moving them around once during cooking to break up any unmelted sugar, until they start to color and some of the sugar in the pan starts to melt, 15 to 20 minutes.Remove the pan from the oven (leaving the oven on), and using tongs and a sharp knife, carefully quarter the oranges. Place the quarters, skin side up, in the baking pan and bake until the peel is dark brown, about 35 minutes. Let the orange quarters cool slightly.Remove the peel from 4 of the browned quarters, discarding the pulp. Leave the other 4 quarters intact.Combine the orange peel, the 4 intact quarters, the sugar from the pan, and the remaining 2 cups sugar in a food processor, and puree. Strain the puree (this is a lot of work but worth it) into a container, cover it, and refrigerate for at least 8 hours.The next day, prepare the ice cream mixture. Place the orange puree in a saucepan over medium-low heat and bring it to a simmer.While the orange puree is heating, whisk the cream, half-&-half, vanilla seeds, and egg yolks together in a large bowl. Then, whisking constantly, slowly add the hot orange puree. Let the mixture cool to room temperature, and then refrigerate it until it is cold, 3 to 4 hours.Freeze the mixture in an ice-cream maker according to the manufacturer's instructions.Transfer the ice cream to a container, cover, and store in the freezer until ready to serve.* You can recycle the scraped-out vanilla beans. Just place them in a large jar, add 4 cups granulated or rapadura sugar, cover the jar, and let it sit for 3 weeks to create vanilla sugar. As you use it up, you can keep adding more sugar to the jar as the beans will keep indefinitely. Not sure how to use it? Substitute it for plain sugar when you're baking; stir it into your coffee; use it when you're making caramel; sprinkle it on plain yoghurt, etc.
CANDIED KUMQUATS
4 cups fresh kumquats1 cup water1 vanilla bean2 cups plus 2 tablespoons sugarThinly slice kumquats crosswise with a sharp knife, discarding seeds.Combine water and 2 cups sugar in a 2-quart heavy saucepan. Scrape in seeds from vanilla bean, and add bean. Bring to a boil, stirring until sugar is dissolved, then simmer syrup, uncovered, 5 minutes. Stir in kumquats and simmer gently 10 minutes.Drain and cool kumquats in a sieve set over a bowl, then return drained syrup to pan and boil until reduced to about 11/3 cups, 3 to 5 minutes. Cool syrup. Place drained kumquats in a glass jar and pour cooled syrup over. Refrigerate until ready to use.