1.26.10
The Artist's Way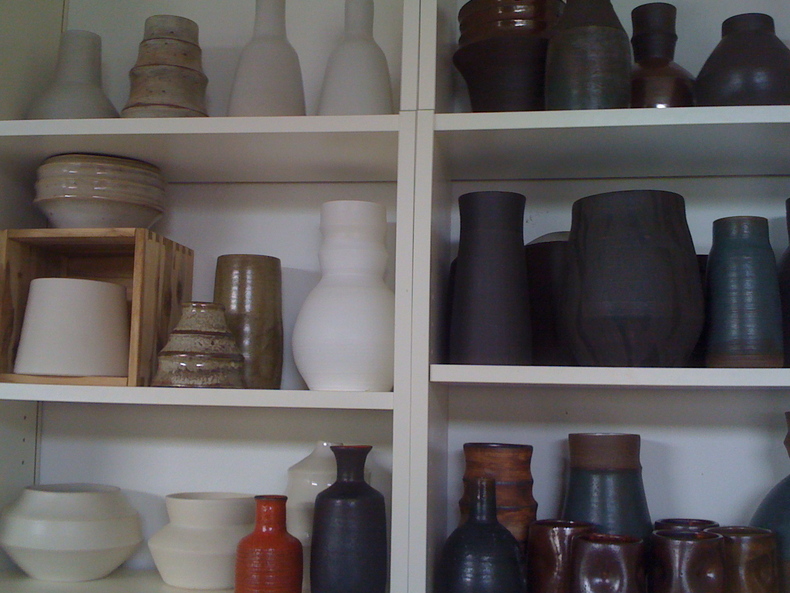 Among the friends I count myself lucky to have in Los Angeles is Mirena Kim, the woman responsible for this wonderful pottery. She is an artist, whose aesthetic extends to everything she touches. Simple, soulful and subtle, with an underlying warmth, it is also a reflection of her persona. Not only did I get to visit her home studio, but there I was treated to a fantastic lunch. Born in Korea and raised in Los Angeles, Mirena was the person who introduced me to Korean food (and taught me what to order in New York's Korean barbecue restaurants) and first brought me to the huge Asian supermarket (and food court) in downtown L.A. We are kindred spirits who share a love of cooking, art, textiles, domesticity and a good laugh.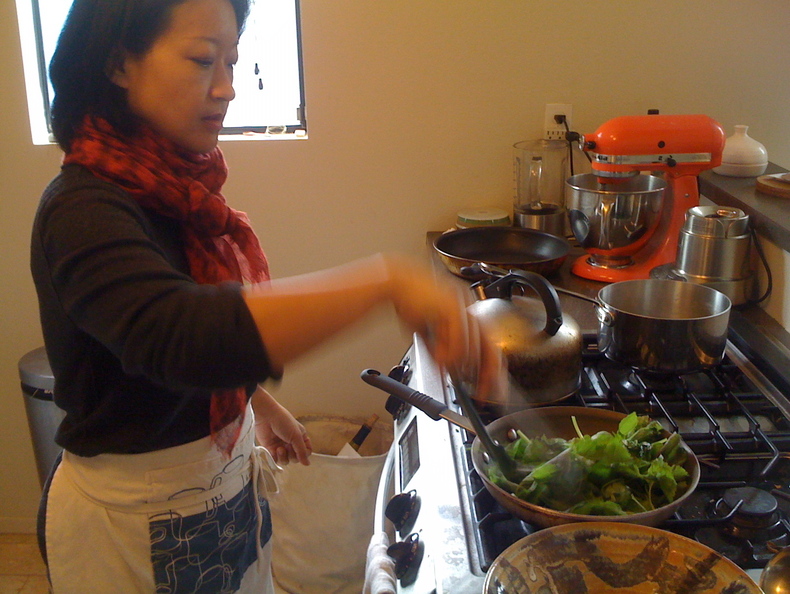 When I arrived, she had lots of little dishes already prepared, with just this simple stir-fry of perilla to finish up. Although all the research I've done seems to indicate that perilla, a member of the mint family, is exactly what we know as the shiso used in Japanese cooking, this tasted different, slightly more bitter. In Korea, it is known as "wild sesame." It had the light, tangled quality of pea shoots and, cooked down with a little sesame oil and say sauce, it was delicious. Mirena also served a kombu and mushroom broth with shiitakes and tofu; and an acorn jelly that was like a savory, adult jello.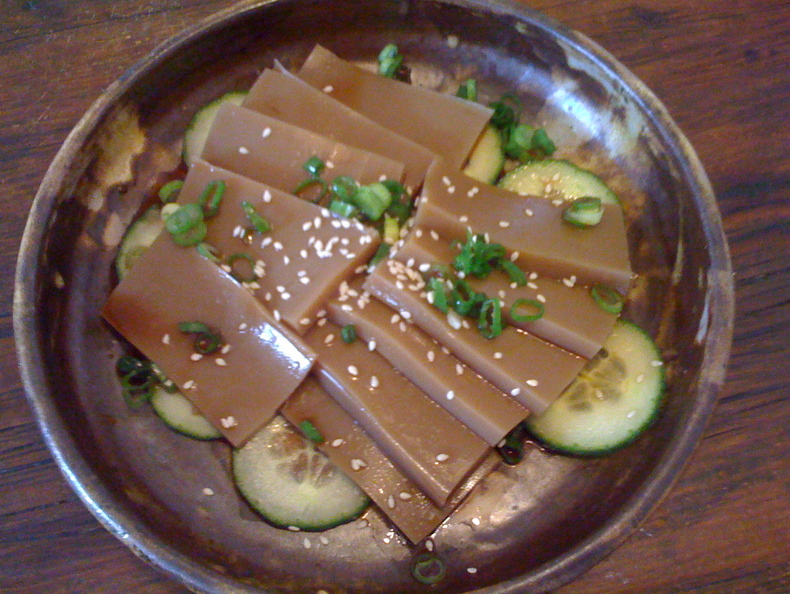 There was daikon, lightly poached, which gave it a less crisp texture and a more pronounced flavor; and a quick-cooking short-grain brown rice; and little black soy beans that were sweet and salty. But I think my favorite dish was made with dehydrated zucchini. Mirena says it comes in a package just like dried mushrooms. She soaked it in fish broth to rehydrate it and then sauteed it. It had a marvelous, chewy quality—almost meaty—and a rich, intensified taste.
I think I will have to get a dehydrator so I can try to make my own (and also re-create the amazing dried persimmons from the Santa Monica farmers market). We drank tea, and for dessert there was dark green mugwort jelly with just that faintest herbal favor and the familiar consistency of a No. 2 pencil eraser. I preferred the little chunks of chewy pumpkin nougat, dusted with a fine malty powder. New tastes, new revelations, brought to me by an old friend. Every plate was artfully composed (on pottery she had made herself!) and the meal itself was beautifully balanced, light yet filling.If you've never had Korean food, I recommend you seek it out in your city. In New York, I recommend
Won Jo
for barbecue and chap jae (yam noodles) and mandoo (dumplings); and
HanGawi
for remarkable vegetarian food.