1.14.10
Rise & Shine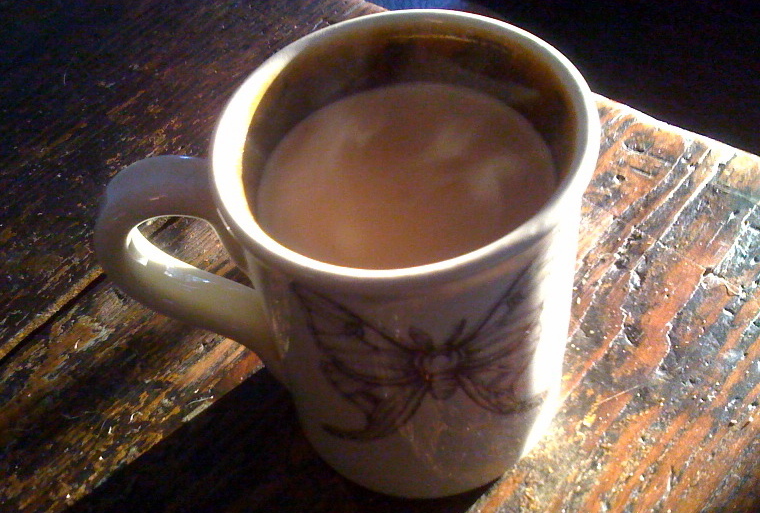 Fresh juice is a great way to start the day. You've probably already read my proselytizing about the many benefits of ingesting live, vital vegetable and fruit
juices
. (Quick primer: you get energy, antioxidants, digestive health, clear skin.) But on these frigid days, something warming does seem in order. I'm not a coffee drinker, never have been, though I do enjoy the occasional cup (especially as a vehicle for cream and sugar), but I am partial to chai. Actually, chai simply means tea. It derives from
cha
, the Chinese word for tea. What I'm really talking about here is masala chai—masala being an Indian word for spice blend. In India, masala chai is drunk like we drink coffee. It's sold on the streets by chaiwallahs (and I think you all know what that is, having sat through
Slumdog Millionaire
.) Instant chai is available, but it tends to be loaded with sugar and fake flavorings. I've been known to order a soy chai latte from Starbuck's (oh, the shame) and the best I can say about it is that it's not very authentic. One prepared version I do like is from the venerable French tea company, Mariage Freres, called
Chandernagor
after the former French colony north of Kolkata (Calcutta). It's a classic blend of black tea with cinnamon, cloves, ginger, green cardamom and black pepper. Sometimes chai will also include ajwain, a pungent relative of caraway; allspice; coriander; bittersweet chocolate; fennel, star anise or licorice root; nutmeg; and vanilla. My favorite tea to use in a chai blend is an Assam, whose assertive taste and slight smokiness can stand up to all the spices. Rooibos tea makes a pretty good caffeine-free alternative. Why not make your own masala chai blend in quantity and store it in a jar or tin? Then you can simply steep it in a combination of milk (cow, goat, soy) and water, adding whatever sweetener you like. I use honey, but sugar, agave nectar or even sweetened condensed milk work well. The spices really enhance the warming effect, and are a great way to get your blood moving on these cold winter mornings.
Masala Chai
makes 8 servings
— 8

whole cloves

— 6

green cardamom pods, crushed

— 2

cinnamon sticks, broken into pieces

— 1/2 teaspoon

ground ginger

— 1/4 teaspoon

freshly ground black pepper

— 8 tablespoons

black tea, like Assam
I combine equal parts water and milk in a small saucepan (about ¾ cup of each for one large mug), adding 1-2 tablespoons of the masala chai per serving, and sweetener to taste, and slowly bring to a boil. Remove the pan from the heat, cover and allow to steep for 5 minutes. Then strain into cup and serve.

I also make a version with just green tea and cardamom that is delicious. You can customize your spice blend however you like, adding more or less of whatever appeals to you. It's also nice to use fresh ginger.



Download Recipe