1.10.10
Chinoiserie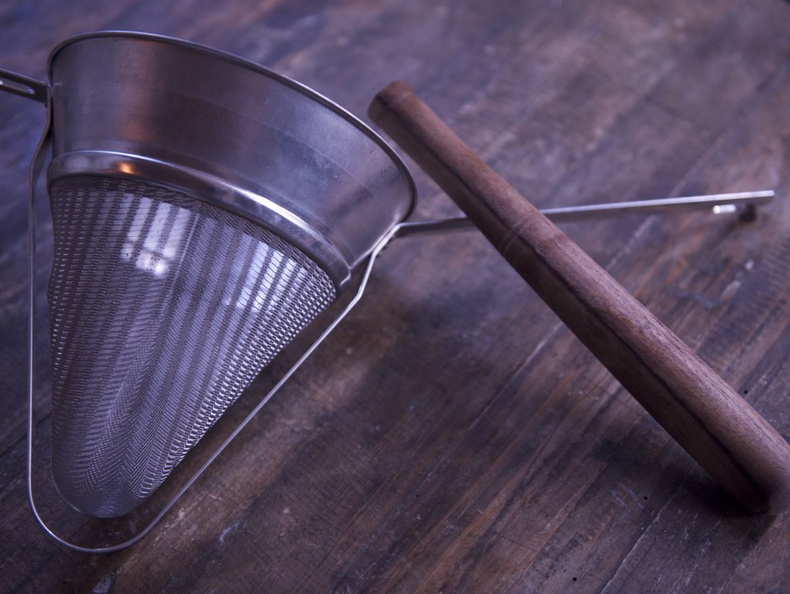 I once read somewhere that were he to come back as a kitchen tool (literally), David Chang would want to be a chinois. So called because of it's alleged resemblance to the straw hat worn by the Chinese, the chinois (or chinoise) is an elegant little device that will elevate your sauces and soups to a new level of sophistication. This conical sieve with an extremely fine mesh is used to strain out the very smallest particles from custards, purees, soups and sauces, thus producing a smooth, velvety texture. It's a rather expensive tool, not to be confused with the cheaper "China cap," which has much larger holes. The chinois usually comes with a dowel that looks a bit like a pointy pestle, which is what you use to work soft foods through the mesh. It lets you easily press every last bit of juice and flavor from the solids. Some chinois come with a stand that is useful for holding it upright over a pot or bowl. Try using your chinois next time you're making stock, pureed soup, jelly or custard. You will be shocked (pleasantly) by how refined the texture becomes and, because you can press on any remaining solids, you will notice a deeper, more intense flavor.
Over the summer, my English friend Sarah asked me to make her a classic English-style rice pudding. I think it would be even nicer now, when it's cold out, because it's a very cozy dessert. This simple version is baked rather than made on the stovetop, so it's incredibly easy to throw together. Since I happened to have some fresh red currants on hand at the time, I made this scarlet sauce to go with it. It provides a bright counterpoint to the creamy pudding and the colors look gorgeous together. If you can't find red currants (fresh or frozen), you can make the sauce with all raspberries or blackberries or a combination. I think it would also be delicious with a blob of lemon curd on top.
English Rice Pudding
serves 4
— 1 tablespoon

butter

— 1/2 cup

short grain rice, uncooked

— 2 cups

milk

— 1 cup

cream

— 1/4 cup

superfine sugar

— generous pinch

salt

— 1 teaspoon

vanilla extract

— whole nutmeg

for grating
Preheat oven to 325 degrees.


Melt butter in a heavy saucepan over medium heat. Add rice and stir to coat lightly. Add milk, cream, superfine sugar and salt. Bring to a low boil, then simmer for a few minutes. Stir in vanilla. Pour mixture into a small, lightly buttered casserole or oven-proof dish and grate a thin dusting of nutmeg on top. Place into a bain marie* and cook for 90 minutes. Serve with red currant sauce.

*A bain marie is a water bath. It just means you need to bake the rice in a dish that will fit inside a bigger pan which can be filled with water. The water should come about halfway up the sides of the rice dish.



Download Recipe
Red Currant Sauce
Frozen berries work fine. If using all raspberries or blackberries, add a tablespoon or so of fresh lemon juice and/or a teaspoon of lemon zest. This sauce is also delicious with angel food cake.
— 2 cups

fresh red currants (1/2 pound), stemmed

— 2 cups

fresh raspberries

— 2/3 cup

granulated sugar

—

salt
Stir together currants, raspberries, sugar and large pinch salt in a medium saucepan and simmer, stirring occasionally, until fruit breaks down, about 10 minutes. Force through a chinois into a bowl and cool. Discard solids.



Download Recipe