12.1.09
Eden in India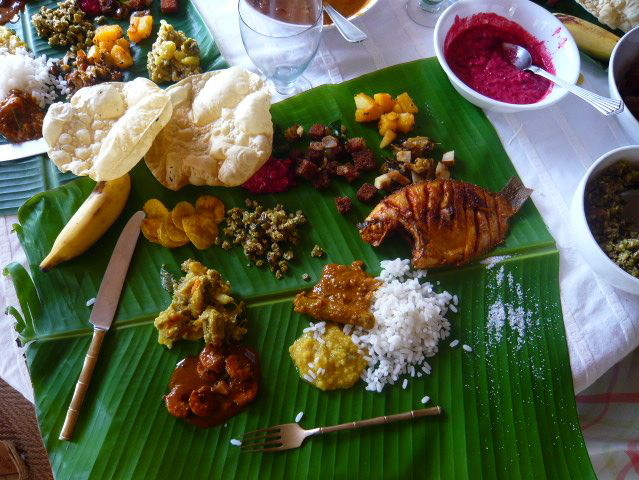 "Just when you think it couldn't possibly get any better, it's time for lunch!" That was the motto for our trip to Kerala in December 2007. A couple of months after G and I got married, we took a five-week honeymoon in India. The first two weeks were spent in southern India with our friends Lisa and Scott, part of the time on these amazing old-style boats that floated along the canals. We spent the days lazing, reading, obsessively bird-watching, and observing daily life along the water's edge. We had our own cooks on board and we stuffed ourselves silly on their delicious regional cuisine, based largely on coconut, ginger and seafood. It's not what you would necessarily think of as "typical" Indian food (although of course it is).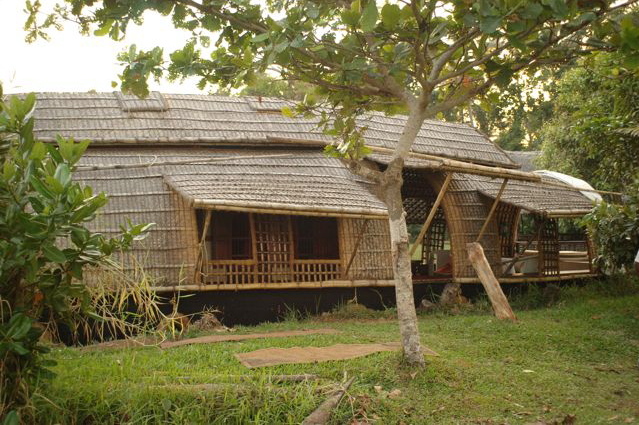 One of our favorite dishes was KFC (Kerala Fried Chicken), coated with a spicy ginger-chile-&-garlic paste and fried in coconut oil! Our boat man and main chef was Gireesh Kumar, who even has his own
website
of recipes. Below, I've given you his simple and delicious fish curry, a staple of southern Indian. Serve it with jasmine rice.
Keralan Fish Moilee
serves 4
— 1 pound

firm white fish fillets (like halibut or pink snapper)

— 1 teaspoon

fenugreek

— 2

cloves garlic, minced

— 1/2

onion, sliced thin

— 1 inch

knob of ginger, peeled and minced

— 1 teaspoon

tumeric

— 1/2 teaspoon

cayenne pepper

— 1

fresh green chile (jalapeño or serrano)

— handful

fresh or dried curry leaves*

— 1/2

fresh tomato, sliced thin

— 1 cup

water

— 2 cups

coconut milk

— 1 teaspoon

lime juice

—

salt
Heat oil over moderate heat in deep skillet and sautee fenugreek and garlic until lightly browned. Add onion, ginger, chile and curry leaves sautee 2 minutes more. Then add water and one cup coconut milk and bring to a boil. Add lime juice and salt with fish and simmer briskly.

Add remaining coconut milk and tomato and simmer briskly for a few minutes, until cooked through. Serve hot with jasmine rice alongside.

*Curry leaves can often be found in the refrigerated section of Indian specialty markets. Other specialty stores sometimes carry the dried version.



Download Recipe