11.25.09
The Great Pumpkin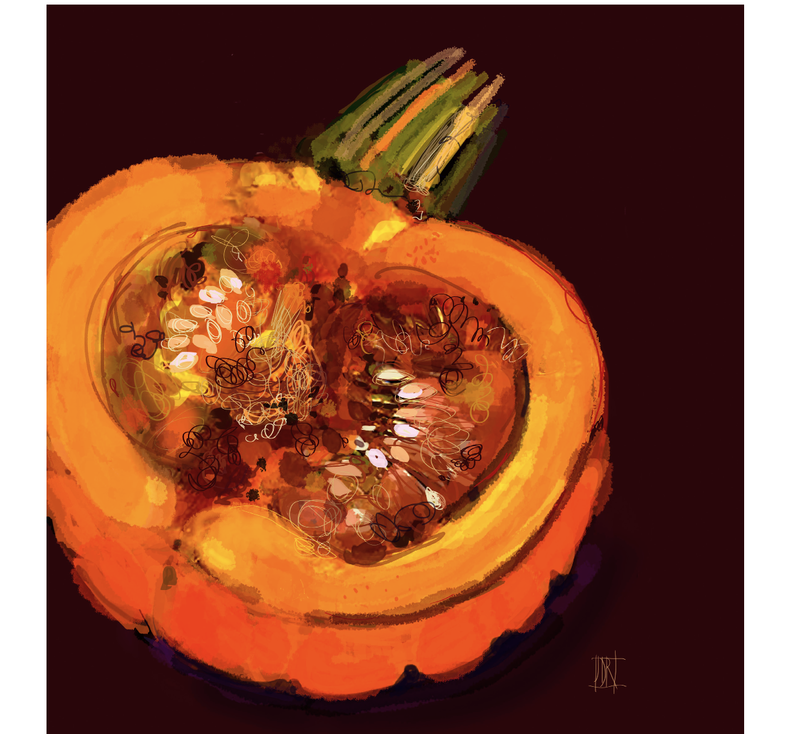 I love pumpkin pie. What I really love about it has everything to do with pumpkin and nothing to do with the crust. It's all about the innards. (Yet another reason why I'm a good match for my gluten-intolerant husband.) I began making this custard years ago, partially influenced by the many flans of my childhood. I like to serve it with a dollop of ginger-spiked crème fraîche and some candied pepitas. And then I like to wake up the next morning and eat it just plain or with yogurt (or with more crème fraîche) for breakfast.

Pumpkin happens to be an excellent source of carotenoids—antioxidants that reduce the risk of cancer. Rich in beta-carotene, it's also one of the highest sources of alpha-carotene, which boosts immunity. And it's got plenty of vitamin C, niacin, calcium and fiber. Even the seeds are full of protein, amino acids, zinc and iron. This recipe takes advantage of all of this great nutrition, which hopefully offsets some of the fat and sugar... I have to confess that this year, feeling all virtuous, I tried to make a tofu-based pumpkin custard, adapted from a Moosewood recipe, and it REALLY SUCKED. (I do have a fantastic recipe for a tofu-based chocolate mousse though.) Fortunately, I had time to chuck it and start over with this one, which is always a hit.
Pumpkin Custard
originally inspired by Martha Stewart; serves 8

— 2 cups

heavy cream

— 2

egg yolks, and 4 whole eggs, lightly beaten

— 1 cup

pumpkin puree, fresh or canned

— 2 1/2 tablespoons

honey

— 2 1/2 tablespoons

maple syrup

— 1/2 teaspoon

allspice

— 1/2 teaspoon

ground ginger

—

whole nutmeg

—

crème fraîche

—

crystallized ginger
Preheat the oven to 325 degrees. Butter 8 1/2-cup ramekins, or a fairly deep ovenproof dish, like a small casserole, that holds at least 10 cups.

Heat the cream in a heavy saucepan. Remove from the heat and stir gradually into the beaten eggs. Stir in the pumpkin puree, honey, maple syrup and spices.

Strain the mixture and divide it equally among the ramekins, or pour it all into the casserole. Grate a thin layer of fresh nutmeg over the top.

Place the ramekins or casserole in a large roasting pan. Fill the pan with enough hot water to reach halfway up the sides of the custard dishes. Place the pan on a rack in the bottom third of the oven and bake until set, approximately 40 minutes. A single dish will take about an hour. Cool before serving. (I actually prefer it well chilled.) Serve custard with a dollop of crème fraîche into which you have stirred some chopped crystallized ginger and top with a sprinkling of the candied pumpkin seeds detailed below.



Download Recipe
Candied Pumpkin Seeds
adapted from Suzanne Goin's Sunday Suppers at Lucques
makes 1/2 cup
— 1/4 teaspoon

cumin seeds

— 2 teaspoons

unsalted butter

— 1/2 cup

pepitas (raw pumpkin seeds)

— 1 tablespoon

granulated sugar

— generous pinch

each ground cardamom & cayenne

— 2 teaspoons

honey

—

sea salt
Melt the butter in a small pan over medium heat. Add the pumpkin seeds and the sugar, then sprinkle spices and a generous pinch of salt over them. Toss to coat well and cook until seeds begin to pop and brown slightly, a few minutes.

Turn off the heat and wait 30 seconds, then add honey and toss well to coat. Spread pumpkin seeds on a plate and break apart after they've cooled completely.



Download Recipe