11.18.09
Addictive Salad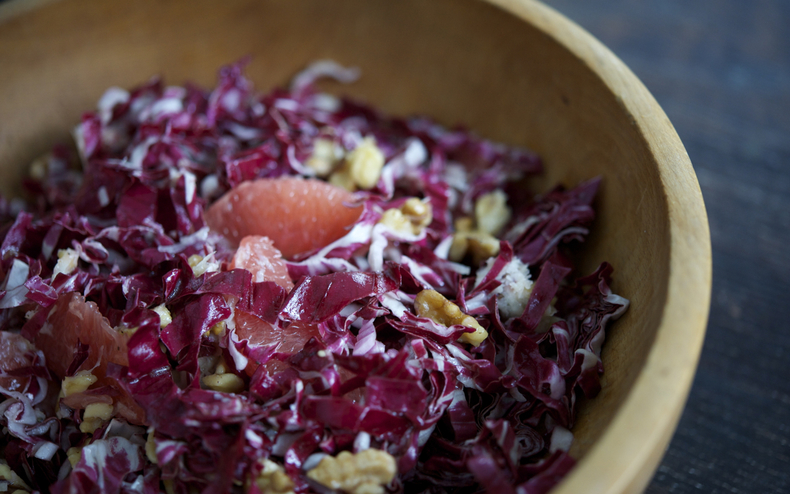 I invented this salad a few years ago on a freezing January in Boston when I was desperately trying to think of something vibrant and fresh to serve at a friend's baby shower. Something to offset the usual selection of doughy, starchy finger sandwiches and cookies. I remember feeling rather discouraged by the limited selection of mid-winter produce. Finally I picked up some firm, deeply magenta heads of radicchio, a few shiny ruby grapefruits and, on a whim, a chunk of pecorino pepato and a bag of walnuts. I wasn't really sure where I was going with all this but it just felt right. (You're probably saying "grapefruit with cheese?!" but I swear, it's delicious.)
The salad was the hit of the party and has gone on to become a staple in my house. It's perfect in the winter when citrus is at its peak and local greens are hard to come by. The tangy grapefruit and bitter radicchio play beautifully against the rich, peppery cheese and toasted walnuts. I've made it with whole radicchio leaves but I really like the way everything melds together when they are sliced thin. It almost has a sort of chopped-salad consistency but it never gets goopy or watery. Try it with a piece of grilled meat or as a meal in itself.
Radicchio Salad with Grapefruit & Pecorino
serves 6
— 1

firm head of radicchio (about 7 cups, shredded)

— 1

large ruby red grapefruit

— 3/4 cup

finely grated pecorino pepato

— 3/4 cup

walnuts, toasted and chopped

— 2 tablespoons

lemon juice

— 2 teaspoons

light honey

— 1 teaspoon

Dijon mustard

— 1 pinch

sea salt

— 2 tablespoons

walnut oil

— 2 tablespoons

olive oil
Remove peel, pith and membranes from grapefruit and separate into sections (aka supreme); break into bite-sized chunks.


Core radicchio, then cut in half and slice these halves into thin ribbons (approx. 1/4"), as you would slice an onion.


Place grapefruit and radicchio in a large salad bowl.


Make the dressing by combining lemon juice, honey, mustard and salt (I like to use a mug) and then whisking in the oils one after the other.


Toss the grapefruit and radicchio with about half the dressing; then add the cheese, walnuts and freshly ground black pepper. Toss again.


Drizzle on more dressing as desired.



Download Recipe