11.12.09
This Cake is the M Word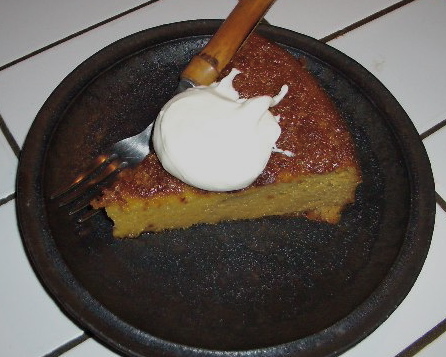 When my husband finally realized he was gluten-intolerant (after many years of horrible heartburn and at-times-comical flatulence), I had to abandon many of my special-occasion desserts. Of course there are great alternative flours from
Bob's Red Mill
(his all-purpose is a mix of garbanzo, fava, tapioca and sorghum) but it was also interesting to pursue baking without any flour at all. This particular cake recipe is based on ground almonds. It would also come in handy for Passover as it uses no leavening. I'm not really sure where it originated. Martha has
a version
with a schmancy topping. The New Yorker once featured
Claudia Roden's
. Of course I like mine quite a bit, even though I can't bear to use the word that best describes it:
MOIST. (Yech!) There, I said it. I heard on NPR the other day that I am not alone in despising that hideous word. Apparently it crosses gender lines to rank as one of the most hated words ever. I hear there's even a Facebook club devoted to its loathing. But I'm hard-pressed to find another word to describe this cake, which is delicious, and definitely not gross. It's unbelievably easy to make and is beloved by many, even those tolerant of gluten and the M word. The demerara sugar creates a nice, slightly crunchy surface.
Flourless Orange-Almond Cake
This gluten-free confection has a rich, pudding-like consistency.
— 1/2 teaspoon

sea salt

— 2 cups

blanched almond flour

— 3/4 cup

agave nectar (or honey or combination)

— 1 heaping tablespoon

olive oil

— 4

eggs

— 2

oranges

— 1 teaspoon

baking soda

—

demerara sugar, for sprinkling
Preheat oven to 375 degrees. Line the bottom of a springform pan with parchment paper and lightly grease; grease sides as well.

Boil the oranges whole in a pot of water until they are soft (about 1 1/2 hrs). Place them in the food processor and blend until smooth.

Add remaining ingredients and blend well.

Pour into lined pan and sprinkle a layer of demerara sugar over the entire top. Bake at 375 degrees until toothpick stuck in center comes out clean (about 45 min).

Serve with a dollop of crème fraîche.



Download Recipe