9.5.09
R.I.P. Sheila Lukins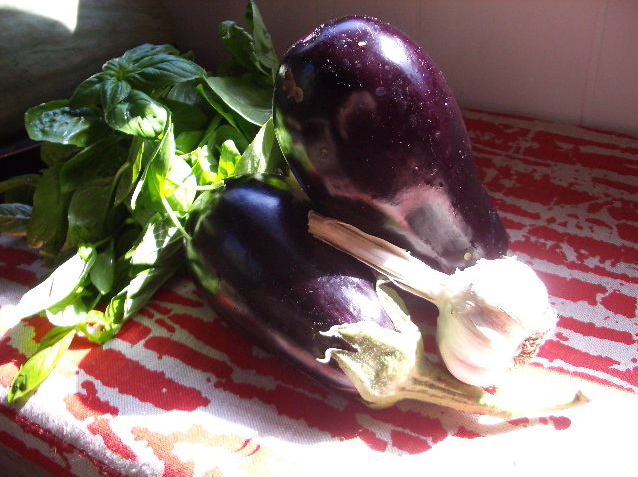 Back in the 80s, I was among the many crazy for The Silver Palate cookbook. That carrot cake! The famed chicken Marbella! I loved how the book was larded with personal stories and little tidbits of miscellany  in the margins (marginalia?). I adore lists. The recipes seemed somehow both cosmopolitan and accessible, perfect for dinner parties in my starter apartment on East Broadway. When I read about author Sheila Lukins' untimely death from brain cancer recently, I was deeply saddened. And I immediately went out and got some eggplant, picked handfuls of fresh basil from the garden and made this dish—one that will remain forever in my repertoire. It's excellent with grilled lamb but since I don't really like lamb, I eat it with grilled fish or tomatoes with feta.
Eggplant Salad
from The Silver Palate Cookbook
— 3

medium eggplants (4-5lbs or so) skin on, cut into cubes

— 1 cup

olive oil

— 1 tablespoon

coarse sea salt

— 4

cloves garlic, peeled & minced

— 2

large yellow onions, peeled, halved & thinly sliced

— 1 cup

fresh basil leaves, coarsely chopped

—

juice of 2 lemons

—

ground black pepper to taste
Preheat oven to 400. Toss eggplant with salt, minced garlic and half the oil. Spread in single layer on foil-lined baking sheet or pan and roast for 35 minutes, until soft but not mushy. Cool and transfer to a bowl.

Meanwhile, saute onions in remaining olive oil over med-low heat for 15 min or until tender and golden. Add to eggplant. Toss with lemon juice and basil, add freshly ground pepper and adjust seasoning to taste. Serve at room temp.



Download Recipe