1.19.11
Alphabet Soup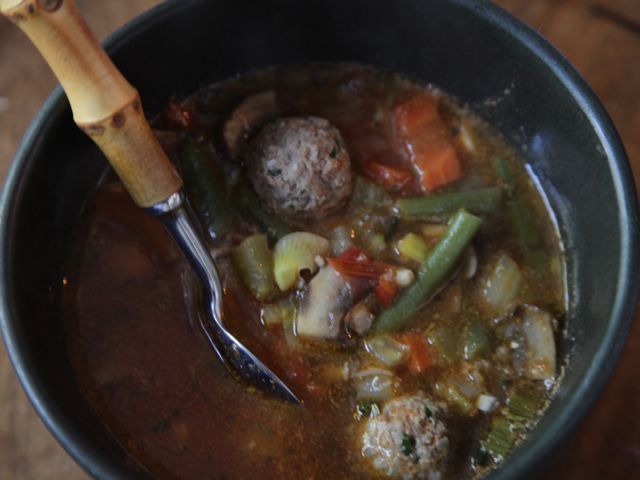 Actually, this wintry soup has none of those letter-shaped bits of pasta. This is a post-modern alphabet soup, one you can load up with vegetables that represent virtually every letter, from artichoke and broccoli to winter squash and yam. The more the merrier, basically. I'm not eating any grains or starches for a while, so I used shallots, leeks, onions, garlic, celery, fennel, carrots, mushrooms, green beans, chard and tomatoes. Potatoes, parsnips, wild rice, farro and/or pumpkin would also be lovely additions. You can make it with water, but vegetable stock—or beef or chicken—will vastly improve the flavor. I used stock made from our Christmas goose carcass! This is such an easy recipe. Throw it together in 20 minutes, let it bubble on the stove for a while and then serve it with some delicious bread. You don't even need a salad because it's so loaded with vegetable goodness.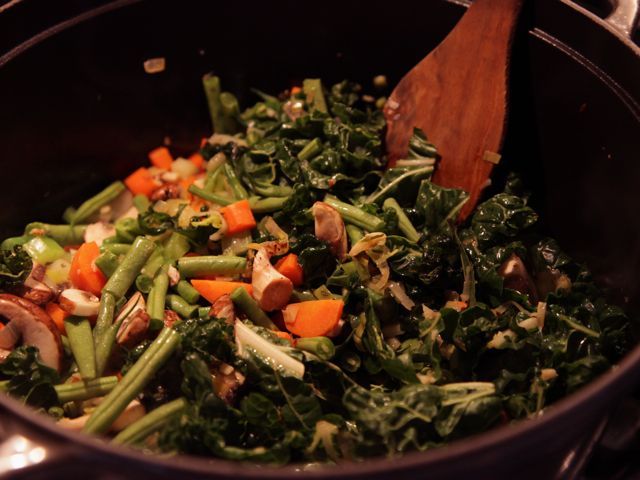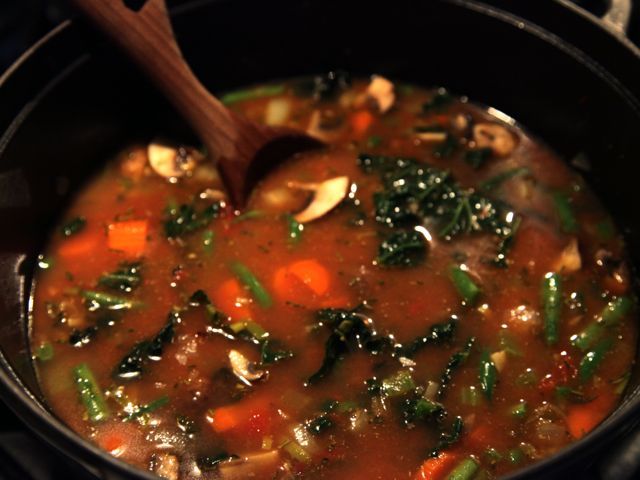 As you may have noticed in that first photo, I added in a couple dozen tiny meatballs to poach in the soup. They really enrich the broth, but are totally optional. Another trick for adding more flavor to a soup like this is to toss in a couple of parmesan rinds. I don't know about you, but I'm pretty lazy when it comes to grating off that last hard layer right before the rind. Any time I'm done with a slab of parmesan, I put the remaining bit in a little ziploc I keep in the freezer. Most recipes say you just cook the rind in the soup for a short time and then discard it, but my secret is to leave it in until it becomes soft and chewy. I like to eat the whole thing! Try it and let me know what you think.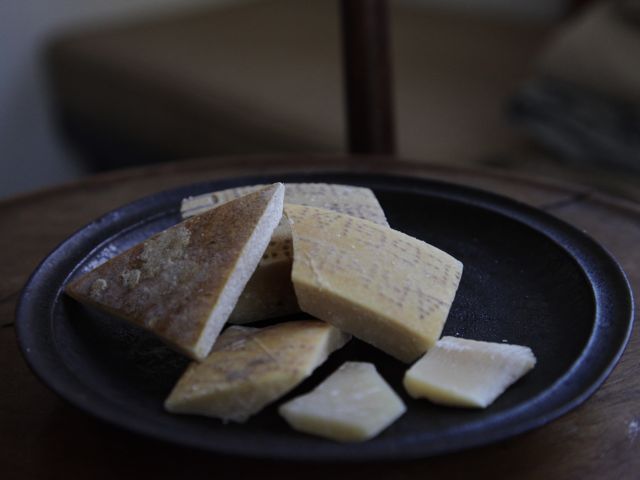 The thing to remember about this soup is that it's very free-form. Don't have shallots or leeks on hand? Use only onions. Want to add cauliflower? Be my guest. Beans? Sure. Pasta? OK. Bacon? Great idea. Anchovies? Just a couple. The point is to load it up with vegetables, so don't get too distracted. You'll notice I'm telling you to put all the vegetables in at once, not stagger them according to cooking time. This is not that kind of soup. You want to let them get soft but not dissolve into mush. When serving, a few croutons would add a nice crunch, and a generous grating of fresh parmesan or a spoonful of pesto or a drizzle of very green olive oil would all be most welcome.WINTER VEGETABLE SOUPserves 4-63 tablespoons olive oil1 large shallot, minced½ yellow onion, diced1 leek, white part thinly sliced2 cloves garlic, minced1 tablespoon finely chopped rosemary½ teaspoon ground toasted fennel seedsgenerous pinch dried red chile flakes1 large bay leaf1 small fennel bulb, diced2 carrots, peeled and diced2 large celery ribs, diced2 cups roughly chopped green beans1 cup sliced mushrooms3 large handfuls chopped swiss chard4-5 canned plum tomatoes and 1 cup of their juice6 cups goose stocksalt and pepper3 parmesan rinds, optional1-2 dozen teeny meatballs, optionalIn a large, heavy stockpot or Dutch oven, heat olive oil over medium-high flame and add shallots, onions, leeks and garlic. Sautee for a few minutes and throw in a big pinch of salt, the rosemary, ground fennel, chile and bay leaf, and sautee a few minutes more. Toss in all the rest of the vegetables except the tomatoes and stir to coat them with the oil. After a few minutes, add the tomatoes, their juice, the stock or water and the parmesan rinds, if using. Simmer until vegetables are tender but not mushy, maybe 20 minutes or so. (In truth, I'll often cook this for much longer. I don't mind it a bit mushy.) Taste for seasoning and add salt and pepper as desired. If you're adding tiny meatballs, the time to do it is now. They will cook very quickly in the hot soup.