11.10.10
Local Brew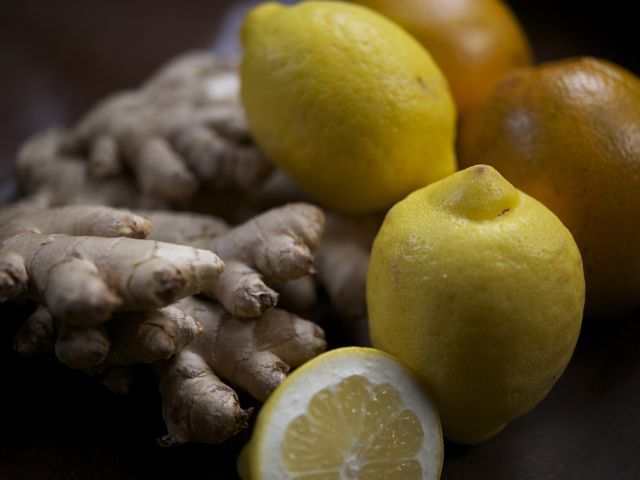 On a blustery day in the city, I used to love to pop into the tiny bakery at Balthazar where fresh breads and piles of scones and canelés fogged up the windows. Passing up all the baked goods, I would come out with my frozen hands wrapped around a steaming cup of their housemade ginger-citrus tea. Often, it would be so acidic that my teeth would squeak against each other, but I loved the way its spicy sweetness warmed my blood. Now that I don't live near Balthazar—or anything resembling a bakery, or even a café for that matter—I have devised my own recipe and, being rather better balanced, I actually prefer it. That said, I was able to procure Balthazar's recipe and so also offer that to you here. Frankly, I've never tasted either cinnamon or mint in their version, and so did not include that in mine. Suffice it to say, either way this delectable brew is sure to help you ward off a chill and possibly even the flu as we head into winter's cold embrace.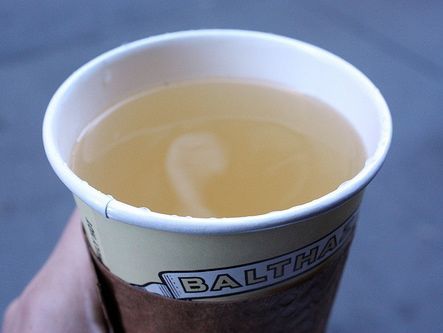 Ginger is a powerful anti-inflammatory and a big support to the immune system. It's also particularly effective in calming the digestive system. Citrus contains lots of vitamin C and calcium, of course. Together, the two are a hell of a lot more beneficial than a cup of coffee.
GLUTTONFORLIFE'S GINGER-CITRUS TEA
makes about 2 quarts
7 cups water
20 ginger coins (nickel-sized)
1 cup citrus juice (any combination of orange, grapefruit, lemon and lime)
scant 1/2 cup honey, or to taste
Combine unpeeled, sliced ginger and water in a heavy saucepan and bring to a simmer. Cover and simmer for about 20-30 minutes. Remove from heat and add honey and citrus juice. Stir to combine well. Cover and let steep for 15 minutes or so. Taste and adjust flavor, adding more honey or citrus as needed. Gently reheat and serve. Can be stored in the fridge and reheated as desired. Or drink it cold, also delicious.
BALTHAZAR'S GINGER-CITRUS TEA
makes about 1 quart
4 cups water
1/8 cinnamon stick5 ounces fresh ginger1/4 lemon, peel only, zested in strips1/4 cup freshly squeezed lemon juice (about 1 1/2 lemons)1/3 cup honey1/4 bunch fresh mint, washed
Bring water to a boil with cinnamon. Peel ginger with a spoon, paring knife, or vegetable peeler.
Roughly chop the ginger and add to the pot along with lemon zest and juice. Cover and simmer for 30 minutes. Add honey, stir well, and simmer (covered) for another 20 minutes. Pour over fresh mint, then strain and serve.