12.27.16
Party Tricks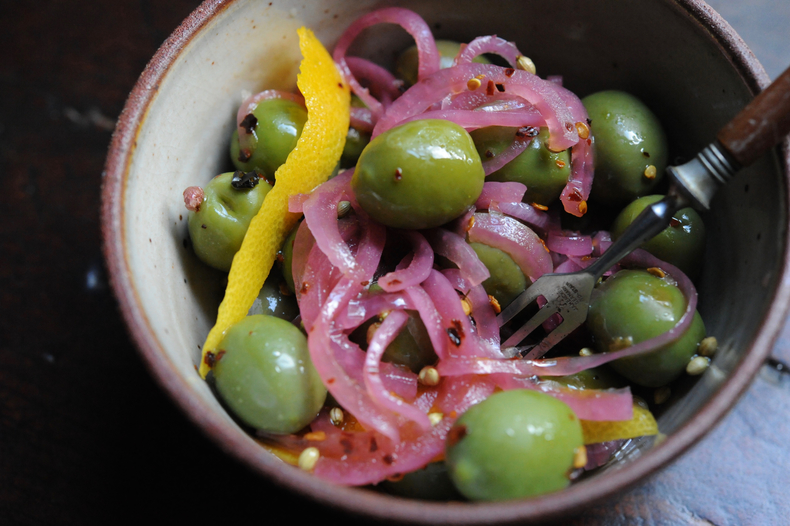 Ice swans. Mountains of caviar. Tuxedoed waiters. Silver candelabras. Live jazz. Piping hot gougères. Flutes of champagne on gilt trays. That's entertainment—of one sort. We should all be so lucky to at least attend one extravagantly grand gala in our lifetime, if not host one. But such an occasion is less appealing to me than gathering close friends together in a relaxing, well-lit room and indulging them with a few comfortingly delicious treats. Although it might not always appear so, I like things pretty simple and I stick to a well-oiled routine that keeps anxiety to a minimum. By now you must know that I believe in being organized. Allotting plenty of time to get things done ahead means no last-minute panic and enjoying the party alongside your guests. So, if you're planning a get-together for New Year's Eve, or thinking about planning one (or dreading the one you've promised to host), I've got some tricks up my sleeve and a few words of counsel.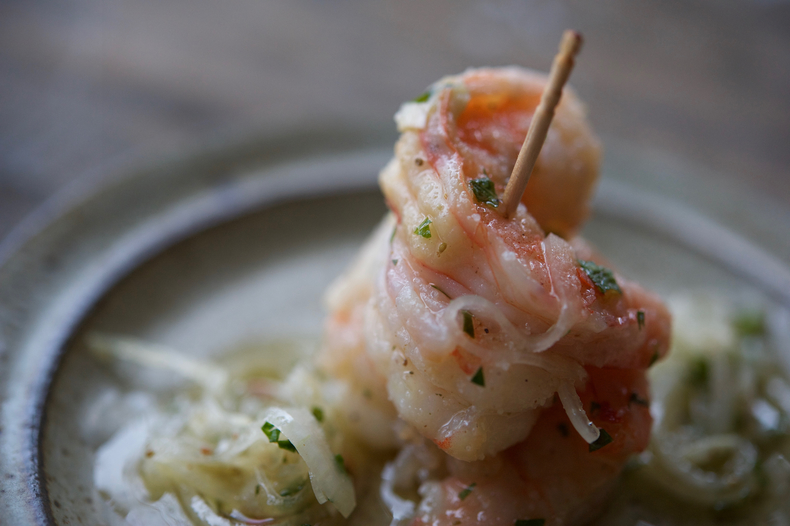 That photo of the bowl of olives is a perfect example of party trick number one: Gussy up store-bought ingredients. If you shop wisely, much of your work is done. I transform meaty green Castelvatrano olives or oil-cured Moroccan ones with pickled shallots, red chile flakes, strips of orange zest and crushed coriander seed. Leave this to cure for a few hours in a bath of good olive oil.
Although Hugh Acheson's recipe for pickled shrimp starts with raw crustaceans, you could buy pre-cooked and just prepare the brine. This is great make-ahead cocktail party fodder, served skewered on little picks.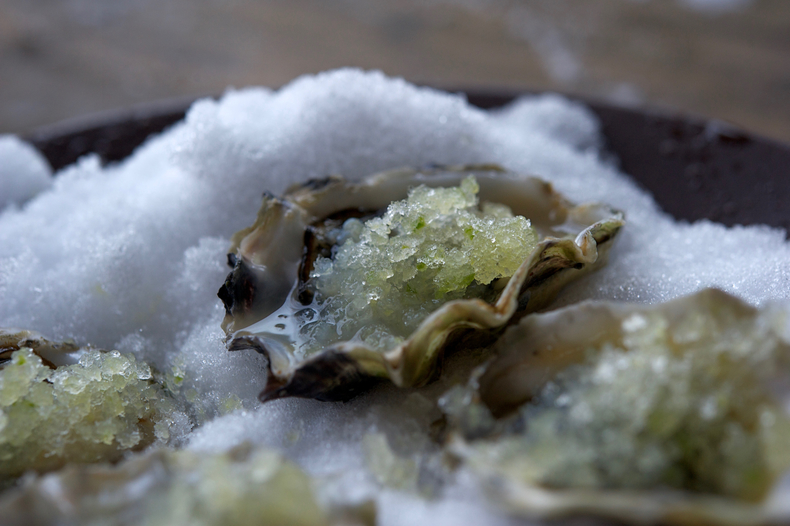 Fresh oysters are instant hors d'oeuvres—no cooking required! Once you've mastered the shucking, the rest is cake. My personal favorites are the smaller, sweeter West coast varieties, like Kumamotos. A special sauce makes them party-ready. Try my recipe for a cooling, citrusy granità, or make a classic mignonette with minced shallots in red wine vinegar.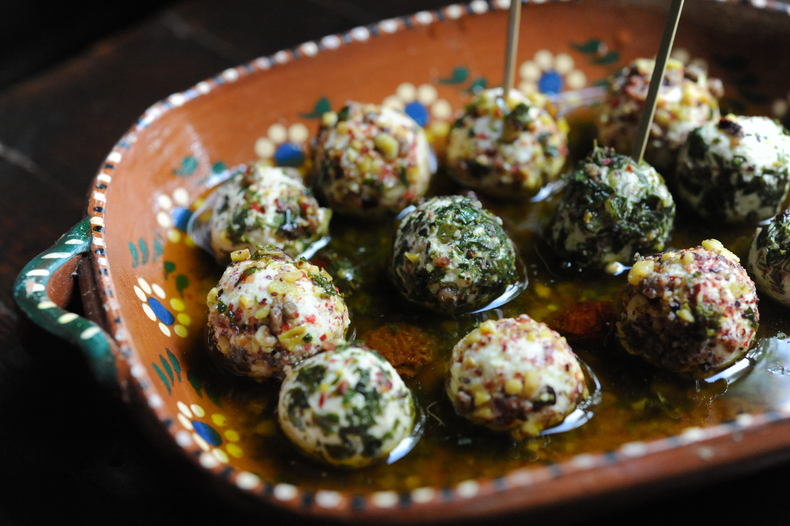 For another simple snack that can be made well ahead, roll little balls of fresh goat cheese in chopped herbs and spices, then marinate them in olive oil. Try different combinations: tarragon, parsley and lemon zest; pink peppercorns, red chile flakes and rosemary; pistachios and sumac...the possibilities are many.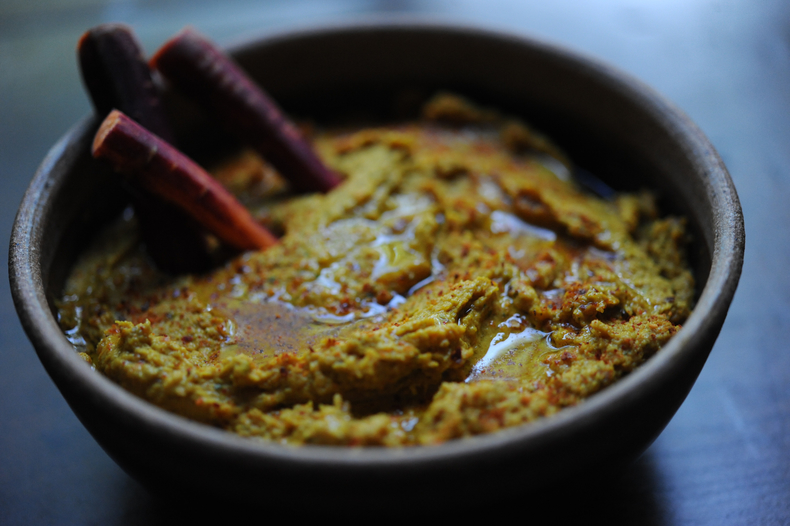 A dip with its attendant chips and crudités is a party classic. I love this one made from roasted carrots and enlivened with citrus juice and zest. It's thick and creamy with the addition of either tahini or peanut butter and goes well with batons of celery, fennel and, for a meta touch, carrot. (Recipe follows.) Another trusted standby is my recipe for Tuscan Chicken Liver Paté, featured in the first Food52 cookbook. (Thanks for the reminder, Nikki!)
As for chips, I recently discovered these relatively healthy lentil chips that remind me of the forbidden Bugles of my childhood. They're irresistibly crunchy and mercifully free of undesirable ingredients.
If you're putting together an elegant board of cheeses and salumi (and pickles and chutneys and fresh fruits), you might want to consider baking your own crackers. (Or not—no pressure.) These, made with buckwheat and nut flours, come together quickly, happen to be gluten-free and deliver a lot of bang for relatively little effort.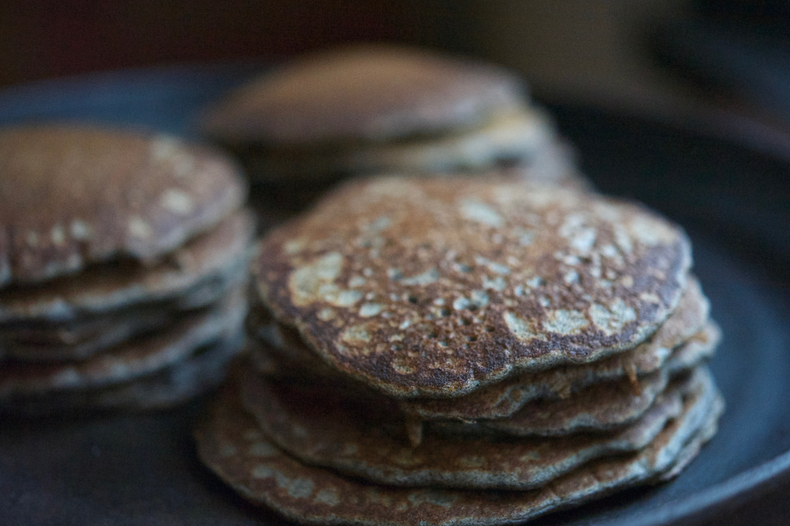 Another classic hors d'oeuvre that can ferry any number of things to waiting mouths is blini. These tender little buckwheat pancakes are delicious at room temperature (and thus can be made well in advance) topped with smoked fish, caviar, ricotta cheese, pickled vegetables, fruit compote, etc. Make a ton and offer a few different toppings—savory and sweet—and with that you have a wonderful party!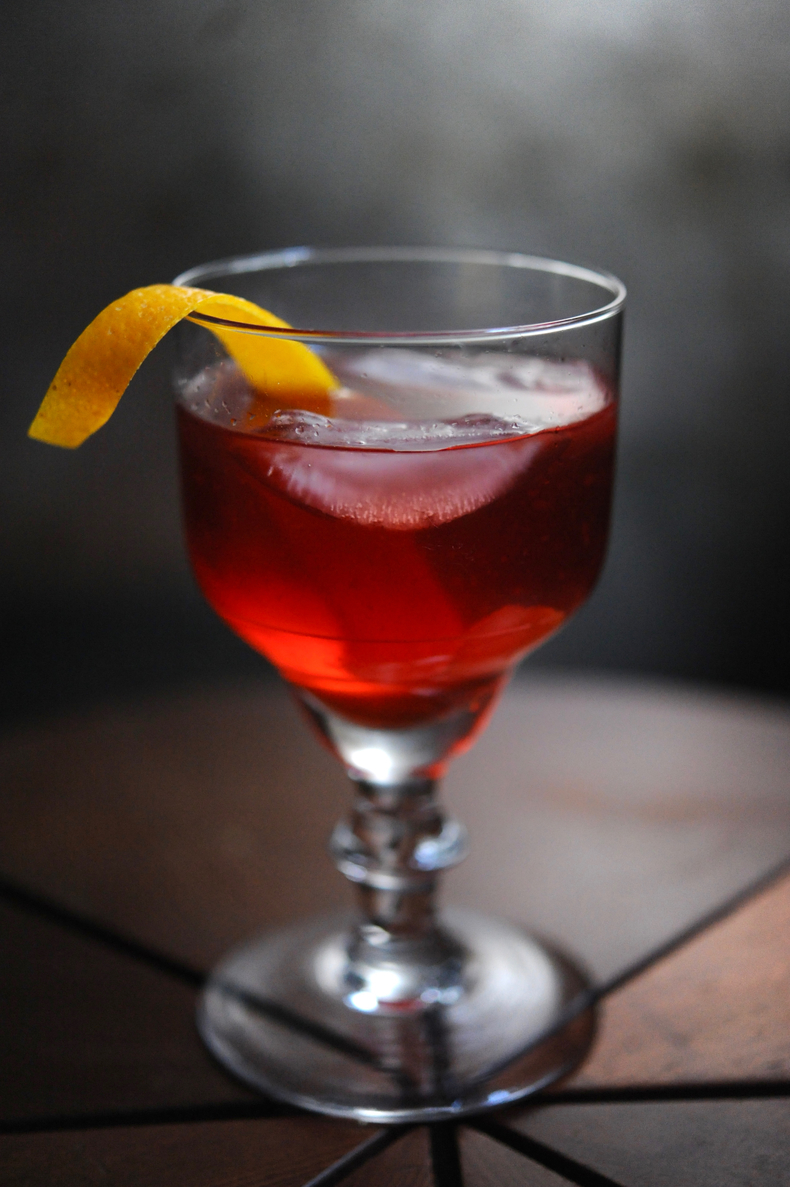 Of course there remains the question of what to drink. You can't really go wrong with wine, including perhaps something sparkling. (Here are some helpful recommendations.) You could also set up a simple DIY cocktail bar, with good gin, bourbon and rum plus a few thoughtful mixers like Fevertree tonic, Fentiman's ginger beer and pomegranate juice. But if your party is more than a handful of people—and you don't want to hire a bartender—this can quickly become messy and confusing for guests, which leads to instant party breakdown. A better idea is to pre-mix one or two signature cocktails or a festive punch in big batches, and supplement this with beer, wine and some quality non-alcoholic options. There are lots of ideas here.
Pictured above is a classic Negroni, a pleasantly bittersweet combination of gin, Campari and sweet vermouth, that can be made in large quantities and offered by the pitcher, to self-serve over ice and garnish with pre-cut orange twists. This article on entertaining also has some helpful tips, including for drinks (and happens to feature a photo of a cocktail I created for a party celebrating the launch of Michelle Slatalla's lovely new book for Gardenista).
Whatever lies in store for you this New Year's Eve—whether you're hosting a party, attending one or just putting your feet up in front of the fire and diving into a good book—I wish you great joy and the peace that comes from knowing you're right where you're meant to be. In 2017, let's try to do less and be more; to lead with our hearts; to count our blessings; and to let nature be our guide in all things. I send you love, light and hope for the future.
Roasted Carrot Dip
serves 6-8
— 1 teaspoon

cumin seed

— 1 teaspoon

coriander seed

— 1/2 teaspoon

red chile flakes

— 6 tablespoons

olive oil, plus more for drizzling

— 2 teaspoons

honey

— 1 pound

carrots, washed and trimmed

— 3

large unpeeled cloves garlic, smashed

—

Flaky sea salt

—

Freshly ground black pepper

—

Zest & juice of 1/2 lemon

—

Zest & juice of 1 orange

— 3 tablespoons

tahini or smooth peanut butter
Preheat the oven to 400ºF.


Toast the cumin, coriander and chile in a small dry skillet for about a minute until just fragrant. Use a mortar and pestle to grind to a semi-fine powder. Transfer to a large bowl; whisk in 4 tablespoons of the oil and all the honey.


Cut the carrots into 1/2-inch chunks, then add to the spiced oil along with the whole garlic cloves. Toss to coat and season with salt and pepper to taste. Scrape the dressed carrots into the roasting pan and spread in an even layer. Roast, turning once, until the carrots are tender and starting to caramelize, about 30 minutes.


Cool slightly, then transfer the roasting pan's contents to a food processor, slipping the garlic cloves out of their skins as you do so and scraping in as much of the crusty brown bits, spices and oil as possible. Add the lemon and orange zest and juices, the tahini or peanut butter and the remaining 2 tablespoons of oil. Puree until smooth. Taste and adjust the seasoning.


Transfer to a serving dish and lightly drizzle with more olive oil.



Download Recipe