7.30.15
Raising the Bar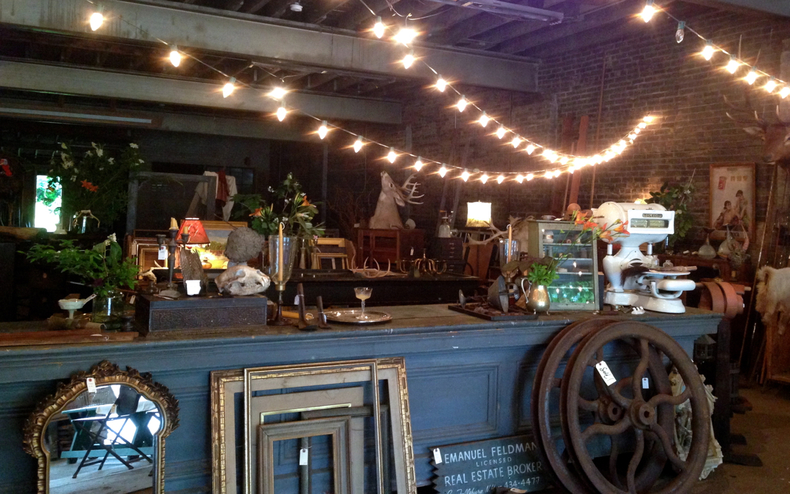 Last month I had a book-signing in Narrowsburg, NY. This charming village on the Delaware River is about 20 minutes north of where I live, one of the only real destination towns in my area. It's got many wonderful attractions, including a delicious restaurant, a great liquor store, a world-class women's clothing boutique and a popular home store. And then there is Maison Bergogne. Owned by Juliette Hermant, this unique antiques warehouse is a world unto itself. Juliette is French, with a rare eye for beauty and patina, and a personal charisma that knows no bounds. An accomplished painter, photographer, stylist and interior designer, all of her talents come together to make Maison Bergogne a wholly original emporium. And because I am lucky enough to call her my dear friend and collaborator, my book-signing was held in this magical place.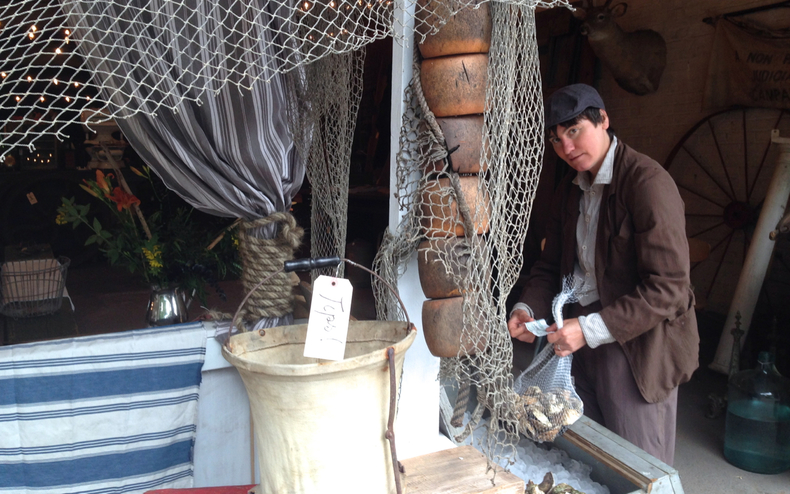 Juliette's partner Anie, a filmmaker, designer and builder, has an equally refined aesthetic that informs her business, Woolheater Wares. She transformed the vintage kissing booth out front into a nautically-themed oyster bar and shucked mollusks for the event.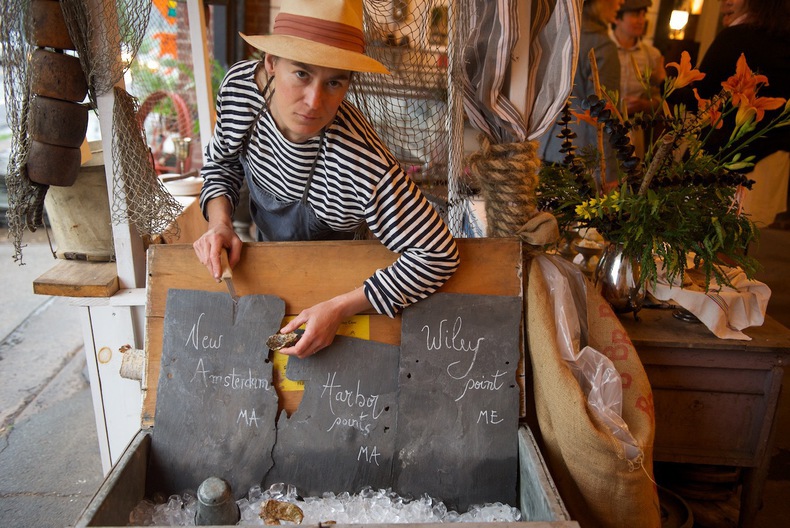 Juliette is the consummate hostess, and our oysters were sparkling fresh. On the side we served a sprightly mignonette, freshly grated horseradish from our garden, and wedges of lemon. What else do you need?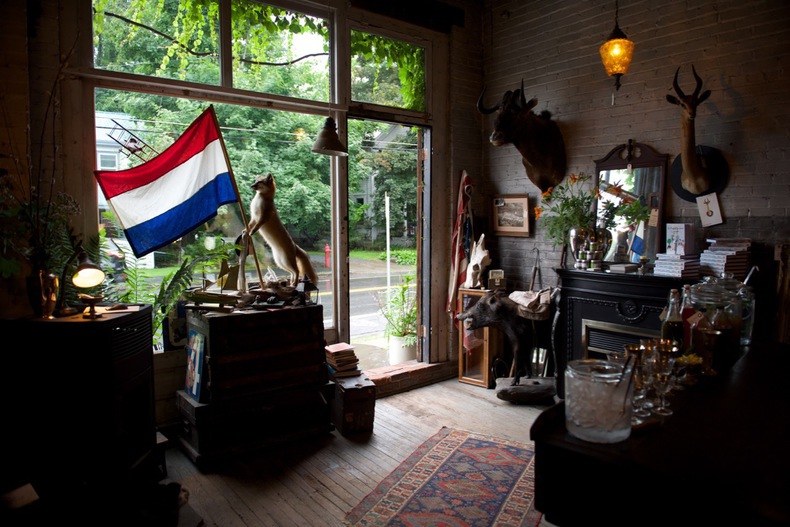 The bar was set up amidst the many treasures in the smaller room off the cavernous main space of this 1920s industrial building.
The dress code was called by Juliette: French nautical. I did my best to comply. My hat is actually Japanese, purchased from Barneys years ago. The jacket is a great favorite, from Makié in New York City. The neckerchief is a vintage Yves Saint Laurent bandana I inherited from my mother. Underneath, I'm wearing a striped t-shirt and a long linen apron from Libeco, like this one but without the bib.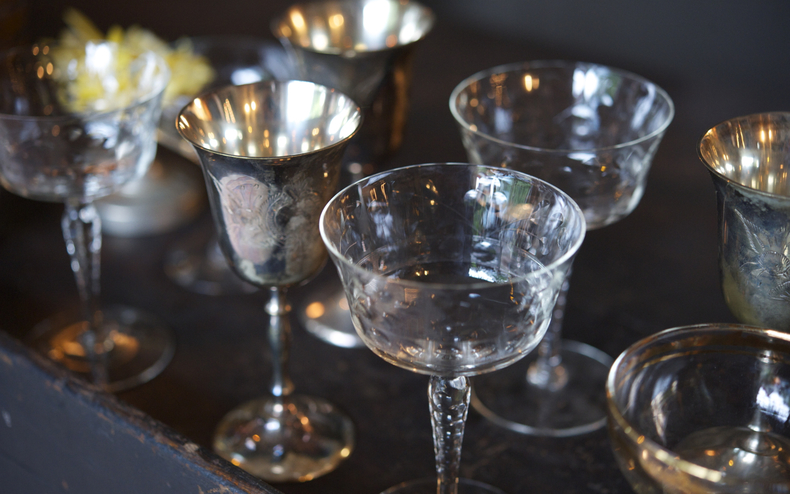 Juliette is not a plastic cup kind of woman. (Neither am I, for the most part.) She is not afraid to entertain 50+ people using her gorgeous vintage glassware. (For the record, those silver goblets are mine, from India.)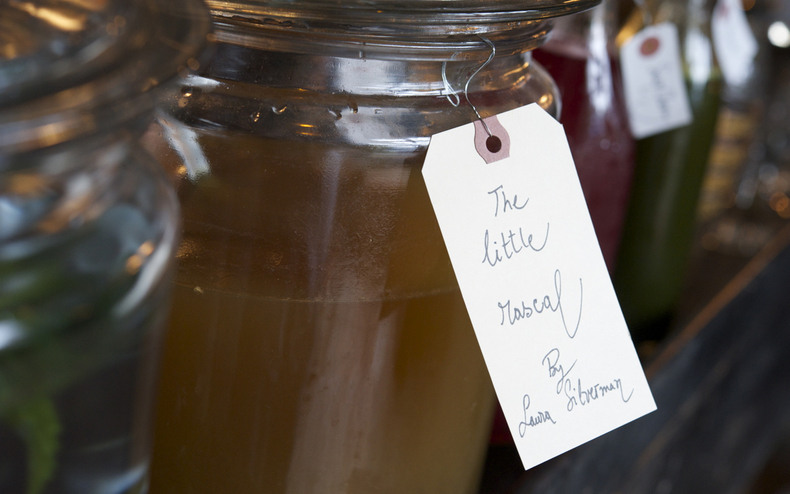 Our local distillery, Catskill Distilling Company, was generous enough to donate the spirits for this occasion and I created a couple of refreshing seasonal cocktails with their wonderfully aromatic Curious Gin and their sweetly complex Otay Buckwheat spirit. The latter cannot officially be called a whisky, since buckwheat is not technically a grain (it's a pseudo-cereal), but it's in that family.
My goal was to make something hyper-local, so I was stumped with what to subsitute for the lemon or lime I would usually use to add a touch of sour to my drinks. Then it hit me: rhubarb. It's plentiful in my garden, has a wonderfully vegetal acidity, and happens to be in the same family as buckwheat! And so The Little Rascal was born: buckwheat whisky, rhubarb juice and a syrup infused with toasted buckwheat groats. Our guests sucked this down like there was no tomorrow.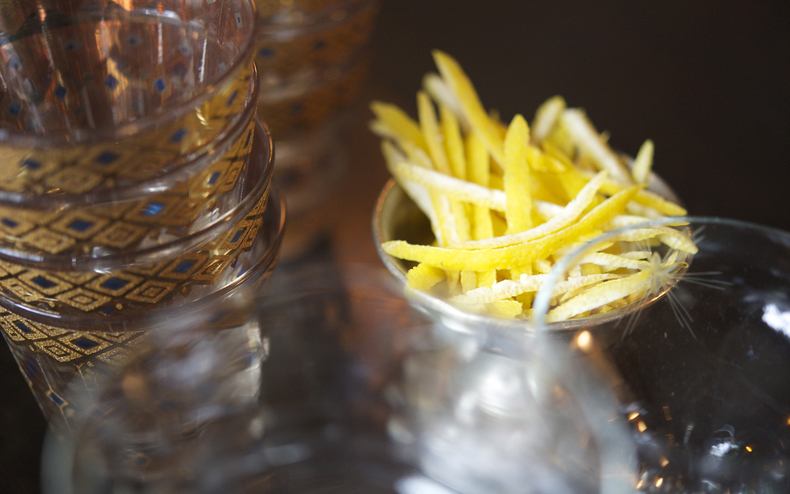 I did cave and garnish the cocktail with a lemon twist, though a bit of wild sumac would have been a more local choice. Wondering how I got them so perfect? I use this.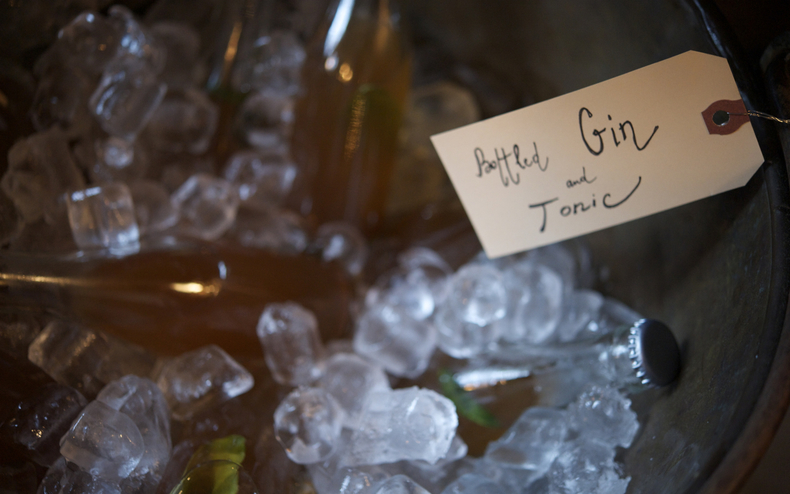 As an option, I made carbonated gin-&-tonics that I bottled using this technique. (Yes, I'm a cocktail geek.) They were flavored with Tomr's Tonic and a wild lime leaf.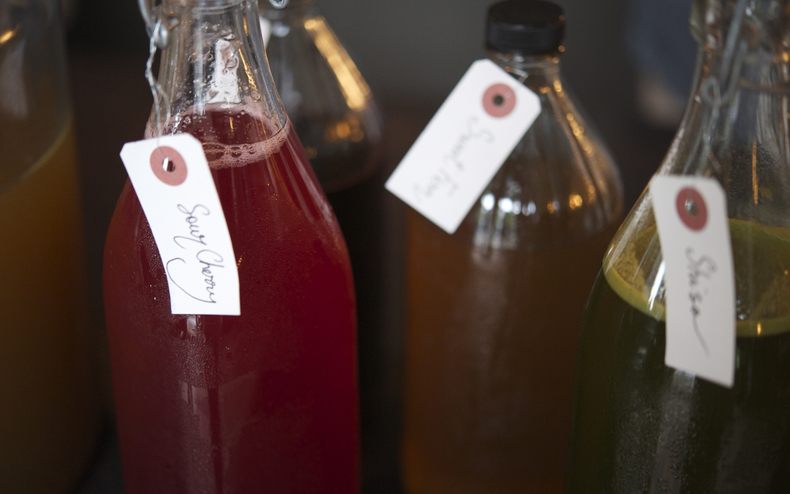 For tee-totallers, there was an assortment of homemade syrups—sour cherry, sweetfern (an aromatic plant that grows in these parts) and shiso—to combine with soda water.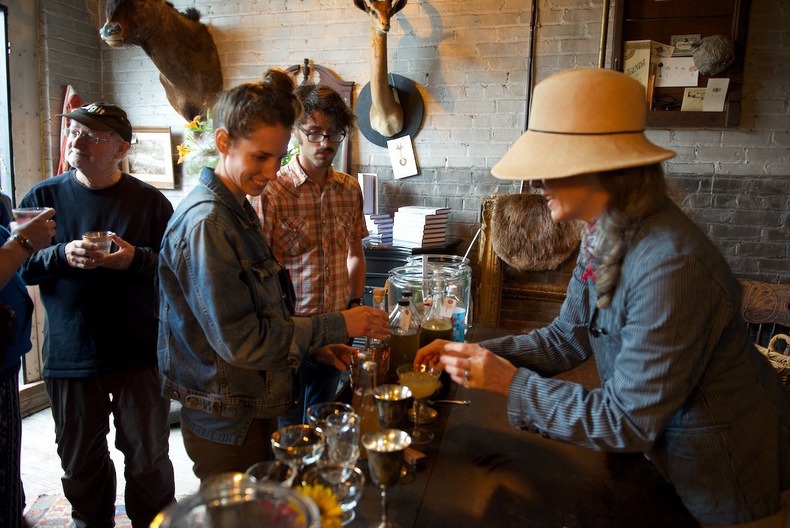 I tended bar, one of my favorite pastimes. It's a great way to connect with everyone at the party, to make guests feel welcome and to share with them a little of myself.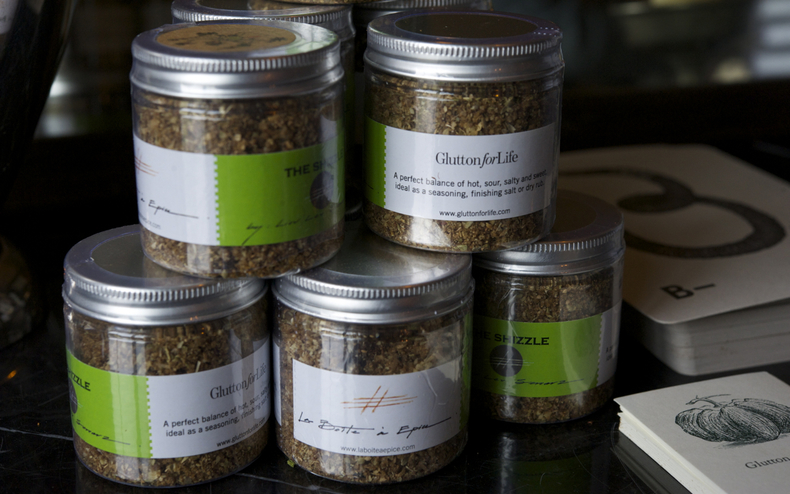 We sold out of all the copies of my cookbook (autographed, of course) and many people also bought a jar of The Shizzle, my spicy, garlicky seasoned salt, custom-blended for me by the amazing Lior Lev Sercarz.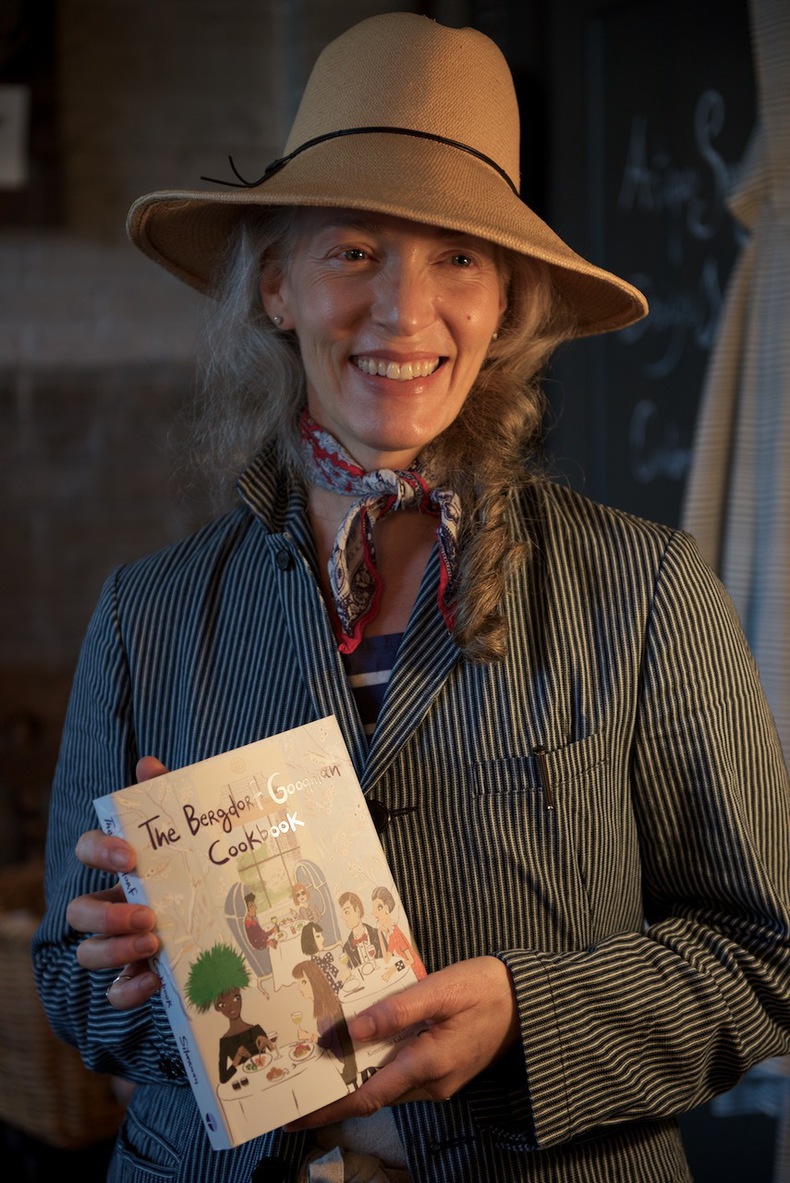 It was a fantastic evening, a successful event and a harbinger of good things to come. Next May, Juliette and I, and our third partner, Eva Barnett, are planning to throw open the doors of Fish & Bicycle, a bar, café and small grocery store housed in Maison Bergogne. I'll be in charge of the bar. Things are still in the works, but this is the first time I have actually announced our intention so publicly. Please hold a good thought for us as we cobble together financing to accomplish our vision.
It's only Thursday, but I'll wish you a wonderful weekend, my friends! Soak up summer!
The Little Rascal
makes 1 cocktail
— 1 cup

organic cane sugar

— 3 tablespoons

toasted buckwheat groats

— 2 ounces

Otay Buckwheat "Whisky"

— 1 ounce

rhubarb juice

— 1 ounce

toasted buckwheat syrup

—

Twist of lemon
To make the buckwheat syrup, combine sugar with 1 cup water in a small saucepan. Simmer over medium heat until sugar is completely dissolved. Remove from heat and stir in groats. Cover and cool to room temperature. Strain and transfer syrup to a glass jar. Keeps refrigerated for a week.


In a cocktail shaker, combine the Otay Buckwheat, rhubarb juice and buckwheat syrup with a generous handful of ice. Shake vigorously and pour into a rocks glass. Garnish with the twist.



Download Recipe