10.14.14
Catskills Getaway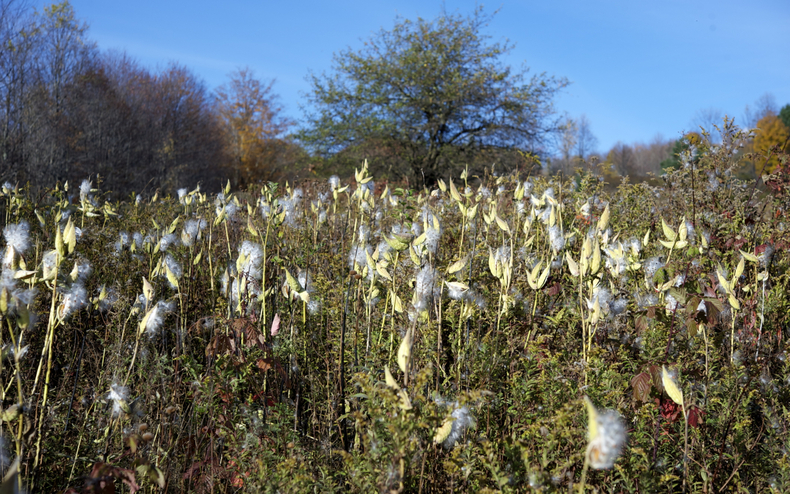 This past weekend we took off into the Catskills to celebrate our anniversary (lucky seven!), visit friends and explore some new territory. The fall colors were at their peak. Birds, bugs and bees filled the skies, harvesting whatever remains before bunkering down or heading off to warmer climes. The air was crisp, the skies turquoise and the colors of the leaves more nuanced than a Missoni sweater. Fields of milkweed exploded in a profusion of downy, winged seeds. I find few things as uplifting as piling into the car and hitting the road when the destination means new experiences, old pals, wild beauty and delicious meals. And so it was.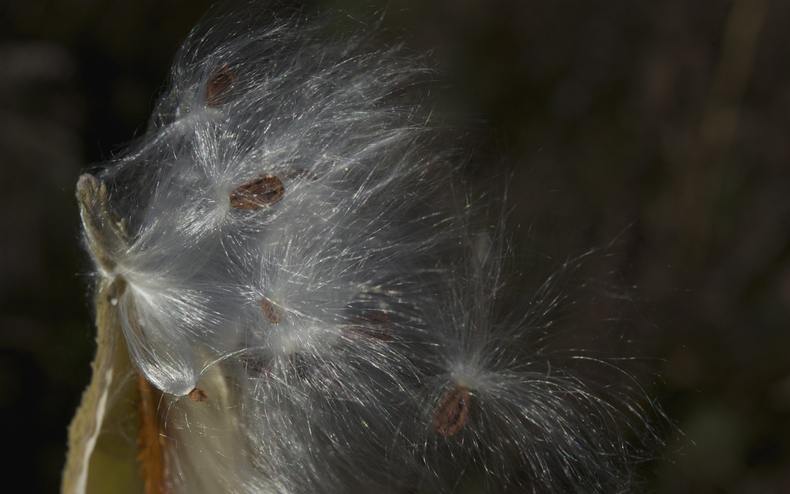 I'm doubly glad to have these happy memories as I lie in bed nursing a terrible chest cold. The first—and hopefully last—of the season. That is my
feverish
fervent wish.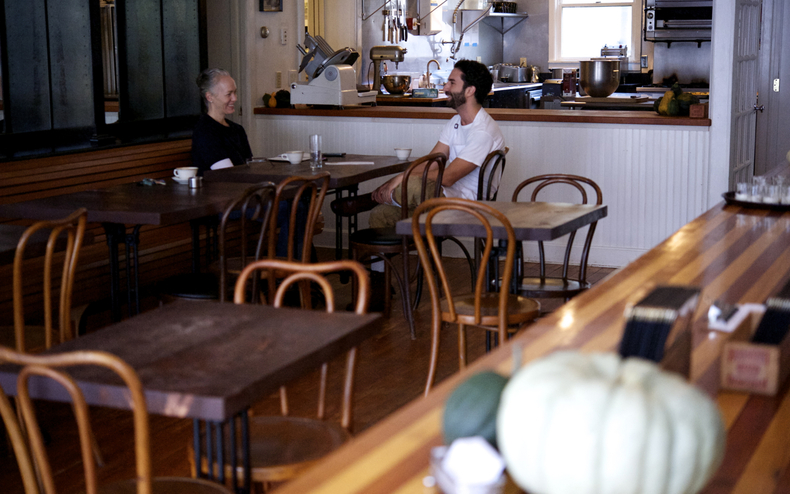 Our first stop was Bovina Center, a tiny hamlet that recently welcomed
Brushland Eating House
. This lovely restaurant—officially an inn since it rents out a two-bedroom apartment upstairs—is truly destination dining. Chef Sohail Zadir and his gracious front-of-the-house partner, Sara Elbert, opened their cozy spot in May and have already gotten well-deserved attention, including a mention in this month's Condé Nast Traveler. In fact, my visit was the result of an assignment from
Edible Hudson Valley
, where you'll be able to read more about this venture in the winter issue. (Watch Sohail and Sara in this sweet
video
!)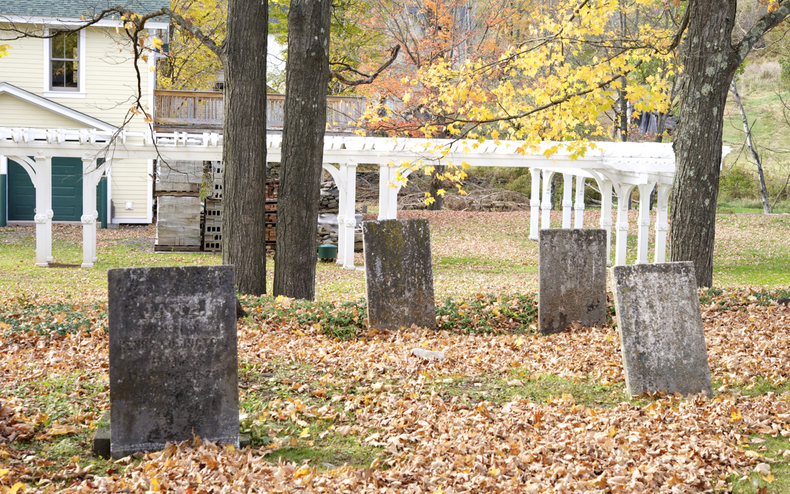 You may have already guessed it from the name, but the Bovina area has long been home to a lot of dairies, so there are more meadows and rolling hills than we are used to seeing in our heavily forested neck of the woods. The hamlet of Bovina Center was once known as Brushland after Alexander Brush, an early settler. This Main Street cemetery provided a glimpse of the people who lived (and died) there in the 19th century.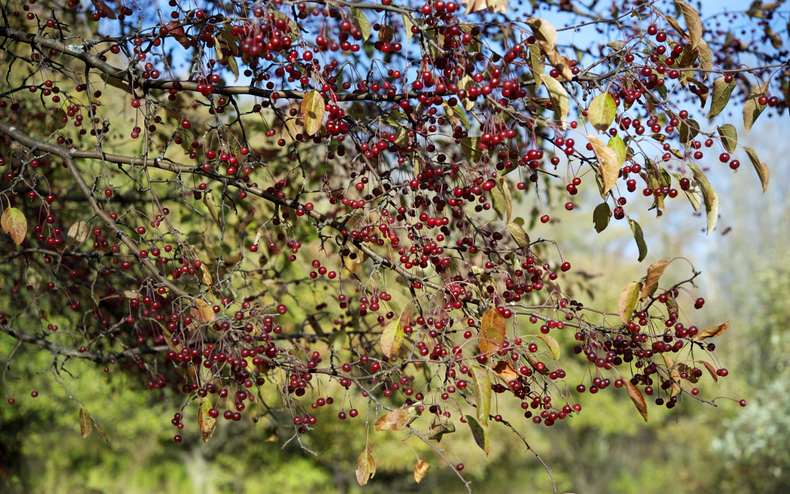 Behind Brushland Eating House was old farmland, much of it bordered by several varieties of crabapples trees. Our timing was perfect as these were gloriously laden with ripe fruit. Yes, we harvested ten pounds. And, yes, they are now staring at me accusingly from the confines of their canvas tote bag, which has been relegated to the screened-in porch. I see jelly in their future. Possibly made with the rose hips I harvested when I was on the Cape in late September, which are still malingering in the fridge.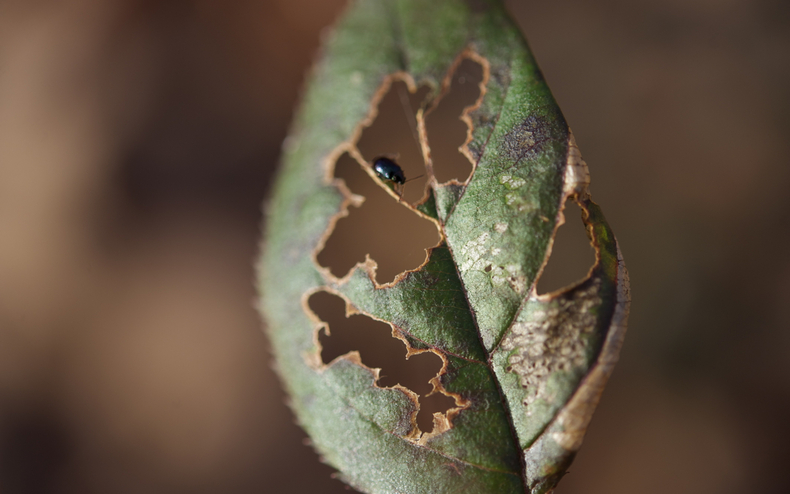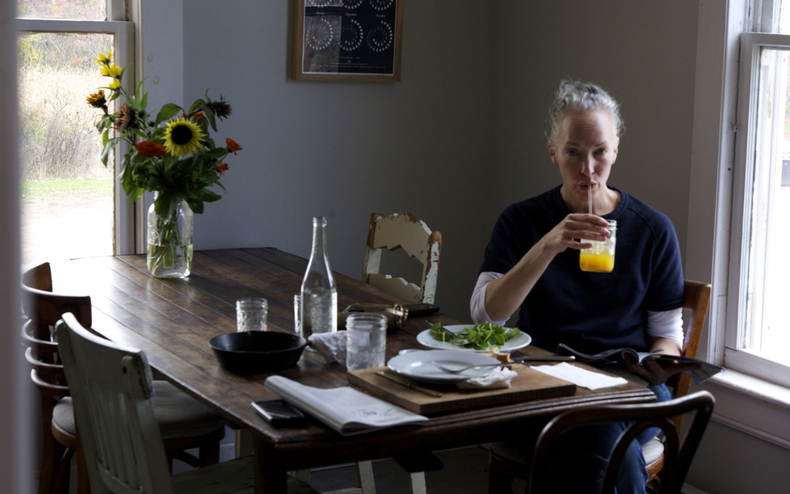 After a wonderful dinner and cozy night's sleep at Brushland Eating House, we headed to Bloomville for brunch at
Table on Ten
. This charming place has a similar set-up, in that it's a delicious restaurant with a few rooms to rent upstairs. There are enticing baked goods, Friday night pizzas, homemade ice cream and a thoughtful selection of artisanal items, some of them produced locally. Upstairs in a studio, there is even a massage therapist on hand, who also teaches private yoga and Pilates.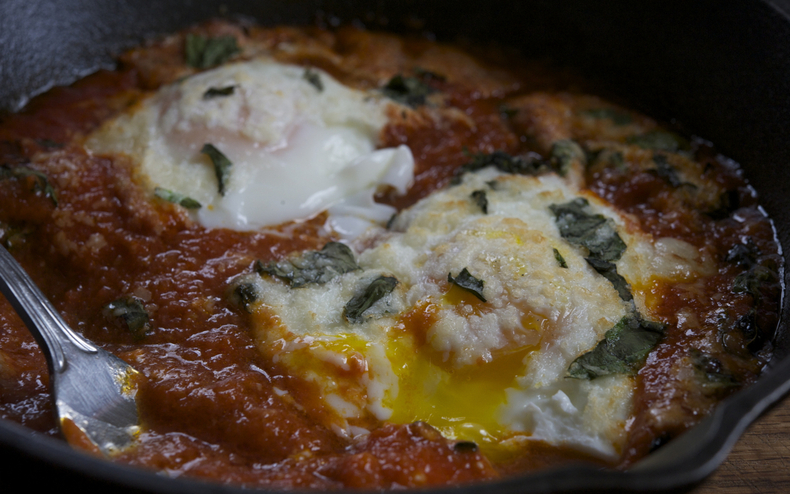 G loved his eggs in a skillet, especially the savory marinara sauce. I enjoyed the last of the summer corn in a special pudding that came with salad. Best of all? That bracing turmeric tonic I am sipping in the previous photo.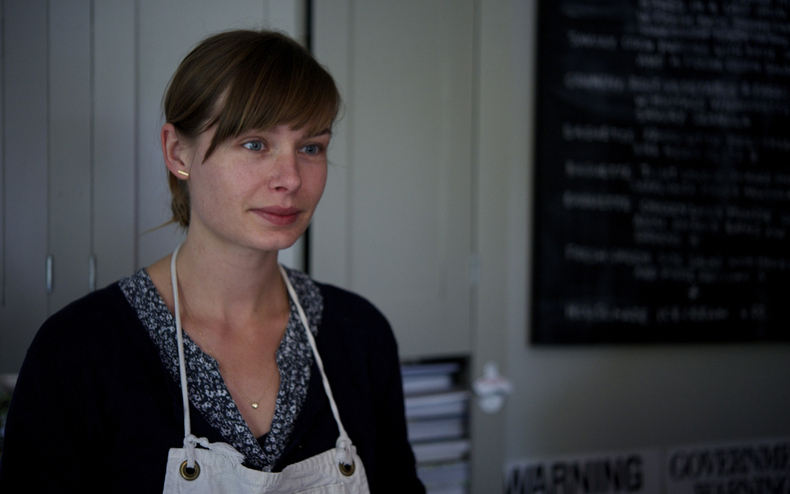 Inez Valk-Kempthorne (above) and Justus Kempthorne, fellow refugees from Manhattan, did a great job renovating Table on Ten's nearly derelict building. Read more about their journey and see additional photos on Remodelista.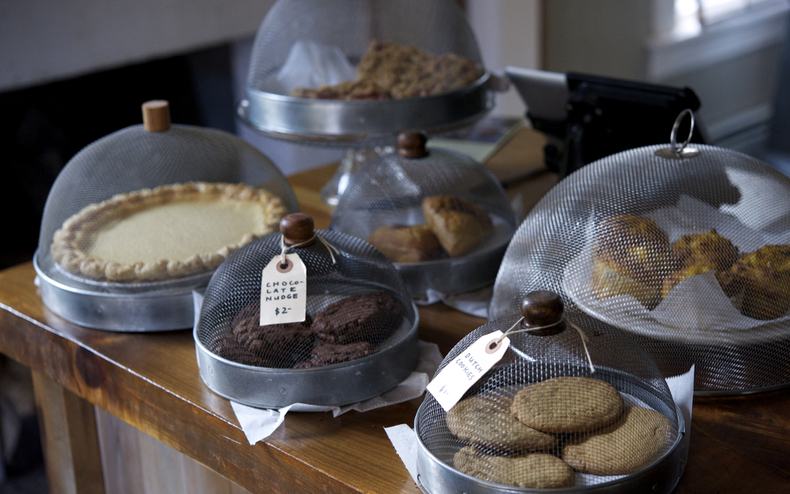 The pies are still connected to the city—they come from Brooklyn's
Four and Twenty Blackbirds
. I'm not much for buttermilk pie but that one, with its perfectly crimped crust, was calling out to me. (I resisted.)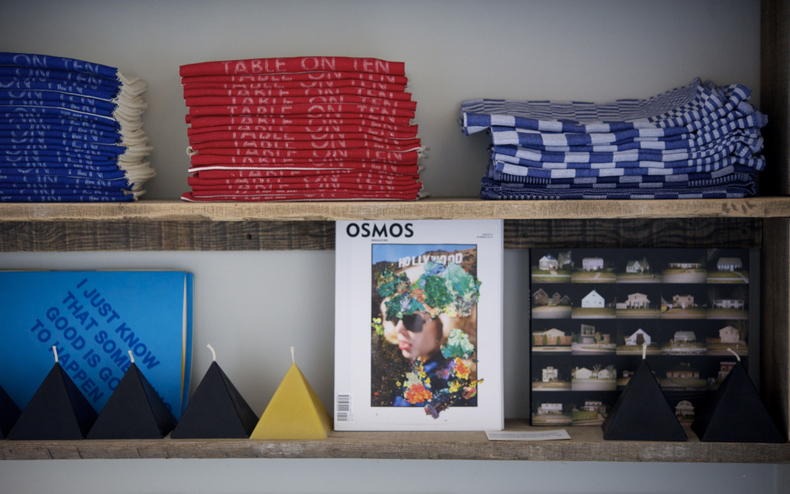 I did not, however, resist these gorgeous beeswax candles from upstate purveyor
Louvrière
. I got two black ones and one red. They will look beautiful as part of a holiday centerpiece, or could even make good gifts for some lucky souls.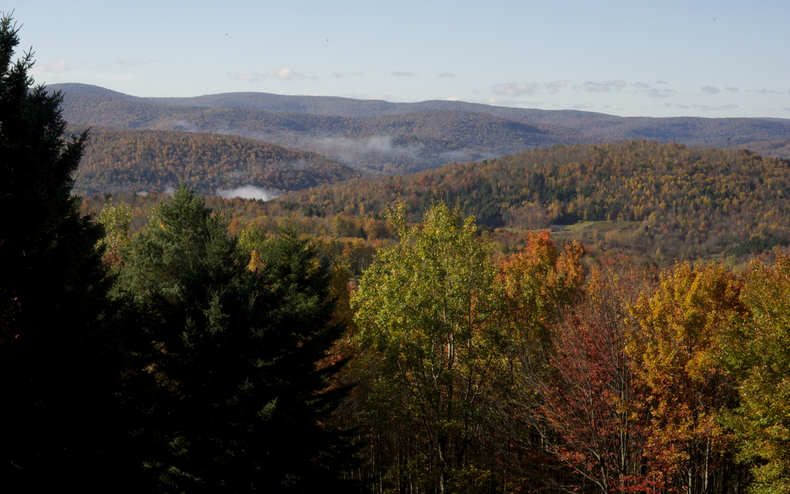 After Bloomville, we tooled around the town of Andes a bit. It has a couple of cute vintage shops—Clementine for clothing and Kabinett & Kammer for curios and furniture—but I was most happy to discover a lovely tea shop, Tay Tea. The striking owner clearly has a discerning palate. I actually tried a cup of her A Day in Provence rooibos blend at Brushland Eating House and was thrilled I could track it down. It's also available in her online shop, along with lots of other intriguing teas.

The rest of Saturday was spent in the company of the entire crew from Best Made, purveyors of the ultimate outdoor gear and good friends of ours. There were bonfires big and small, barbecue, tall tales, s'mores, plenty of whiskey and camping. We brought our tent and mummy bags, but it was still damn cold. Thus the rattle in my chest, I think. But it was well worth it and I'd do it again.

After an elegant campfire breakfast on Sunday, we headed to High Falls to check out Field+Supply, billed as "a modern makers craft fair." I don't think I've ever seen so many hipsters at one upstate location, and I've definitely never encountered such an elevated aesthetic (or price point). I didn't buy anything but I did take a bunch of cards, including one from a guy who is making the most stunning primitive bows.

We met up with some pals there and headed over to Westwind Orchard, the labor of love of stylist Laura Ferrara and her husband, photographer Fabio Chizzola. They grow apples, berries and pumpkins, and have an adorable farm store selling their honey, jams, ice creams and maple syrup, as well as other locally produced goods. For a few months at the height of the season, they also have a wood-burning pizza oven turning out incredible little pies for weekend visitors. Guess who was up to her elbows in pizza behind the counter? None other than my sweet friend Julia. What a great way to end a delightful weekend!

Warm days and cool nights, dampness and funk—the change of seasons often brings illness. I thought you might like to hear what I do when I feel a cold coming on. (If not, maybe you'd like to scroll down for my simple Sick Day Soup recipe. No chickens are involved.)

As a preventive measure—and also after the fact—cover your neck. (Here's why.) I have this old cheapie infinity scarf from Urban Outfitters that I wind around multiple times and even wear to bed. I also try to remember to take a daily spoonful of my homemade elderberry syrup. It's antiviral and supports the immune system.

When the sickness set in yesterday, starting with a raspy throat, I immediately got out my Redroot + Licorice spray. It really soothes. Then, when I heard that dreaded chest rattle during the night, I took a Mucinex. No, it's not "natural," but I've found it does help dry up the mucous that wreaks havoc in my lungs. In the morning, I steamed my head over a pot of hot water infused with eucalyptus, rosemary, silver pine, lavender and geranium oils, then soaked a washcloth in that to make a hot compress for my chest. And I brewed a big pot of fresh ginger tea with lemon and orange, turmeric and honey from our bees. Lots of cups of that alternating with plain herbal tea keep me hydrated. When I spiked a fever, I took two Advil and that seems to have brought it down. I'll be enjoying a long and hopefully restorative nap this afternoon.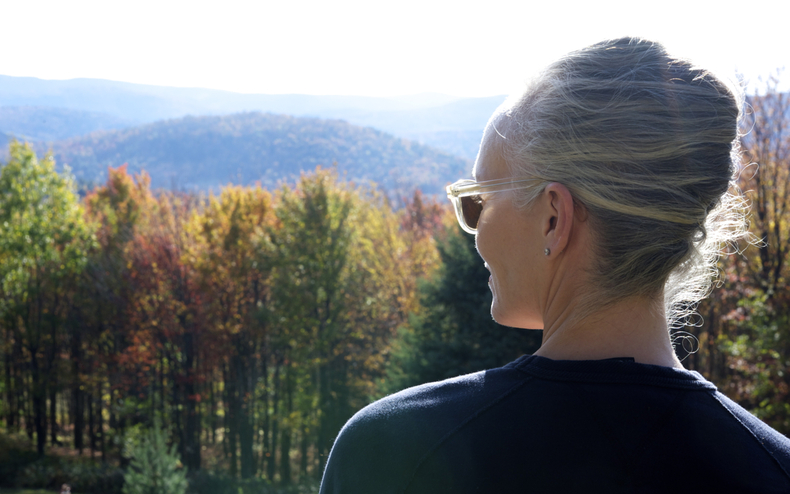 With the little strength I had left this morning, I whipped up a simple soup. G will make me some chicken broth this evening, but I can sip this vegetable concoction whenever I feel hungry today and know it's doing me some good. The recipe is based on what I happened to have on hand but you really can substitute any and all vegetables. The point is to cook them down into a pleasing and easily digestible mush, sort of like a classic minestrone. The one essential ingredient is the Parmesan rind. I never, ever throw these out as they are goldmines of flavor. Save yours for rainy days, whether literal or metaphorical.
Sick Day Soup
makes a big pot
— 1

large yellow onion, peeled and thinly sliced

— 1

large shallot, peeled and thinly sliced

— 1 cup

diced celery

— 1 cup

diced fennel

— 1 cup

diced carrot

— 1 handful

cherry tomatoes, halved

— 6

baby turnips, diced

— 1

quarter green cabbage, cored and thinly sliced

— 1/3 cup

brown basmati rice, well-rinsed

— 2 teaspoons

fennel seeds

— 2

bay leaves

— 2

small Parmesan rinds

—

Sea salt
In a large, heavy stockpot, combine all the ingredients and cover with cold water. Bring to a boil over high heat, then reduce to a simmer and cook until rice is cooked through and vegetables are soft, about 2 hours. Season to taste with salt. Serve with a drizzle of olive oil.



Download Recipe