7.29.14
Playing the Tuber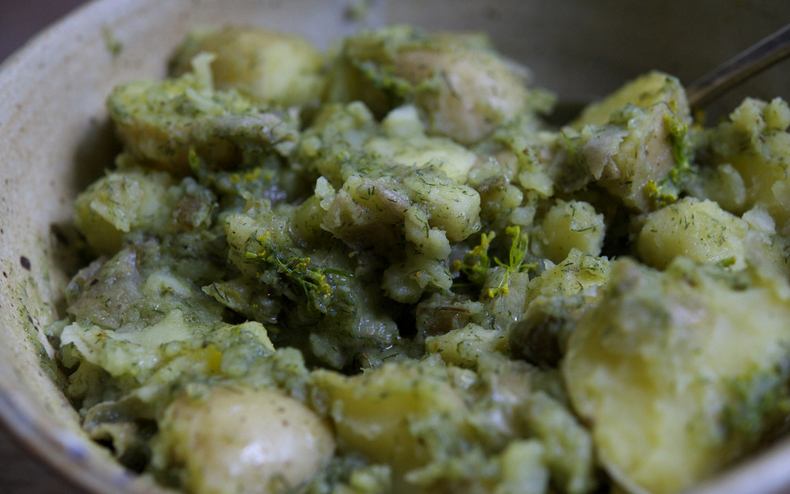 Every year I take the month of August off from the blog and social media (well, mostly) so I can get in a little extra relaxation and outdoor time, which means this is the last week I'll be posting for a while. With that in mind, I have several juicy posts lined up for you over the next several days, jam-packed with images and ideas to get you even more fired up about these halcyon days of summer. Today I sat working by the open window as a storm rolled in, the gusts of wind carrying a spray of rain and the scent of crushed tomato leaves, fresh mint and ozone, and I took a moment to inhale deeply and remember that this is not forever. The day will end, the month will end, the summer will end...and all this lushness will be just a memory whose green contours will sustain us through the bone-chilling weeks that now seem so distant. So let's make hay while the sun shines, my friends, and not squander any opportunity to do whatever we like best: dangle feet off a dock, loll in a hammock, deadhead the roses, scream for ice cream, play Marco Polo, read in the shade of a big tree, go clamming, count the fireflies, and cook, cook, cook (eat! eat! eat!) the incredible bounty that is exploding all around us.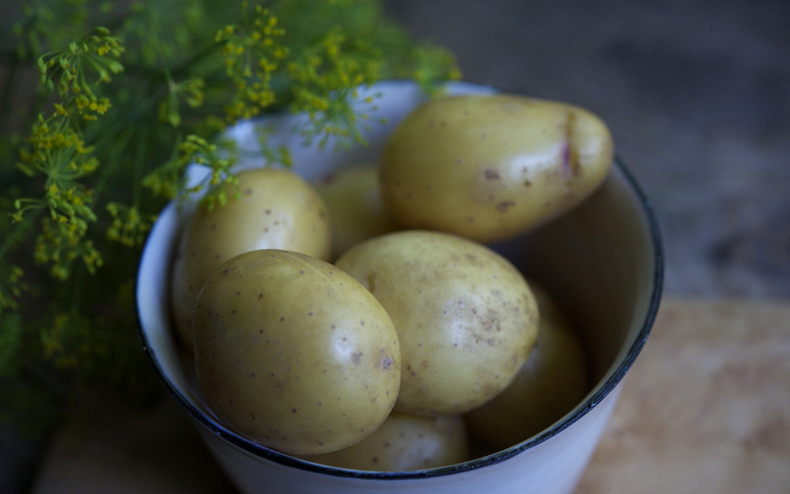 I don't consume a lot of spuds, but I reserve a special spot in my heart (and tummy) for the darling new potatoes that emerge in the summer. I love their fragile, thin skins and tender flesh. These are Augustas from our local farm, since G has yet to unearth any of ours. They have a meaty, buttery quality reminiscent of Yukon Golds. I had my eye out for them after eating a delicious dish at
Narcissa
, modestly titled "Steamed New Potatoes
dill butter
." After the first delectable bite, I knew I would be trying to recreate it at home.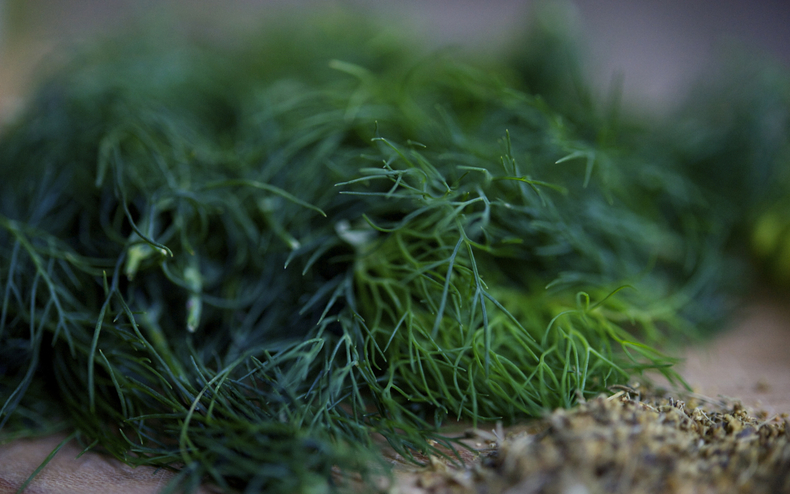 I started with dill, dill and more dill—it's so plentful right now, you'll be able to find big bunches at the farmers market. Look for fresh, sprightly fronds and, if you need to keep them, wrap them in a paper towel and then in a plastic bag before storing in the fridge. In the very foreground of that shot, above, you can spy a bit of the dill pollen that I also used. (Mine is from
here
.)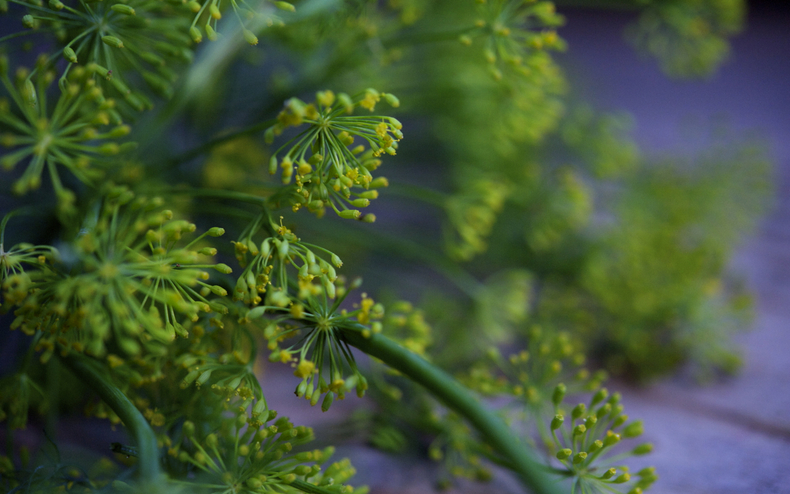 At this point in the summer, lots of the dill has begun to go to seed and is topped with golden crowns of little flowers. My chervil is doing this now and also the cilantro, and the tiny blooms hold the wonderfully intense flavor of the herb. They make a beautiful garnish scattered across omelettes, salads and chilled soups.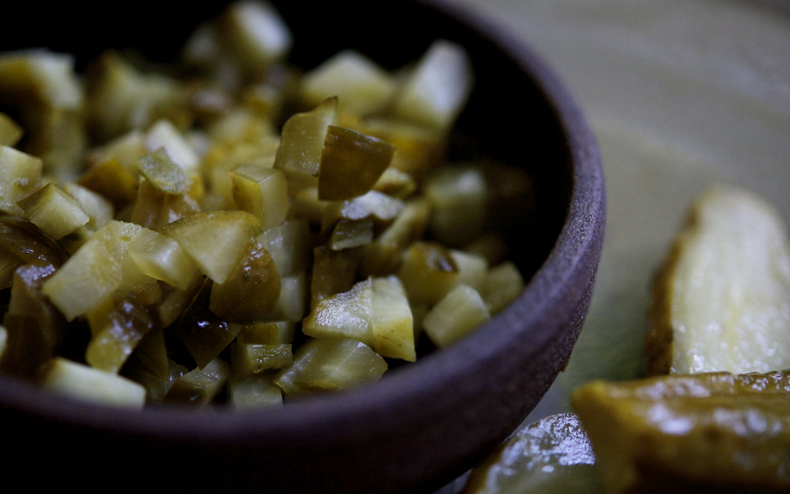 Aside from the creamy little potatoes, lots of dill and fresh butter, Narcissa's side dish was cleverly accented with the crispness of dill pickles! (If you want to make your own, here's a
recipe
.) Unusual, unexpected and unbelievably good. (Actually, the meal I ate there was composed entirely of their vegetable sides, including carrot "fries" and creamed spinach with potato chips!)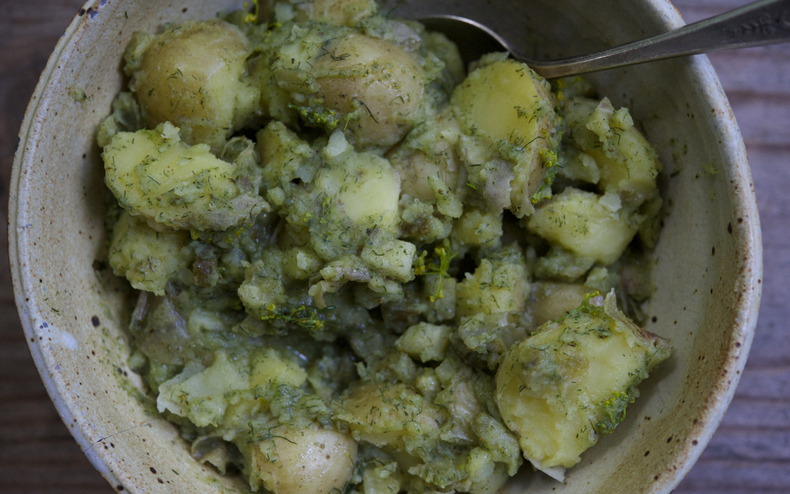 I boiled the potatoes until they got just a little shaggy, then tossed them with dill flowers, dill pollen, a sauce of dill pureed with butter, and little cubes of dill pickle. A bit of my homemade lovage salt was the finishing touch. It turned out fresh, green, sunny and satisfying, much like summer itself. Make this, or something just like it, right away. Now is the moment and soon, it, too, shall pass.
New Potatoes with Dill Butter
serves 2-3
— 1 pound

new potatoes

— 1/3 cup, packed,

dill fronds

— 3 tablespoons

salted butter

— 1 teaspoon

dill pollen

— 2 tablespoons

dill flowers

— 1/2 cup

diced dill pickles

— 1 teaspoon

lovage salt
Put about an inch of water in a medium saucepan and bring to the boil over medium-high heat. Toss in the dill fronds, then place the potatoes in a steamer basket and set in the pan over the boiling water. Cover, and steam for about 15 minutes, until potatoes are a little soft around the edges. Tumble potatoes into a large bowl and set aside to cool slightly while you make the sauce.


Drain the dill, first reserving 2 tablespoons of the water, and set aside the herbs.


In a small pan, melt the butter over medium heat. Combine it with the dill fronds, dill pollen and reserved 2 tablespoons of water in a blender or mini-prep and puree into a smooth sauce.


Cut the potatoes into chunks and toss them with the butter sauce, the dill flowers, the diced pickles and the lovage salt. Taste and adjust seasoning as needed. Serve warm or at room temp.



Download Recipe