2.11.13
Lingua Franca
A lingua franca
is a language that makes communication possible between those who don't share a mother tongue—as when an African and a Swede find common ground in English. Food can also serve as a lingua franca, uniting people in ways that words sometimes cannot. The international expression of delicious is a recognizable closing of the eyes, nodding of the head and slowly-spreading smile. However, one man's delight can sometimes be another's disgust. Just because you can't imagine eating deep-fried water bugs or guinea pig stew doesn't mean they aren't worthy. It can be good to get out of your comfort zone and discover something new. But if you aren't ready to learn a foreign tongue today, you may not want to read on.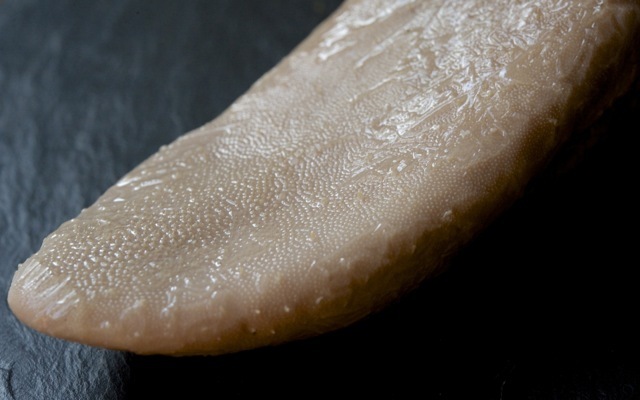 Although tongue is widely enjoyed in many cultures—from Mexican to Jewish—it seems to be a very challenging concept to some. I'll admit, it does look exactly like a tongue, but we eat legs and livers and ribs, don't we? When poached, this relatively small veal tongue (just shy of a pound) produces an almost creamy pink meat with a surprisingly delicate beef flavor. And really, what could be a more romantic Valentine's Day dinner than thin slivers of tender tongue slathered in a deeply complex chile sauce? It offers just the right amount of heat and adventure.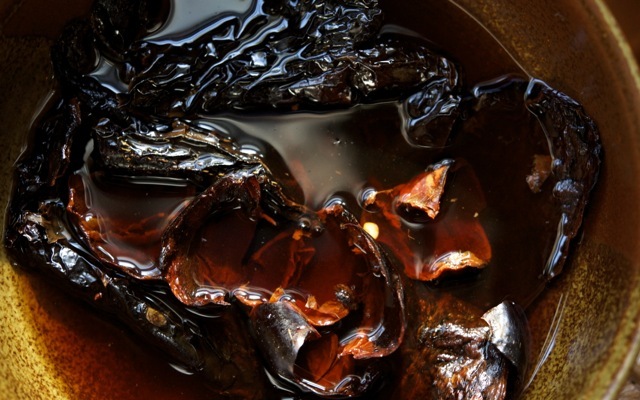 I don't know about the aphrodisiac properties of certain foods—oysters, caviar, chocolate, figs, etc—but I do know that sharing a meal can be very sexy (just watch
this
famous scence with the young Albert Finney from
Tom Jones
). So I'm proposing a dinner of tongue tacos at home, a hands-on meal that will have you and your loved one dipping into condiments and licking your fingers with abandon.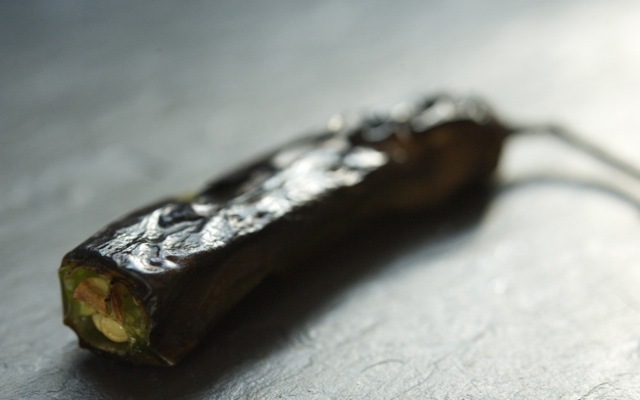 The secret to an interesting, multi-layered chile sauce—beyond the chiles themselves, of course—is a lot of charring. You toast the dried chiles a bit, but you can really blister the fresh ones, as well as the skins of the tomatoes. Though you peel off and discard the burnt bits, the dark smokiness remains. When handling chiles, wear gloves or remember not to touch your eyes or mouth until you've washed well with an oil-cutting soap like Dawn.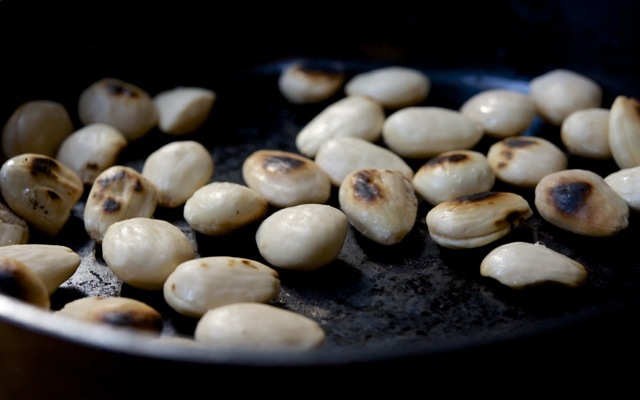 Toasted nuts are a frequent addition to chile sauces as well. If you can't eat nuts, try subsituting pumpkin seeds or simply leave them out. As you can see, I got a little carried away with the toasting but it works for this recipe.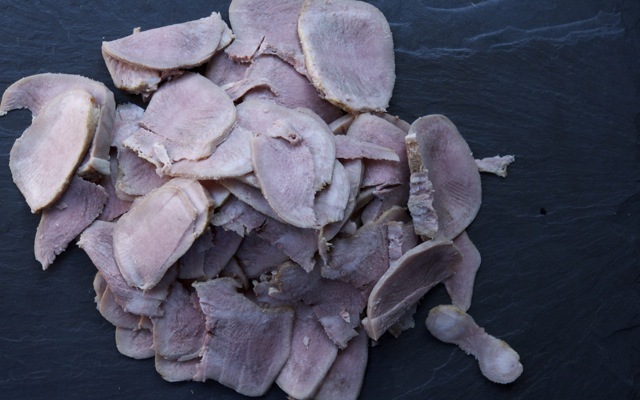 The tongue is poached in water with some aromatics. If you're squeamish, you may need some moral support when it comes time to peel off the skin, but I actually find this step deeply satisfying. The tongue can then be stored in its poaching liquid in the fridge for several days. It's absolutely delicious served cold in very thin slices, accompanied by a mayonnaise-y sauce like the classic
sauce gribiche
, or in a sandwich with fresh horseradish. It also works well fried in a hash with potatoes and onions. For tacos, I like it sliced thin, though you could cut it into small chunks if you prefer.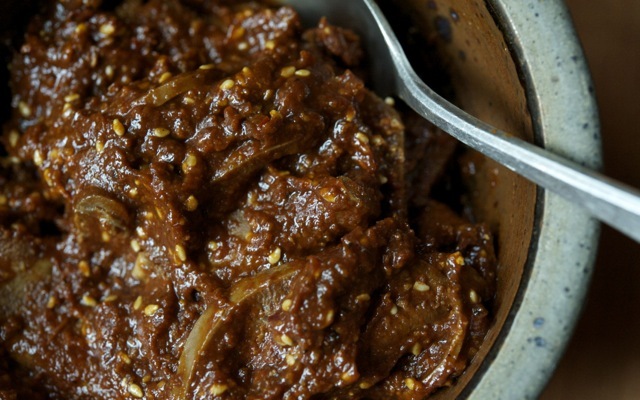 Gently reheat the tongue in the chile sauce and bring it to the table in a warmed bowl for DIY tacos. Heat up a stack of tortillas and keep them warm by wrapping them in a clean dish towel. A dry crumbly cheese like queso fresco or ricotta salata makes a nice accent, along with chopped cilantro and lime wedges. Additional hot sauce is beside the point unless you want to really feel the burn.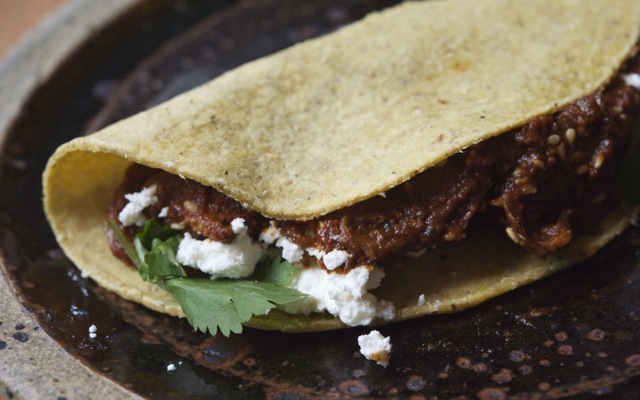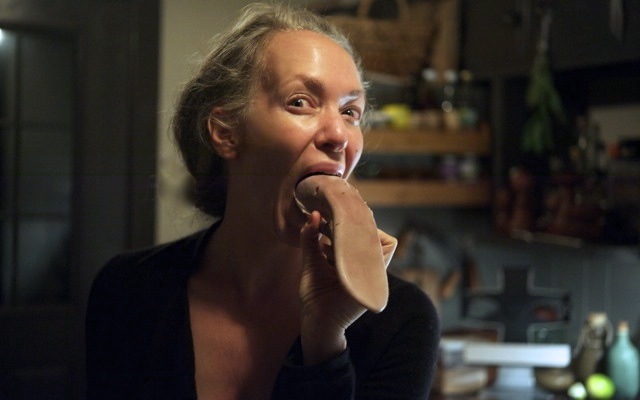 As you can see, having a tongue in the house led to a bunch of fun and games.

Stay tuned tomorrow for a totally vegetarian but equally heart-stopping Valentine's Day proposal!
Spicy Tongue Tacos
adapted from Jennifer McLagan's "Odd Bits"
serves 6
— 2

serrano chiles

— 1

large can peeled whole tomatoes, chopped

— 1/4 cup

blanched almonds

— 1 tablespoon

sesame seeds

— 3

ancho chiles

— 2

cascabel chiles

— 1 cup

boiling water

— 1 tablespoon

lard, or neutral oil

— 1

clove garlic, chopped

— 1 1/2 teaspoons

coarse sea salt

— generous pinch

ground allspice

— generous pinch

cinnamon

— 12 ounces

poached veal or beef tongue

—

corn tortillas

—

crumbled queso fresco

—

finely shredded cabbage or lettuce

—

chopped cilantro

—

lime wedges
Heat a heavy skillet (cast-iron works great) over a high flame and toss in the serrano chiles. Cook until they turn black, then remove them to a small bowl and cover with plastic wrap so they steam. Set aside.


In the same skillet, over medium heat, toast the almonds until golden, then slide them into a bowl and set aside. Repeat with the sesame seeds, watching closely so they do not burn.


Using scissors, cut the dried chiles into large pieces, discarding the stems and seeds. Toast the pieces in the skillet, turning once, until fragrant, about 2 minutes total. Tip them into a bowl and cover with the boiling water. Set aside to steep.


In a frying pan with a lid, melt the lard over medium-low heat. Add the garlic and cook until fragrant, then add the almonds, sesame seeds, tomatoes, salt and spices. Drain the soaking chiles, discarding liquid, and add them to the pan. Cover and cook for 30 minutes, or until the chiles are pretty soft. Cool slightly.


Remove the serrano chiles and peel off their skin. Slit open and remove the seeds. Place the flesh in a food processor or blender with the tomato-chile sauce and blend until smooth.


Cut the tongue into paper-thin slices and reheat them in the sauce, adding a couple tablespoons water to thin the sauce a bit.


Heat the tortillas in a hot pan and wrap them in a clean dish towel to stay warm. Bring them to the table along with the tongue in a bowl (sounds so weird!), and bowls of cheese, cabbage, cilantro and lime wedges so people can make their own tacos.



Download Recipe
Poached Tongue
— 1 lb

veal or beef tongue

— 1

small onion, quartered

— 1

carrot, peeled and chunked

— 1

stalk celery, in chunks

— 1/2 teaspoon

dried thyme, or 1 sprig fresh thyme

— 1/2 teaspoon

green peppercorns

— 1

fresh bay leaf
Soak the tongue in a bowl of cold water for an hour.


Discard water and place tongue in a large heavy saucepan. Add cold water to cover the tongue and bring to a boil over medium heat. Skim any scum, then reduce heat and add remaining ingredients.


Cut a piece of parchment paper to fit and lay over surface. Cover pot and simmer gently until the tongue is very tender, about 2 hours. To test for doneness, pierce the tongue at its thickest point with the tip of a sharp knife.


While it's still hot, transfer the tongue to a plate, using tongs. The next step is to peel off the skin, OK, yes, it's a little creepy but go ahead. You can wear gloves to protect your hands from the heat, because if you let it cool too much it won't slip off easily. I use the tongs to pull the skin away. Be careful around the tip as it tends to stick. Scrape off any bumps with the back of a knife and trim any fat and gristle from the base.


Strain the poaching liquid and, once cooled, use it to store the tongue. It will keep in its liquid for 3-4 days.



Download Recipe