9.12.12
Tomato Queen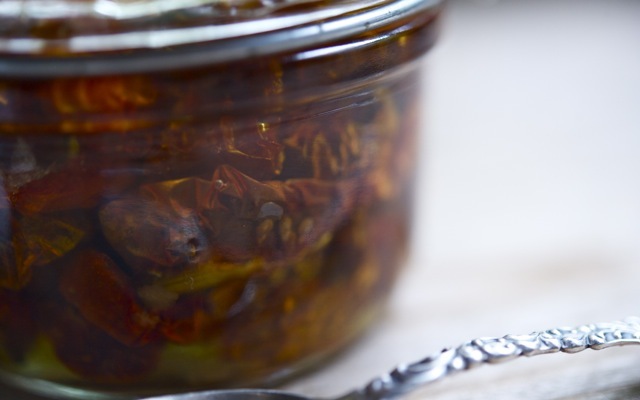 Can't you just see her, proudly leading the parade down Main Street, all rosy cheeks, healthy curves and shiny Breck-girl hair? (Sort of like
Hilary Rhoda
if she ate more.) Actually, "The Tomato Queen" was what they dubbed Tillie Lewis, whose canning factory in Stockton, California, in the 1940s, was the first to market Italian Roma tomatoes to mainstream consumers. But that's neither here nor there. What I'm writing about today is a way to use all those cherry tomatoes that are still flooding in from your garden (or local greenmarket). I posted my recipe for "tomaisins"—my own deeply clever marketing term for dried cherry tomatoes—a couple of years ago, and I'm running a similar one here because I still think it's a great, easy preserving method. I hope I'm preaching to the converted, but if you still haven't tried this, now's your chance. Of course you can add fresh cherry tomatoes to your salads, toss them raw with hot pasta, slice them with cucumbers or just pop them into your mouth for a snack but, if you're like me, you will still have a ton left cluttering up your kitchen counter (
never
refrigerate tomatoes). This simple recipe for a flavor-intensified condiment is the perfect solution.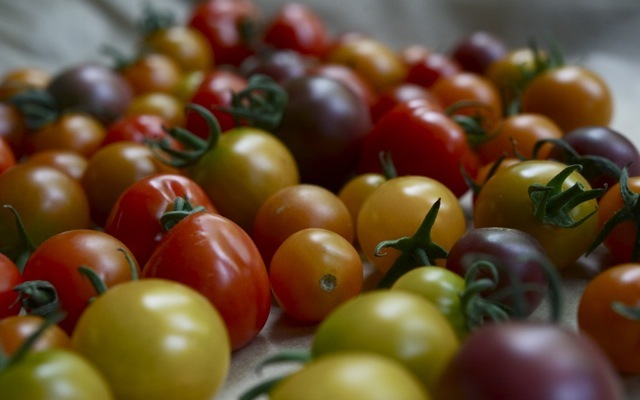 In addition to cherry tomatoes, you can also use not-as-small heirloom varieties, and even small Romas, whose meaty quality is ideal for drying. As the moisture goes, it leaves behind the sweet concentrated essence of tomato.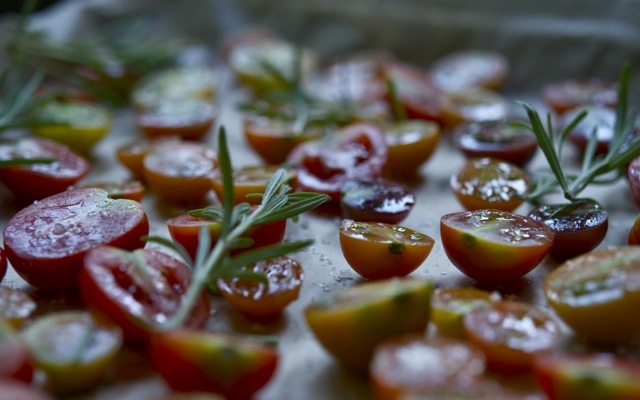 I like to pluck whatever's abundant in the garden—rosemary, sage, basil, even lavender—and lay sprigs of the herbs over the tomatoes to impart their flavor. You could also roast some peeled cloves of garlic along with the tomatoes, but you definitely don't want them to burn.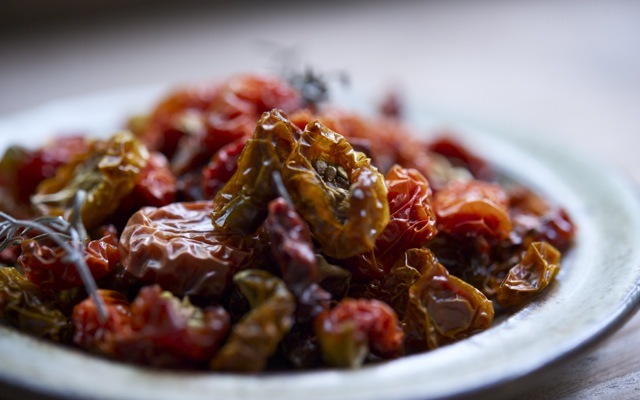 One they're nice and dry, I like to pack them into jars and pour olive oil to cover, but you could store them in an airtight container just as they are. They can be reconstituted in soups and stews, tucked into a grilled cheese, pureed and mixed into salad dressing...they're really quite versatile. Wrinkled and wizened, they lose none of their charm and continue to hold summer in their hearts.
Preserved Cherry Tomatoes
—

cherry tomatoes

—

medium-to-fine grain sea salt

—

sprigs of fresh herbs (rosemary, thyme, basil)

—

extra-virgin olive oil
Preheat oven to 225 degrees. Cover a baking sheet with parchment paper.

Stem cherry tomatoes, then rinse and pat them dry. Slice in half through the stem end. Spread them seed side up on the baking sheet and dust lightly with sea salt. Lay herb sprigs over the top. Roast in the oven until very dry but still pliable. Check frequently as times will vary depending on oven and tomatoes.

Remove from oven and cool. Discard herbs and dust off any loose salt. Pack dried tomatoes tightly into a small jar and cover with good olive oil. Store in a cool, dark place or in the fridge. You can also store the tomatoes without the oil in an airtight container.



Download Recipe