4.5.12
All Choked Up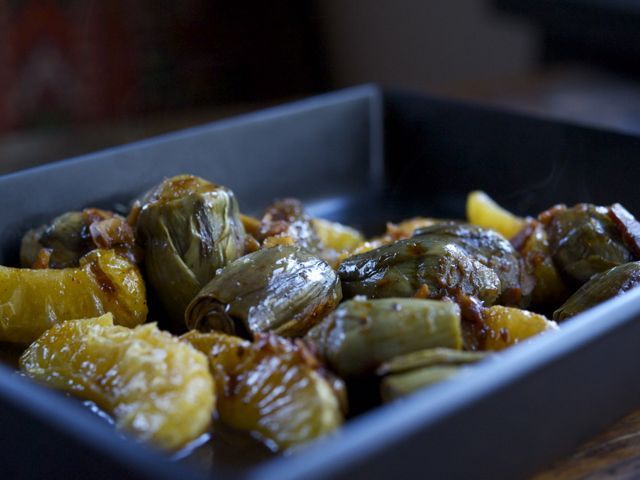 I grew up in a family obsessed with language. To this day, try as I might, I sometimes cannot stop myself from correcting someone's grammar or droning on about semantics. I still remember the day it dawned on me that the word breakfast was derived from the act of breaking the fast. Another interesting tidbit that has stuck with me is something my father taught me: all the Spanish words that start with "al" are of Arabic derivation. "Alambre" means wire, a material used by the Moors in their ornate filigree; "Alhambra" is, of course, their castle in Andalucía; and "alcachofa" means artichoke, cultivated by the Moors as early as 800 AD in the countryside around Granada. I grew up in California near the epicenter of artichoke production and have been eating these delicious thistles my whole life. I recently shared a plate of them "alla Romana" with G at Boulud Sud, where they were fried to a greaseless crunch and accompanied by a lemony aïoli—perfection! I also adore the big globe artichokes, steamed and doused in lemon. I love to scrape each leaf with my teeth, savoring the green mineral flavor, until I've worked my way to the heart in all its creamy glory.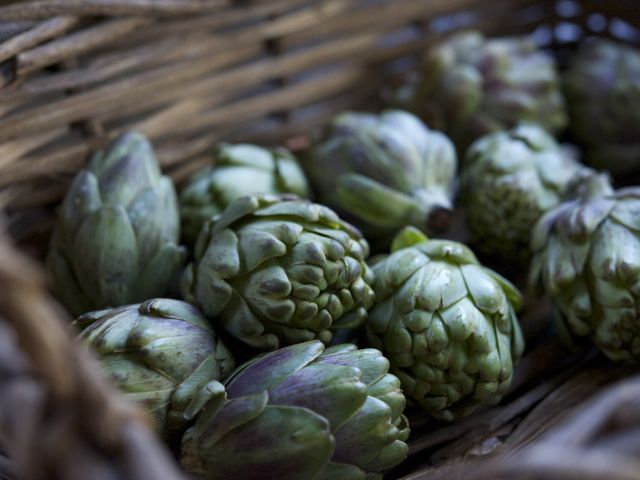 Artichokes are low in calories, high in antioxidants and very nutritious. They're rich in fiber and packed with magnesium, potassium, folate, vitamin C and iron. Interestingly, they don't pair well with many wines as they contain an enzyme that gives them a slightly sweet, lingering flavor that collides with any acid.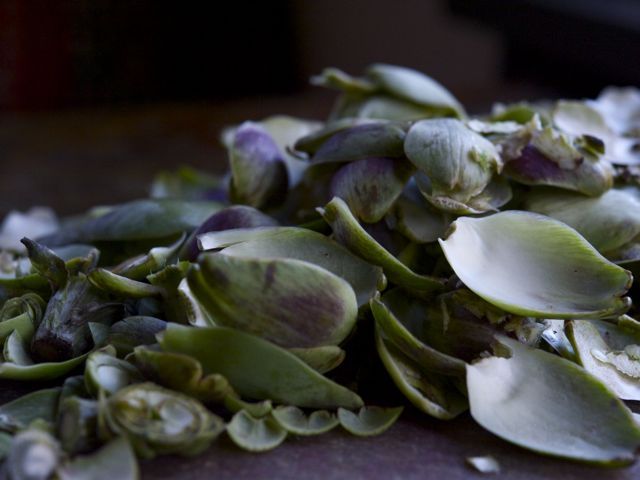 And they're a bit of work. Remove a layer of fibrous outer leaves, snip off the pointy tips with a pair of kitchen shears and pare down the stems. Small, or baby, artichokes need this same treatment. You would expect them to be a lot more tender but they really aren't.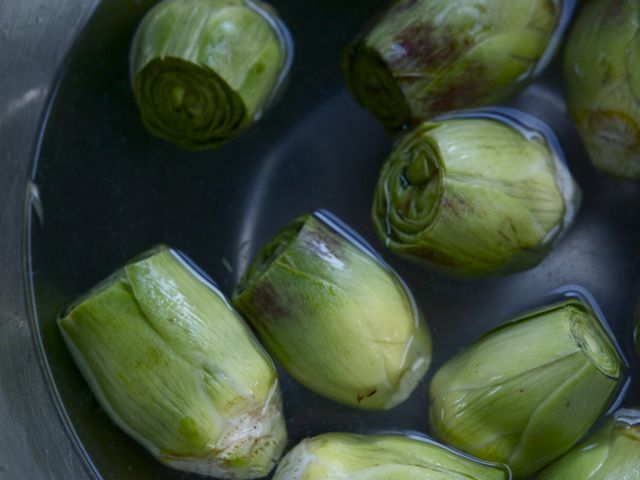 Artichokes oxidize quickly, so always have a bowl of acidulated water (just squeeze half a lemon into it) next to you when you're prepping them.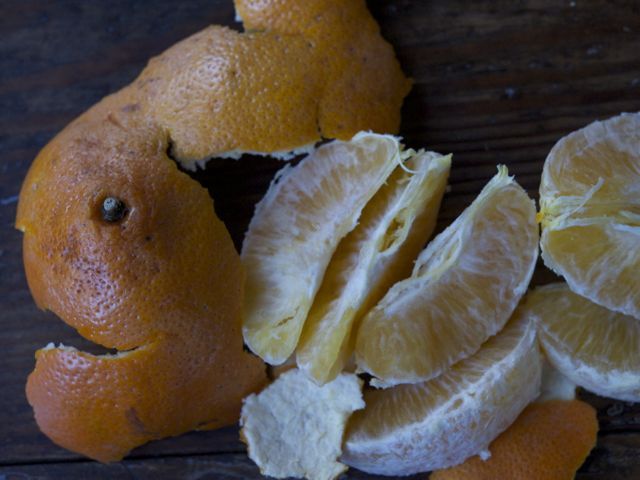 This recipe is from the prolific Paula Wolfert, an authority on Mediterranean and North African cuisine. It's a compote of artichokes and oranges that tastes even better the next day. Serve it with salad greens, spooned over couscous, with grilled lamb chops or a tagine.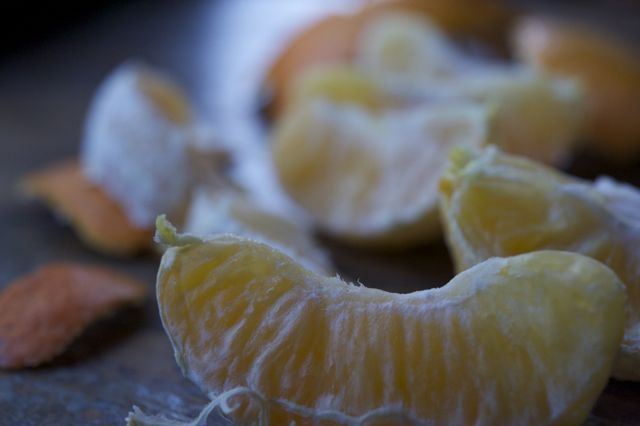 It calls for thin-skinned oranges, but I'm not really sure why. You want something quite juicy and flavorful, of course. I used HoneyBells.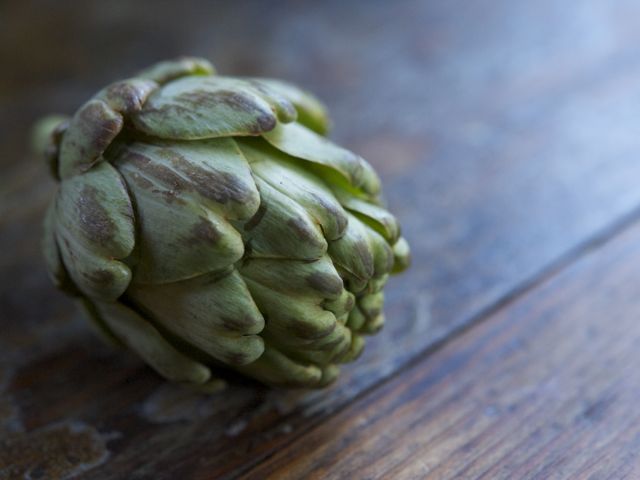 It's a simple braise that results in a tender, syrupy tangle of artichokes and oranges, with bright bursts of flavors from coriander and mint. Alright?
Artichoke & Orange Compote
from Paula Wolfert
serves 4-6
— 2

thin-skinned oranged, peeled and sectioned

— 1/2 teaspoon

freshly ground black pepper

— 1 teaspoon

sea salt, or to taste

— 1/2 cup

fresh orange juice

— 2

cloves garlic, peeled and sliced

— 2 tablespoons

extra-virgin olive oil, plus more for drizzling

— 16

baby artichokes

— 1 1/2

lemons

— pinch

ground coriander

— 1 tablespoon

sugar

— 4 sprigs

fresh mint
Place about 4 cups water and juice of 1/2 lemon in a bowl. Clean artichokes, and cut off ends of stems. Break off leaves as far as they will snap, leaving only white leaves. Using a knife and a vegetable peeler, trim rough parts that stick out after leaves have been broken off. Trim outer layers of stem with a vegetable peeler. Cut off thorny top about 3/4 of an inch down. Rub with lemon, and drop into lemon water.


Heat 2 tablespoons olive oil in a flameproof earthenware or shallow stainless steel saucepan. Add garlic, and sauté over low heat for 1 minute. Stir in 1/3 cup orange juice, juice of remaining lemon, salt and pepper. Cook, stirring with a wooden spoon, for an instant, then add drained artichokes and 1/4 cup water. Cover with crumpled wet parchment paper and a tight-fitting lid, and cook over lowest heat for 20 to 25 minutes (mine took longer and I added a bit more water during the cooking), or until tender, turning the artichokes once.


Meanwhile, combine orange sections, coriander, sugar and remaining orange juice in an 8-inch skillet. Cook, stirring, over medium-low heat until reduced and syrupy, 10 to 15 minutes. Taste, and add extra sugar if still bitter.


With a slotted spoon, transfer glazed orange sections to a serving dish. Add artichokes to syrupy juices in skillet, and cook until glazed. Transfer artichokes to serving dish.


Add artichoke cooking juices to skillet. Raise heat to medium-high, and reduce quickly to 1/3 cup. Correct seasoning with salt, pepper and a dash of fresh olive oil, and pour over artichokes and oranges. Just before serving, scatter mint sprigs on top. Serve cool.



Download Recipe