4.30.12
The Kid's Alright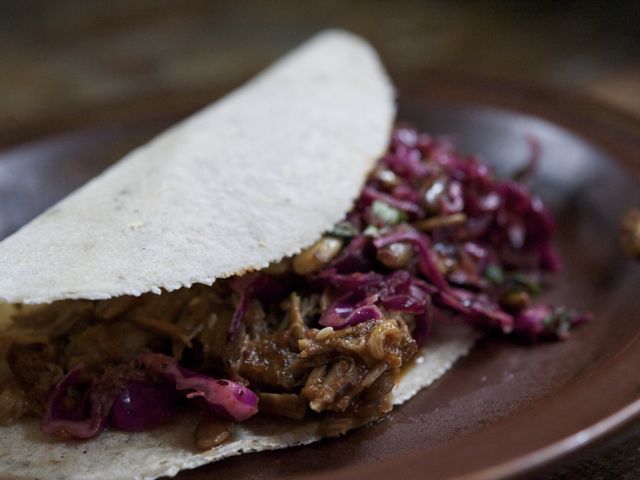 A few years back, New York magazine announced that eating goat was starting to become a trend. A reader wrote into its website, saying, Here are white people again!!!! Acting like they invented goat meat. That's pretty funny, and also painfully true. Goat is actually the meat most consumed around the world. We're behind, people.Goat is not only delicious, it's sustainable, higher in protein than beef and lower in fat than chicken. This leanness makes it particularly good when braised or steamed so it doesn't dry out. Fresh goat is still hard to find in New York City markets, so I imagine it's not readily available from your average grocer. Try farmers markets or Halal butchers, or look for it on the menus of hip, locavore-friendly restaurants.
At Scarpetta, Scott Conant is known for his roasted capretto—that's Italian for baby goat aka kid. At Girl and the Goat in Chicago, chef Stephanie Izard—who got into goat (and named her restaurant for it) when she discovered that izard is a breed of Pyrenees goat—uses it in a homemade sausage on pizza and in a ragú with gooseberries and rosemary that she tosses with homemade pappardelle. Now she buys her goat from a local farm (as do I) and goes through seven whole goats each week (I do not).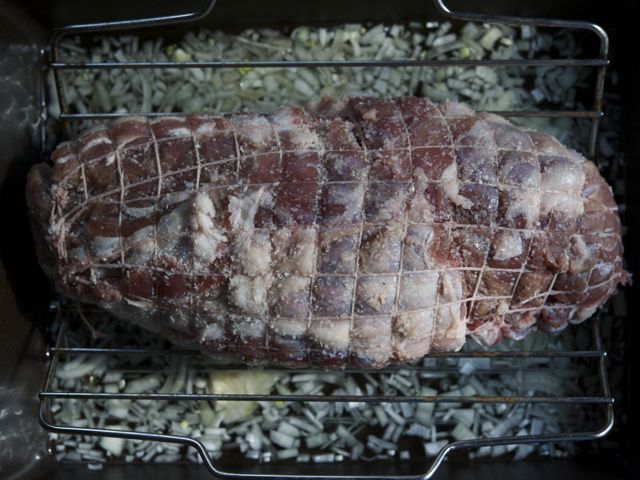 My go-to recipe for goat is from Mexican cooking authority Rick Bayless by way of a restaurant in Jalisco that specializes in birria, a savory stew that's really a bowl of chile-based broth combined with chopped or pulled roasted meat and served with corn tortillas, onions, cilantro and fresh lime. Now my mouth is watering. There are a few easy steps and in the end you wind up with something authentically delicious that you could serve to real Mexicans or a deserving bunch of gringos. I use a deboned leg that's been tied, but on the bone might be even better (more flavor). First, you steam it, well-wrapped, on a rack in the oven over a watery bed of onions and garlic.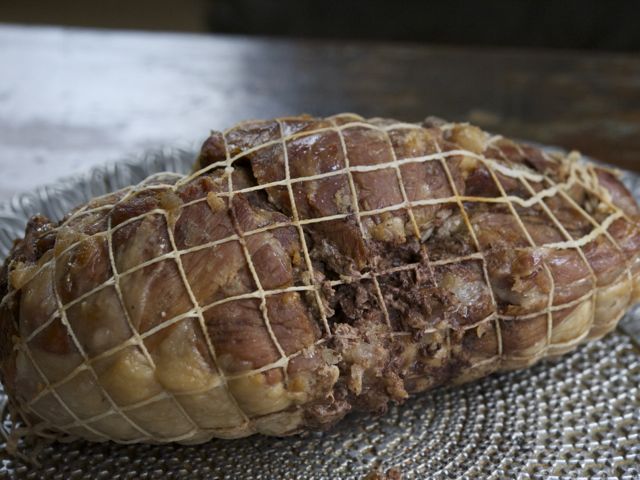 If you've eaten some gamey old goat somewhere and are afraid to try it again, be brave. A young goat which has met its end at around 9 months and who, up until then, frolicked happily in green pastures, is sweet, tender and delicious.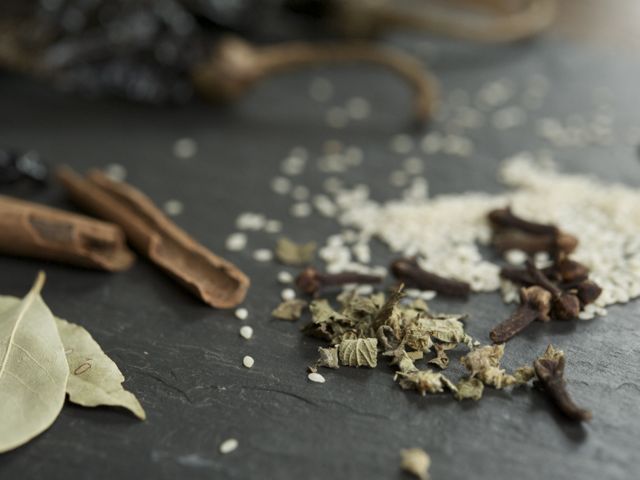 The next step is to make a wonderful chile sauce rich with sesame seeds and classic Mexican spices, including clove, cinnamon and cumin. I also used Mexican oregano which we grew in our garden last summer and dried. Very satisfying.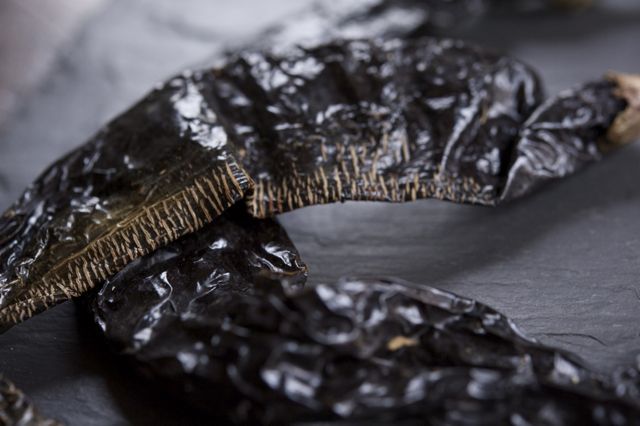 Still a chile virgin? ¡Basta! This is your moment. Latinos are now so prevalent in this country that you can usually find a good selection in most markets, but you can also order them here or here. Many of the Mexican chiles are not super-spicy; it's more about their complex flavor that includes hints of chocolate, wine and earth.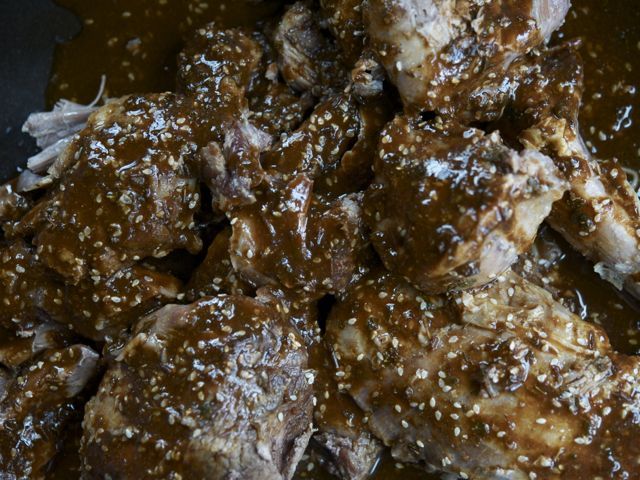 You separate the steamed (and now slightly cooled) meat into big hunks, lay it in a roasting pan and pour most of the sauce over. Then it roasts until the meat is beautifully glazed. While it's in the oven, you take the remaining chile sauce, the oniony liquid left over from the steaming step, as well as tomatoes, agave and cider vinegar, and blend it all into the sauce you'll serve with the roasted goat.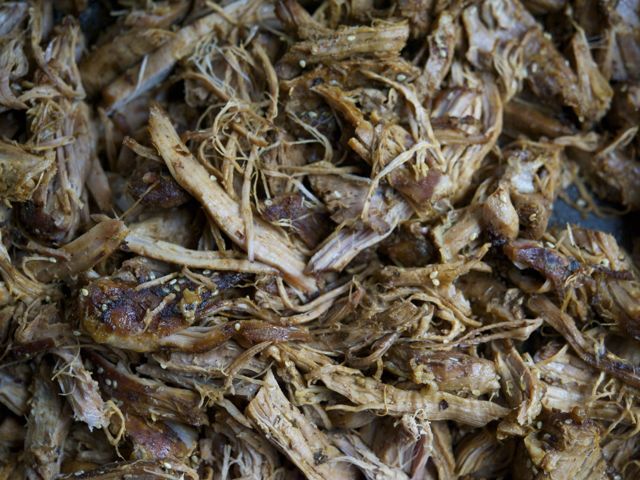 When the goat is done, you chop or shred it as you would barbecued pork. I like to pour some of the sauce over it, and serve the rest at the table, along with chopped onion, cilantro and some hot sauce, like Tabasco.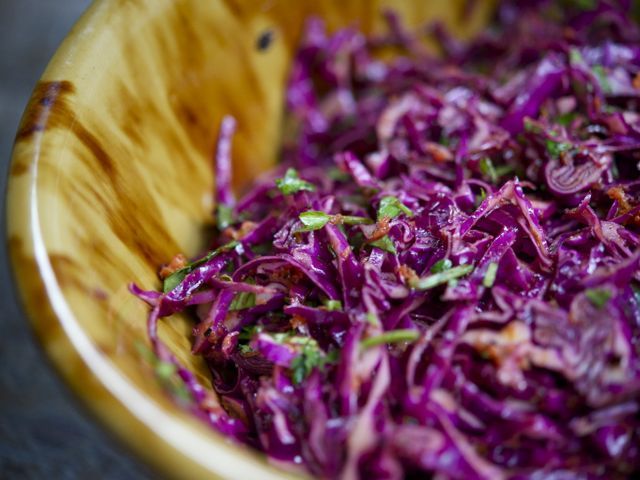 I make a simple slaw to tuck into warm tortillas along with the goat meat. You can find my recipe here. Together, it's pretty much the perfect combination of salty, spicy, sweet, tangy and savory, with just the right crunch. For dessert, I made a chocolate sorbet spiked with a little cinnamon. It was pretty divine. Let me know if you're interested in that recipe.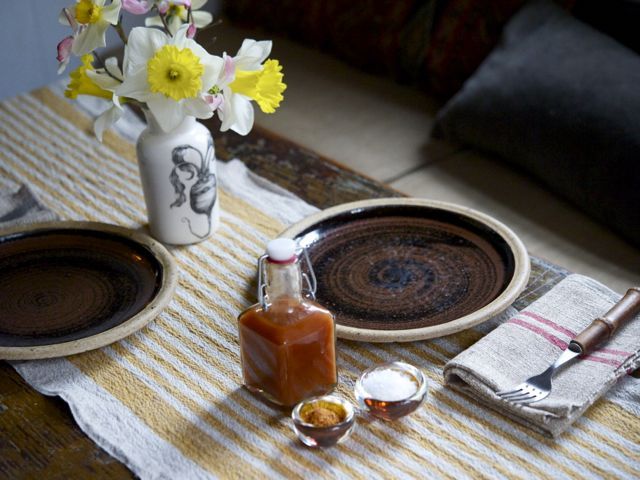 Is there anything better than sitting down for a late Saturday lunch with good friends?
Birria Jocotepec
serves 6
adapted from Rick Bayless' recipe in Saveur (from Birriería El Tartamudo in Jocotepec, Jalisco)

— 2

bay leaves

— 15

small tomatoes (fresh or canned), peeled, seeded and chopped

— 6 tablespoons

cider vinegar

— 4 teaspoons

agave nectar or sugar

— 4

whole cloves

— 2 teaspoons

sesame seeds

— 1/2 teaspoon

ground ginger

—

freshly ground black pepper

— 2 teaspoons

dried Mexican oregano

— 1/2 teaspoon

ground cumin

— 1

pasilla or New Mexico chile, seeded and halved lengthwise

—

kosher salt

— 1

5-pound piece of young goat, preferably the leg (bone in is best, or ask your butcher to tie it)

— 1

medium white onion, peeled and minced

— 4

cloves garlic, crushed and peeled

— 1

small cinnamon stick

— 1

small red onion, peeled and finely chopped

— 1/2 cup

chopped fresh cilantro leaves

— 2

limes, quartered
Preheat oven to 325º.


Place garlic, chopped white onion and 4 cups water in a large ovenproof pot fitted with a steaming rack (it should sit just above water). Rub meat generously all over with salt and place on rack. Cover pot with lid and crinkle aluminum foil around edge to form a tight seal (or cover and tightly seal with 2 layers of foil; or just use several layers of tightly crimped foil, as I did). Place pot in oven and cook undisturbed for 4 hours or until meat is fork-tender and falling off the bone (if there is one).


Place a small skillet over medium heat. Flatten chile halves on hot skillet and toast, turning once, just 10-15 seconds. Place in a small bowl and add 1 cup hot water. Cover and set aside until soft and pliable, about 30 minutes. Drain chile, reserving soaking liquid, and place in a blender or food processor. Add cumin, oregano, pepper, ginger, sesame seeds, cloves, sugar, vinegar and 3 tablespoons soaking water, and blend until smooth. Add enough soaking liquid to make 1 cup of sauce. Set aside.


When meat is done, remove from oven and set aside. Strain steaming liquid, discarding solids and reserve. Allow meat to cool slightly, then carefully remove and discard bones, gristle and any fat, leaving meat in large pieces.


Place meat in a roasting pan and brush all over with 3/4 cup of the chile sauce. Increase oven temperature to 350°. Return meat to oven and bake until chile sauce glazes meat, about 20 minutes. In the roasting pan, shred meat with 2 forks or roughly chop. Cover with aluminum foil to keep warm.


For the sauce, cook tomatoes in a large pan over medium heat, stirring occasionally, until soft, about 15 minutes. Transfer tomatoes to a blender or food processor and blend until smooth. Return tomatoes to pan, add remaining chile sauce (about 1/4 cup), bay leaves, cinnamon stick and reserved goat steaming liquid. Simmer, uncovered, over medium-low heat until liquid reduces by about one-third, approximately 45 minutes. Remove and discard bay leaves and cinnamon stick.


To serve, place about 1 cup meat in each of 6 large bowls. Pour about 1 cup birria sauce over each. Garnish with remaining chopped onions, cilantro, and a squeeze of lime juice. Serve with hot sauce, such as Tabasco, and fresh corn tortillas.



Download Recipe