3.8.12
Bisque Quick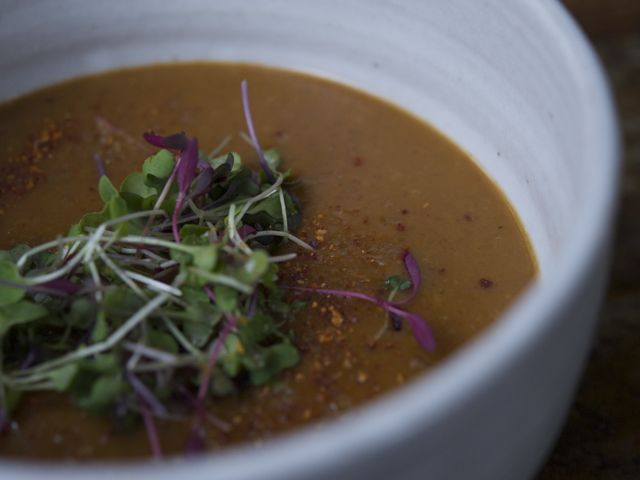 We leave for Hawaii on Sunday and I can't think of a time when I was more in need of a vacation. A long and unsatisfying winter (virtually no snow) has left me eager for outdoor adventure. The Big Island is full of volcanoes, caves, black sand beaches and pristine rain forest and I want to see it all! Millions of things to get done before I go, so today's post will be a short one. I've been wanting to tell you about this great way to use up shrimp shells. I always buy whole shrimp, wild-caught and not previously frozen if possible, and I save the shells in a bag in the freezer. Sometimes I use them to make a quick stock for seafood stews and sauces, but the other day I had so many that I was able to make an incredibly rich and flavorful soup from just the shells plus some vegetables and aromatics. My riff on stone soup.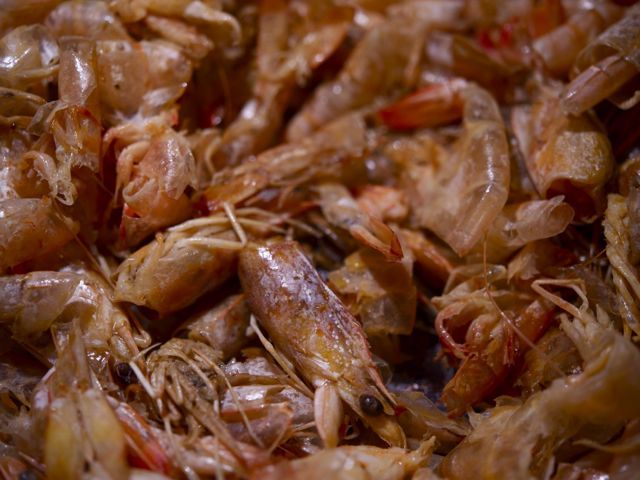 I had one of those large ziploc bags stuffed full of shells, accumulated over the past couple of months from maybe 4 or 5 pounds of shrimp. You brown these in butter and then cover with water and aromatics to make a rich stock.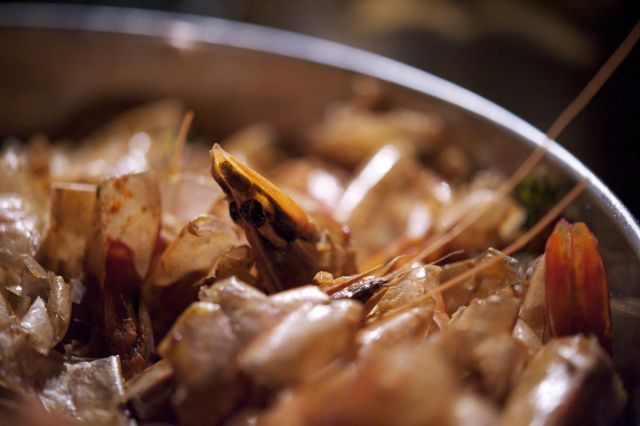 Then you combine the stock with some more vegetables and a little rice to thicken it up. Once it's all cooked together (the smells will amaze you!), you simply puree and serve. Amazing what you can make from something you might normally discard. And it certainly doesn't feel like a frugal dish. This is a soup you could proudly serve to company, so start saving your shells.Today, International Women's Day, I salute all my sisters and proudly wave the feminist flag!
Shrimp Shell Bisque
serves 4-6
— 2

large leeks, white & light green parts only, chopped

— 2

celery ribs, chopped

— 2

garlic cloves, chopped

— 1

bay leaf

— 3

thyme sprigs

— 1/4 cup

sherry, plus more to taste

— 2/3 cup

dry white wine

— 2 tablespoons

olive oil

— 4 tablespoons

butter

—

Raw shrimp shells from about 4-5 pounds of shrimp

— 1

fennel bulb, chopped

— 1/4 cup

basmati rice

— 3 tablespoons

tomato paste

— pinch

cayenne

—

freshly squeezed lemon juice

—

herbs and/or croutons for garnish
In a large pot over high heat, cook shrimp shells in 2 tablespoons butter, 1 tablespoon olive oil and ½ teaspoon sea salt, stirring frequently, until lightly browned in spots, about 15 minutes. Add wine and sherry and boil until most of the liquid is evaporated. Add 8 cups water, thyme and bay leaf and simmer, uncovered, for 40 minutes. Strain shrimp stock into a bowl, pressing firmly on solids before discarding them.


Add remaining 2 tablespoons butter and 1 tablespoon olive oil to pot along with celery, leeks, garlic and fennel and sauté until softened, about 5 minutes. Stir in the rice, tomato paste, cayenne and salt to taste and sauté for a few minutes. Add shrimp stock and simmer, covered, until rice is tender, about 20 minutes. Remove from heat and cool slightly.


Working carefully and in batches, pour bisque into a food processor or blender and process to a smooth purée. (An immersion blender also works.) For the most velvety texture, you can now pass it through a fine mesh strainer. Return bisque to pot. Stir in lemon juice and correct seasoning with additional sherry and salt, as needed. Reheat before serving. Garnish with a sprig of thyme, some chopped herbs and/or a couple of rough croutons.



Download Recipe