2.27.12
Raw Passion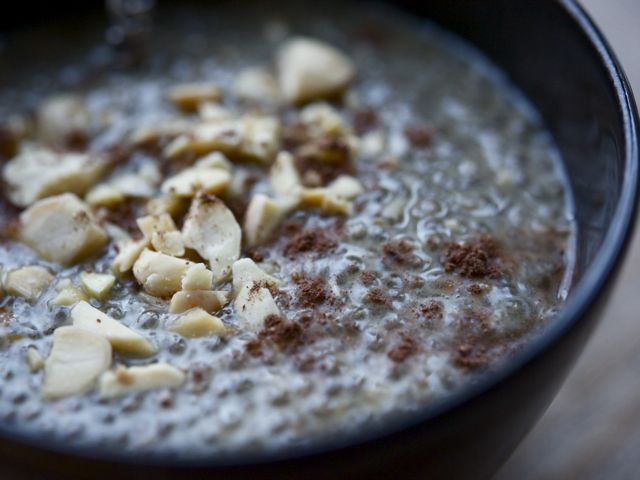 I have an appointment with
my nutritionist
this week and in preparation have been keeping a food log. It's made me more aware than usual of precisely what I eat and, though I want to present a realistic scenario, I've been on good behavior (most of the time). We had friends over for dinner this weekend and things got a little out of hand, yet still I wanted a treat while watching the Oscars last night. Something creamy and rich but without dairy or eggs, something to lick leisurely off my spoon as I cackled to G about this one's dress and that one's cosmetic enhancements. Hollywood on display is a golden opportunity for the ultimate bitch-fest and it requires either gin or ice cream. In the absence of both, try this delightful pudding made with chia seeds. Yes, those of
Chia Pet
fame. They are intriguingly delicious. It's a kinder and gentler alternative, though I was neither.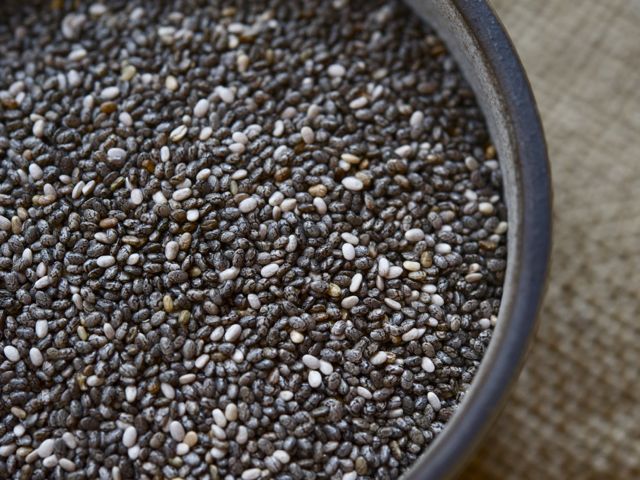 Salvia hispanica is a species of flowering plant in the mint family that was cultivated by the Aztecs in pre-Columbian times. The word "chia" is derived from the Nahuatl word chian, which means "oily." The tiny seeds are rich in omega-3 fatty acids, protein and essential minerals. Chia is still popular in Mexico, especially added to a refreshing limeade. When soaked in liquid, the seeds bloom and develop a wonderfully gummy texture, something like tapioca. Chill this mixture and you have an excellent pudding, without any cooking at all.This recipe calls for almond milk, but you could use coconut water or hemp milk (or dairy, probably), and whatever flavoring you like—toasted coconut, dates, fresh fruit. I've added sorghum as a sweetener, but maple syrup, honey (not too thick), dates, agave nectar or brown rice syrup would all add a touch of sweetness. The pudding is pleasantly slippery and gelatinous, so a crunchy garnish makes a welcome contrast. After eating a modest bowlful, you'll be ready for your closeup.
Chia Seed Pudding
serves 4
— 2 1/2 cups

almond milk

— 3 tablespoons

sorghum

— 3 ounces

organic chia seeds (about 1/2 cup)

— 1/2 teaspoon

finely grated orange zest

— 1/2 teaspoon

vanilla extract

— 1/2 teaspoon

cocoa powder

— pinch

sea salt

—

blood orange sections, for garnish

—

chopped toasted almonds, for garnish
In a 1-quart jar, combine the almond milk with the sorghum. Close the jar and shake to combine. Add the chia seeds, zest, vanilla, cocoa and salt and shake well. Refrigerate until very thick and pudding-like, at least 4 hours or overnight, giving the jar an occasional shake if you can.

Serve in bowls, garnished with oranges, almonds and maybe a drizzle of good maple syrup. Pudding will keep in the fridge for about 3 days.



Download Recipe