1.27.12
Cool Head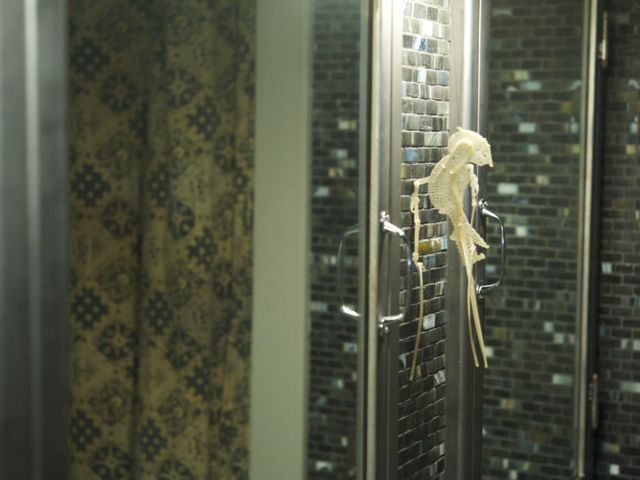 You may remember the Dreaded Bathroom Renovation that commenced around this time last year. You know, the one that was supposed to take a week and took many, many more? So many in fact that I came dangerously close to
the edge
and even broke out in shingles on my neck. In the end, it all turned out fine and we remain quite pleased with our new loo. And G finally brought home the right lens to shoot the tiny, narrow space in which we conduct all our ablutions, so I can share the outcome of all that suffering with you. Normally, you would show the before pictures as well, but I am just too ashamed to do that. Suffice it to say that I turned to G one day and said
This looks like a poor person's bathroom
. That may seem like a terribly elitist statement, but I think it begins to give you the right visual. It was so bad that you would think only a total lack of funds could be keeping the owner from fixing the situation. It was rotten through and through. Cracked and loose tiles meant years of seepage and leaks, and there was a permanent air of mildew. Our towels stank just a day or so after washing. Oh, the horror. And now? Something worthy of showing you. (Though please bear in mind that the lighting does not do it justice.)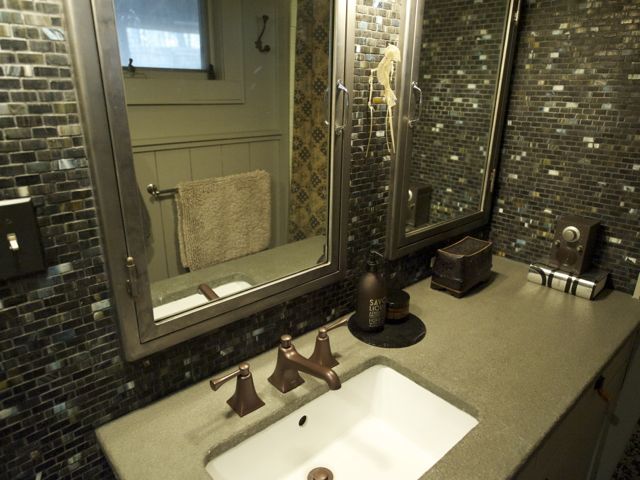 Because it's such a tiny space, I was going for something very functional with plenty of storage. But I also wanted a look that straddled the line between rustic and sophisticated, as I think the rest of our home does. I resist going too country or "grandma," and I do like ethnic touches—artifacts from our travels, mostly. (The shower curtain is made from a vintage Indonesian batik.) There's not a great deal of color in the house, but what there is tends to dovetail with the natural tones surrounding us: dark green, greys, browns, and the occasional flash of orange.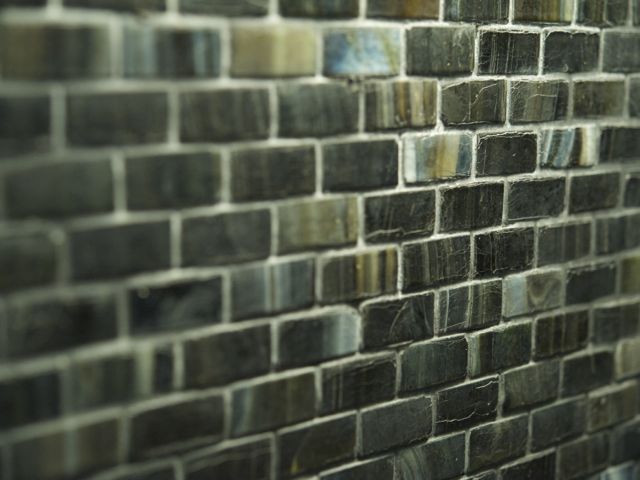 Even though the space is very limited (not-big-enough-for-a-decent-tub small), I wanted rich color and texture and not just the typically stark white bathroom. We found these gorgeous striated glass tiles in varying tones of grey and green, and used them on one wall only. They are dark but dramatic, and the brushed steel mirrored
cabinets
break up the wall. It would be wrong for me not to tell you that these cabinets, ordered from Restoration Hardware, took NINE MONTHS to be delivered. And they are so poorly made that they were a bear to install. But in the end, they do look good.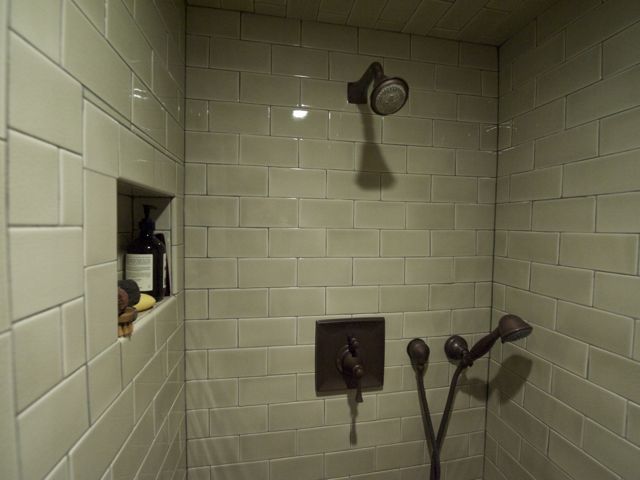 The large shower is now a joy to be in. The bronze hardware here and at the sink is from
Jado
. (I was unpleasantly surprised at how costly nice hardware can be.) I love the light-greenish-grey subway tiles, which are a close match to the paint color in the rest of the bathroom.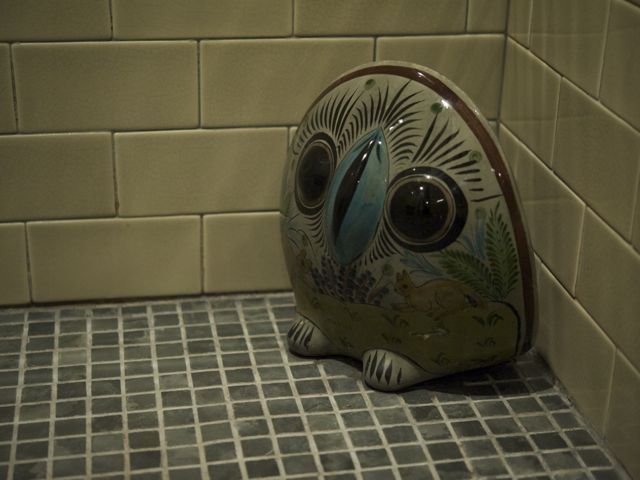 The shower floor is squares of bluestone, a variation on the larger bluestone tiles that cover the rest of the floor. Bluestone is available at local quarries up here and is what we used for the bathroom counter and on our kitchen floor as well. The ceramic owl is 1950s Mexican pottery collected by my parents.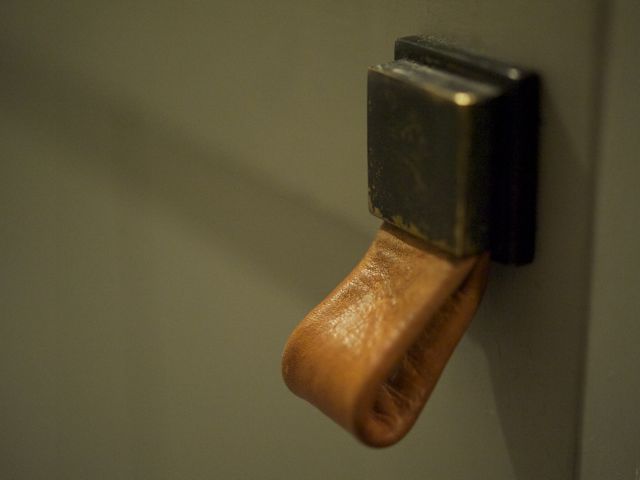 There are a few nice touches that give the bathroom some character. I found these excellent bronze-and-leather drawer pulls on
One King's Lane
, a great resource for discounted things for the home.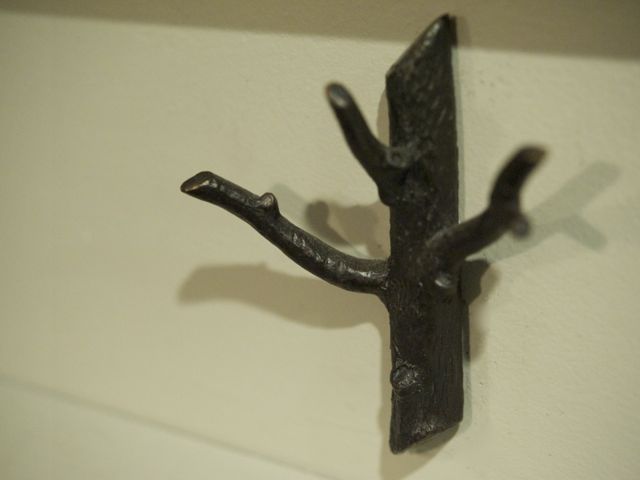 These fun towel hooks, also made from bronze, are from
this
fantastic store in Bangkok. I have been waiting for the right place to use them since I bought them on a trip to Thailand in 2005.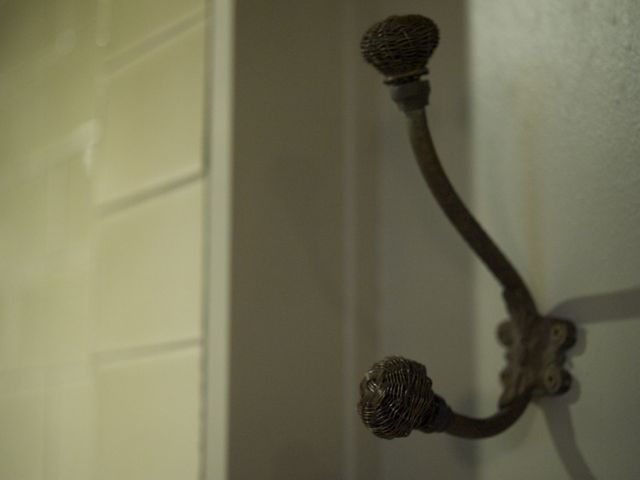 These woven wire hooks are made in India, and I got them many years ago at Anthropologie. They have served various purposes in different homes of mine. They work well for bathrobes.I'm not showing you a picture of the toilet, but it's just plain white. Another smaller brushed steel cabinet hangs above it. I finally have enough room for all my lotions and potions, and G has an entire cabinet all to himself. Our towels (Riviera sheet towels in coal from
Matteo
) stay fresh and, as for the renovation, I'm going to wash that memory right out of my hair.