10.20.11
Letting Off Steam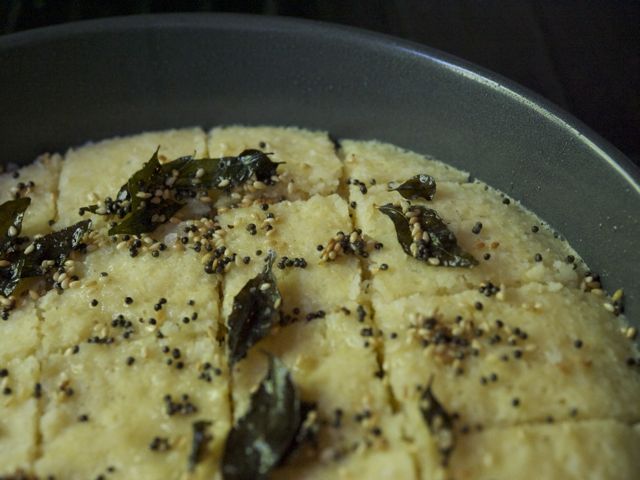 This year, I hope to bring you with me a little more often into the world of South Asian cooking. Having traveled in India, Vietnam, Thailand, Laos, Cambodia and Indonesia, I've been fortunate to experience many of these flavors in their countries of origin, but my real culinary knowledge of them I owe to Jeffrey Alford and Naomi Duguid, authors of two seminal—and well-thumbed—volumes:
Hot Sour Salty Sweet
and
Mangoes & Curry Leaves
. They track their recipes to the source, often cooking in humble homes alongside matriarchs of the region, and they really believe in simple authentic dishes.
Mangoes & Curry Leaves
features the cuisine of the Subcontinent—Pakistan, India, Nepal, Bhutan, Bangladesh, Sri Lanka and the Maldives—so you can imagine the rich variety. I'm sharing a recipe for
dhokla
, a Gujarati specialty that's essentially a steamed bread. The recipe looks long, but it's really a very simple process, and the result is light and delicious (and gluten-free). So you don't become discouraged about trying these recipes, please find a source for South Asian ingredients. A market in Little India? An
online resource
? It's exciting to try something new, and a great way to vary both your diet and your repertoire.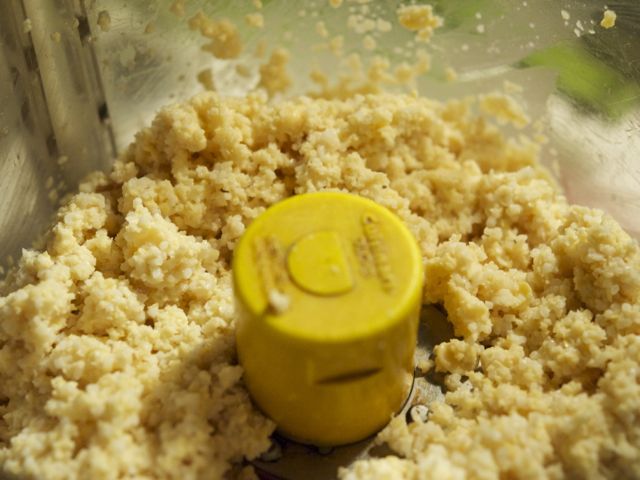 This savory bread is made from a batter combining butterscotch-colored toovar dal (split dried pigeon peas) and white rice, though cornmeal is sometimes used. The dal and rice need to soak for 6 hours (or up to 24, if that's easier for you). It's ground into a batter that's mixed with a little water and yogurt (buttermilk would probably work fine) and then steamed to a dense, springy texture. A little baking soda helps it rise, though traditionally the batter would be left to ferment for 12 hours to gain natural leavening.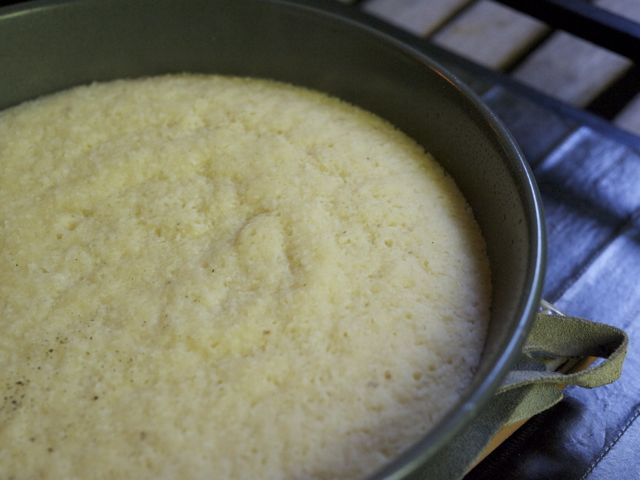 You'll need an 8" round cake pan and some kind of steamer that can hold it. One of these
collapsible steamers
works perfectly, and is a great kitchen item in general for steaming everything from broccoli to dumplings. Whatever your steaming arrangement, it needs to fit inside a larger, lidded pot that holds about an inch of water.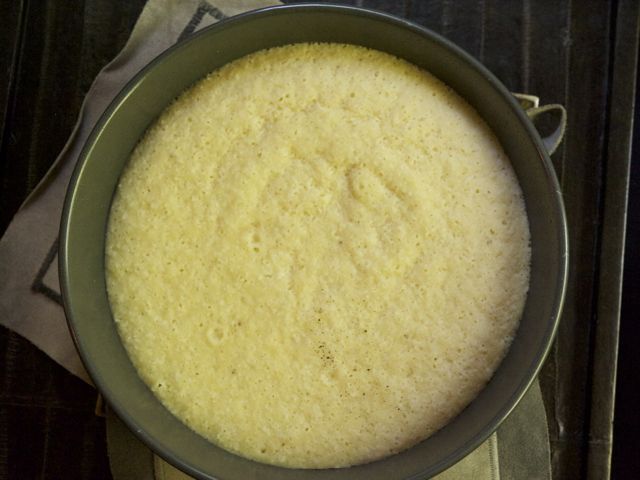 Once the dhokla has been steamed, it's cut into small squares or diamonds and seasoned or "tempered" with a tarka, a mix of spices and aromatics briefly heated in oil. This smells amazing and seeps into the cracks, imparting another level of flavor to the mild bread.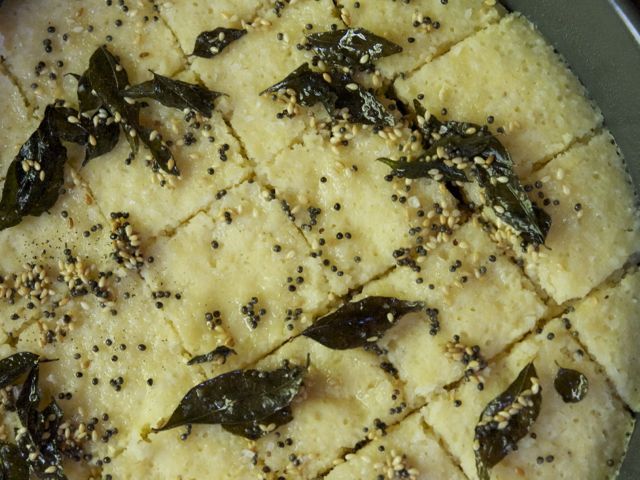 Dhokla, traditionally served with one or more chutneys, is a farshan: almost like an appetizer, or a dish that constitutes a break or pause in a larger meal. With a little dal or soup, or even on its own with some chutney, I think it makes a lovely lunch or light dinner.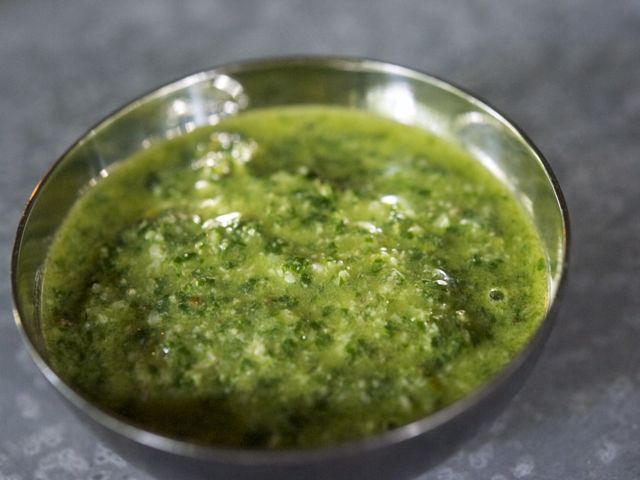 Dhokla (Steamed Bread)
from Mangoes & Curry Leaves
serves 4-6
— 1/2 cup

toovar dal (split pigeon peas), washed & picked over

— 3/4 cup

raw white rice, washed and drained

— 1/4 cup

water

— 1/2 cup

plain yogurt (full or reduced-fat)

— 1/2 teaspoon

salt

— 1/2 teaspoon

baking powder

— 2 teaspoons

peanut or raw sesame oil

— 1/2 teaspoon

black mustard seeds

— 1/2 teaspoon

sesame seeds

— 6

fresh or frozen curry leaves
Seven to 24 hours before you wish to serve the dhokla, start soaking the dal and rice. Wash them separately. Place the dal in a bowl and add water to cover by 1 inch. Place the rice in another bowl and add water to cover by 1 inch. Cover both bowls and set aside to soak for at least 6 hours, or overnight.


Drain the dal, measure out 1 cup, and place it in the food processor. Drain the rice, measure out 1 cup, and transfer to the food processor. Add the water and process until the dal and rice are well ground, a few minutes. Add the yogurt and process until smooth. The batter should be thick but pourable. Leave the batter in the processor bowl.


Organize your steaming arrangement (see details in post) and bring the water to a boil. Lightly grease an 8" round cake pan.


Add the salt and the baking powder to the batter and process briefly to mix well. Pour the batter into the cake pan to a depth of between 1/2" and 3/4" (the length of your thumbnail is a good measure).


Use oven mitts to protect your hands and arms as you set the pan in the steamer. Cover the pan and bring the water to a vigorous boil, the lower the heat just slightly to maintain a strong boil. After 5 minutes, remove the lid and wipe the underside dry, then replace it. Continue cooking until the top of the dhokla is shiny and the sides are pulling away slightly from the pan, about 15 minutes total. (The dhokla will rise and puff after about 5 minutes, but it needs more time to cook through.)


Use oven mitts again to remove the pan from the steamer. Set the pan aside for 10 minutes to set.


Use a sharp knife to slice the dhokla into 1"-diameter diamonds or squares; if the dhokla sticks to the knife as you slice, wipe the knife clean and lightly oil the blade before proceeding. Set the pan of sliced dhokla by your stovetop.


Heat the oil in a small heavy skillet over medium-high heat. Add the mustard seeds, and when they start popping, add the sesame seeds. Once the seeds have popped, about 20 seconds, toss in the curry leaves, and then pour the oil and flavorings over the dhokla.


You can serve it right away or leave it in the pan for an hour before serving. This gives it more time to gain flavor from the oil and allows the texture to firm up even more.


Serve warm or at room temperature, using a spatula to lift the squares out of the pan, and accompanied by one or more fresh chutneys.



Download Recipe
Mint-Coriander Chutney
from Mangoes & Curry Leaves
makes about 2/3 cup
— 2 cups

packed mint leaves

— 1/4 cup

fresh lime juice

— 2 tablespoons

coriander leaves

— 3 tablespoons

sliced shallots

— 2 teaspoons

minced green cayenne chile, or to taste

— 1 teaspoon

sugar or agave

— 1/2 teaspoon

sea salt
Place all the ingredients in the food processor and process for about 15 seconds, until almost pureed. For the brightest flavor, serve immediately.



Download Recipe