7.20.11
One, Two, Three: Dinner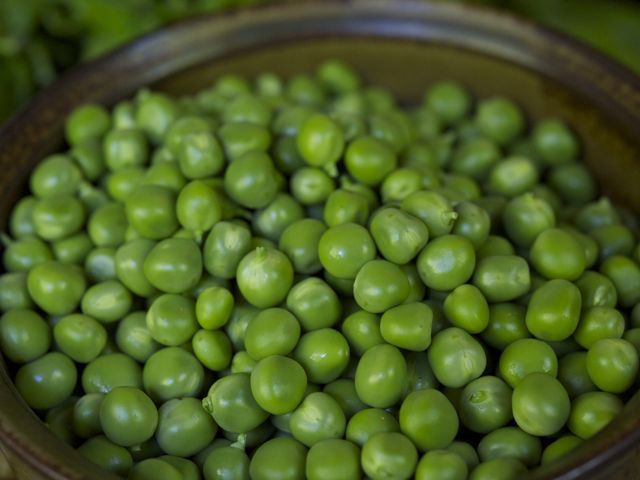 Have you been trying to follow Michael Pollan's edict? "Eat food. Not too much. Mostly plants." It's easier in the summer when amazing produce is practically falling at your feet. Even you city folk have access to farm-fresh vegetables—corn, actual ripe tomatoes, baby lettuces... Just the other day I was reading the new issue of
Lucky Peach
and
laughing
along with Wylie Dufresne as he made fun of "farm-to-table" and "ingredient-driven" cooking, but I had to eat a little crow along with last night's dinner. Because all I did was take a few farm-fresh ingredients and let them drive the bus. It was nothing fancy, really. I just used only what was straight from the garden (mine or someone else's) and let those pure flavors shine. Not a whole lot of technique was involved, and yet it was such a satisfying meal. I haven't even written out real recipes for you, because I want you to have that feeling of creating as you go, putting together dishes from your imagination according to what's in front of you. I'll walk you through what I made and maybe you'll be inspired to do the same with your freshest ingredients. Which will probably include a whole lot of sweet green peas right about now...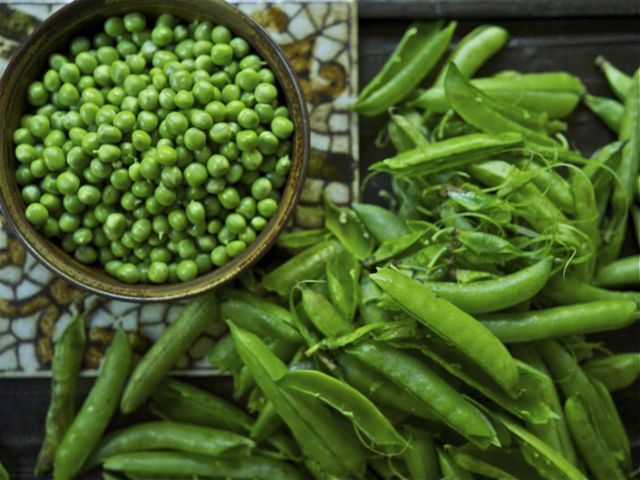 Shelling peas can either be a very zen moment where you just zone out and channel your grandmother, or it can be the perfect opportunity to watch more back-to-back episodes of Weeds. (Yes, I am guilty of the latter, now that I am officially addicted to streaming Netflix on my iPad in the kitchen. G got me a special speaker stand so it's like a mini TV—so decadent!)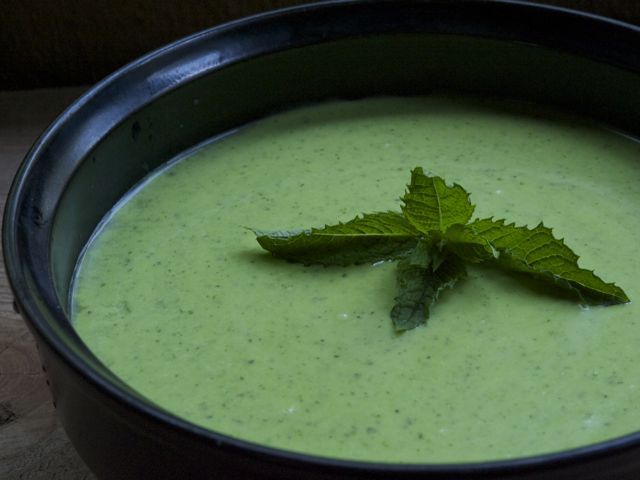 This soup was a breeze. I sauteed a minced shallot in a large skillet with a little butter and olive oil, then tossed in about 3 cups of shelled peas with about 1/2 cup of water. I put a lid on it and let it simmer until the peas were just cooked through, about 5-7 minutes. Then I put them in the food processor with maybe a cup or more of buttermilk (whole, not reduced fat), a couple of big spoonfuls of crème fraîche, a little sea salt and a handful of chopped fresh mint. I blitzed it until it was smooth but still had a nice thick texture, about 5 minutes. Because I hadn't planned ahead and made this in the morning so it could chill all day, I used the ice cream trick of chilling it in an ice bath. Just pour it from the food processor into a large bowl, then place that in a larger bowl filled with ice. Stir it every so often for about half an hour and by then it will be cold. I refrigerated this while I made two more dishes.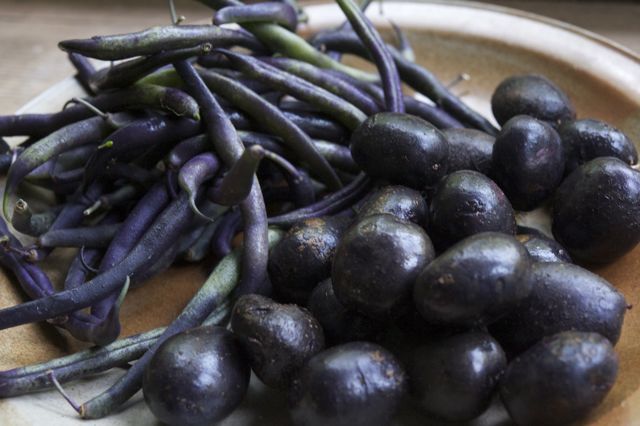 Next, I put a big pot of water on the stove and when it boiled I threw in some salt and a bunch of gorgeous fresh string beans (which I had prepped while waiting for the water). I cooked them just until crisp, then fished them out with tongs, plopped them in a colander in the sink and ran cold water over them. Sadly, they lose their purple color and turn a dark green when cooked. But they still taste fantastic. Into the same water, I tossed the potatoes.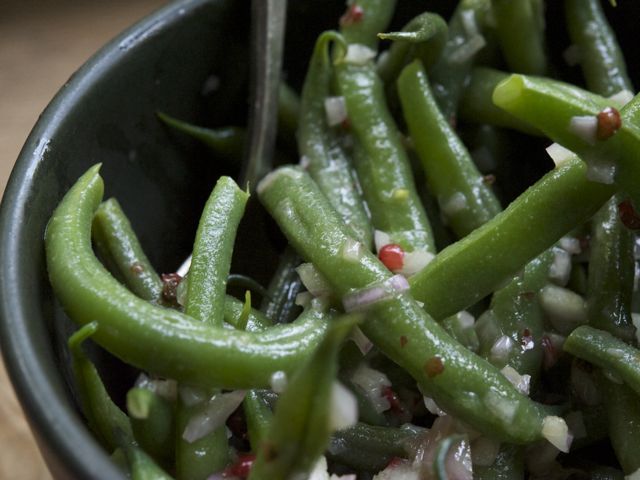 While they cooked, I made a vinaigrette for the beans with a minced shallot, vinegar brine from a jar of 
pickled garlic scapes
, a little Dijon mustard and some crushed pink peppercorns. I tossed the beans with this and put them in the fridge next to the soup.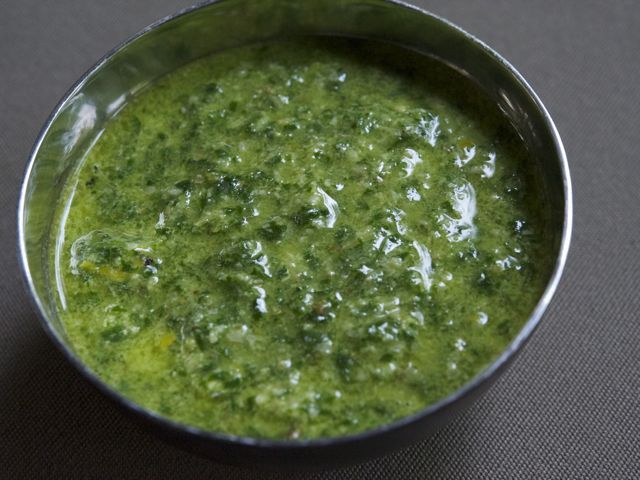 Occasionally, I tested the potatoes with a fork to see when they were tender. Meanwhile, I ran to the garden and picked some lovage to make a pesto in the food processor: lovage leaves, a few pine nuts, green peppercorns, lemon zest and juice, and olive oil. When the potatoes were done, I quartered them and tossed them with this pesto, and some of my favorite anchovy-stuffed green olives.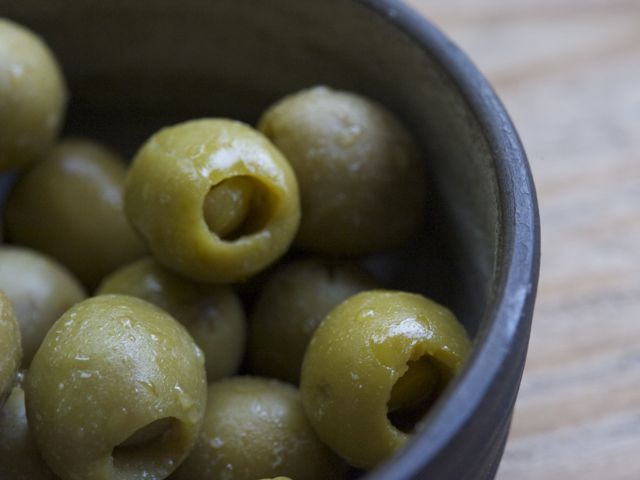 These are Spanish manzanilla olives. You really don't taste the anchovy at all, there is absolutely nothing fishy about them. They just have the most wonderful salty, savory flavor.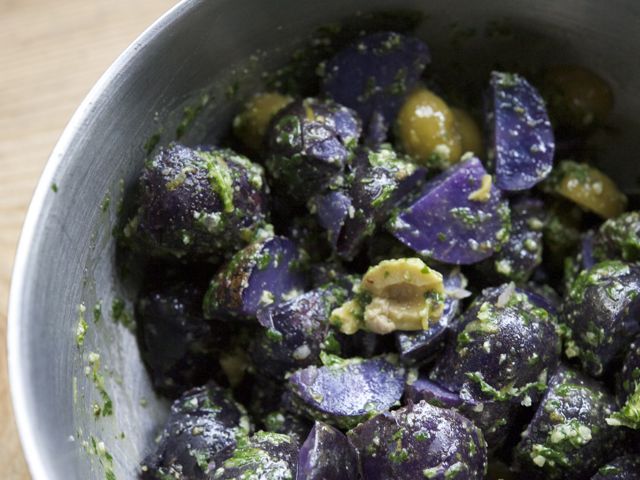 And that was dinner for a hot night: chilled soup garnished with a sprig of mint and two salads. There may have been a little goat cheese and gooseberry chutney on a rice cracker. The beans were cold, crunchy and assertively dressed, and the potatoes were served at room temp with the pungent lovage pesto. Dessert was a ripe red plum and a square of dark chocolate. Everything went down like a charm.