4.15.11
Jambalaya!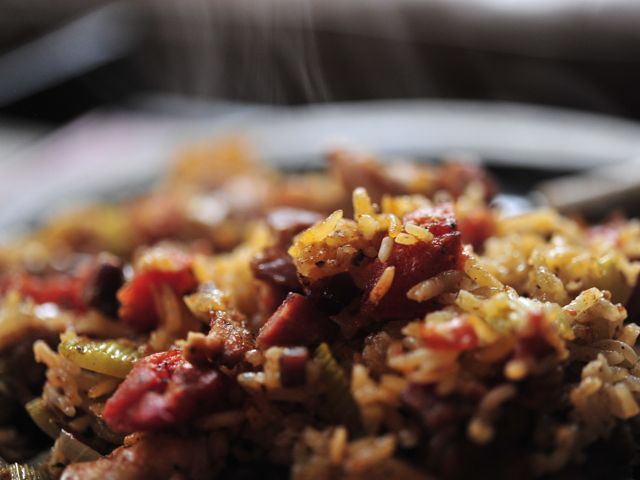 Remember that glorious tasso ham we smoked up for the latest
Charcutepalooza
challenge? (Read all about it
here
.) Well, I found a classic way to use it that really maximizes its smoky, spicy flavor. I came across a recipe for jambalaya by Chef Paul Prudhomme, the Louisiana legend whose blackened entrees were horribly bastardized by chain restaurants in the 80s. According to the Oxford English Dictionary, "jambalaya" comes from the Provençal word "jambalaia," meaning a mish-mash or mix-up, and also a
pilau
(pilaf) of rice. Originally a humble combination of rice and vegetables, it has evolved into a rich expression of local New Orleans cuisine. There are two types of jambalaya: Creole, also known as "red jambalaya," which contains tomatoes and is usually made with chicken and smoked meat; and Cajun, "brown jambalaya," without tomatoes, which is more characteristic of southwestern Louisiana. The Creole version, which originates from New Orleans' French quarter, was undoubtedly influenced by Spanish paella. As saffron was scarce, tomatoes were added for their vibrant color. Ultimately, Caribbean spices and the addition of tasso ham or andouille sausage make this a dish unique unto itself.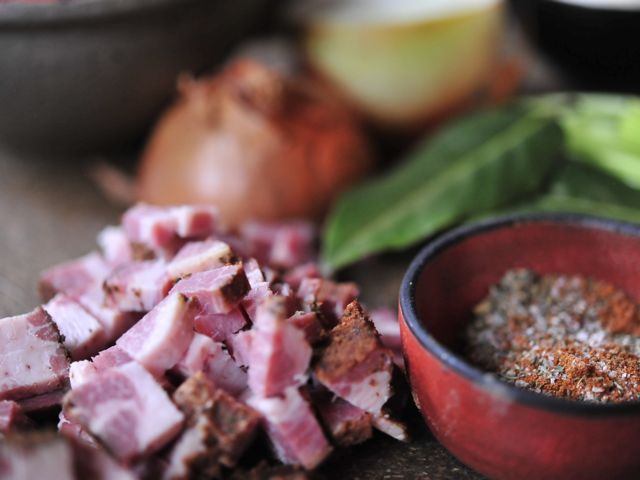 I admit I strayed a bit from the recipe because I simply cannot bear green peppers. I don't think I've eaten one since about 1985 when I had my last bite of college cafeteria food. This dish did not suffer one bit without their bitter, acrid flavor. What it does have is plenty of aromatics and spice: bay leaves, thyme, sage, white and cayenne peppers, not to mention the peppery rub from the tasso.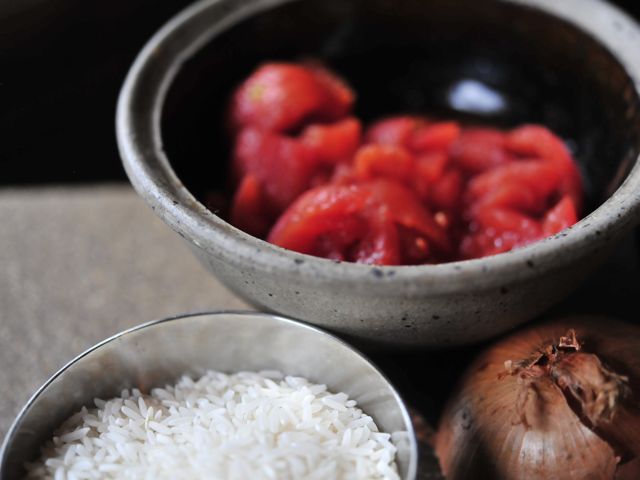 Chef Paul suggests converted rice, but I don't keep any Uncle Ben's on hand. Converted rice is brown rice that has been soaked, steamed under pressure, and then dried and milled to a sort of beige color. It's a bit less starchy than white rice and has more nutrition, but it's not as slow-cooking as brown. Anyway, I used basmati and the same amount of liquid called for in the recipe (I actually used duck stock), and the results were beautifully fluffy (and not especially "crunchy" as specified). There's chicken in there, and carrots and celery, but I have to tell you, it's the tasso that really makes it. It's got that porky,  low-country, lip-smacking taste. Maybe andouille works just as well, but as of this jambalaya, I'm a tasso convert. This dish is as easy as pie. (Why do they say that anyway? We all know pie crust is a bitch.) For jambalaya, you simply sauté a few things, then mix them up with rice and stock and pop the whole mess in the oven. When you go back an hour later, dinner's ready. Bon temps rouler!By the way, I love how he offers this recipe as an appetizer or a main course, and suggests you mold it into portions. What do you think would follow this as a second course? Blackened redfish?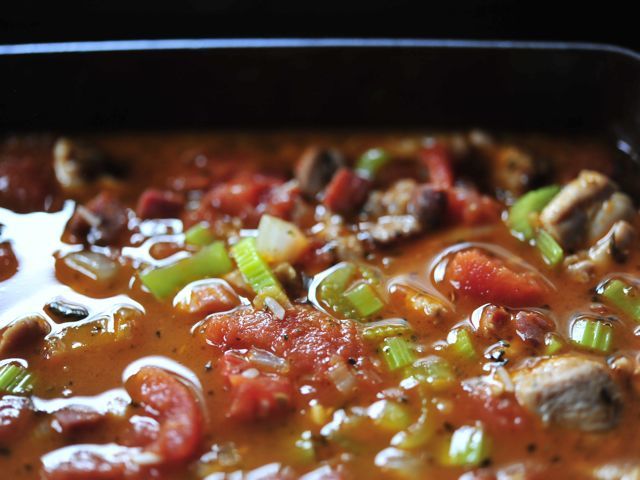 CHICKEN AND TASSO JAMBALAYAfrom Chef Paul Prudhomme's Louisiana Kitchenserves 4 as a main course, 8 as an appetizerSeasoning mix:2 whole bay leaves2 teaspoons ground red pepper (preferably cayenne)1 1/2 teaspoons salt1 1/2 teaspoons white pepper1 teaspoon dried thyme leaves1/2 teaspoon black pepper1/4 teaspoon rubbed sage2 tablespoons unsalted butter1/2 pound chopped tasso (preferred), about 2 cups3/4 pound boneless chicken, cut into bite-size pieces, about 2 cups1 cup chopped onions, in all1 cup chopped celery, in all1 cup chopped green bell peppers, in all1 tablespoon minced garlic1/2 cup canned tomato sauce1 cup peeled and chopped tomatoes2 1/2 cups chicken stock1 1/2 cups uncooked rice (preferably converted)Combine the seasoning mix ingredients in small bowl and set aside.Melt the butter in a 2-quart saucepan over high heat. Add the tasso and cook until meat starts to brown, about 3 minutes, stirring frequently. Add chicken and continue cooking until chicken is brown, about 3 to 5 minutes, stirring frequently and scraping pan bottom well. Stir in the seasoning mix and 1/2 cup each of the onions, celery, and bell peppers and the garlic. Cook until vegetables start to get tender, about 5 to 8 minutes, stirring fairly constantly and scraping pan bottom as needed. Stir in the tomato sauce and cook about 1 minute, stirring often. Stir in the remaining 1/2 cup each of the onions, celery, and bell peppers and the tomatoes. Remove from heat.Stir in the stock and rice, mixing well. Transfer mixture to an ungreased 8"x8" baking pan. Bake uncovered in a 350° oven until rice is tender but still a bit crunchy, about 1 hour. Remove from oven. Stir well and remove bay leaves Let sit 5 minutes before serving.To serve, mold rice in an 8-ounce cup and place 2 cups on each serving plate for a main course, or 1 cup for an appetizer.