3.31.11
Octopussy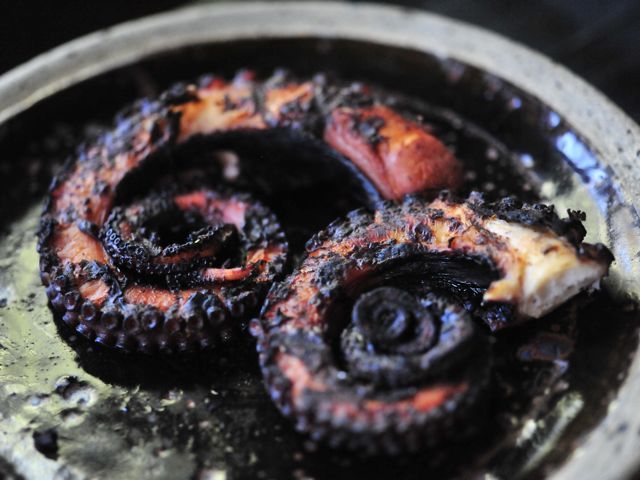 G is wild about octopus. At Fairway, he'll often grab a container of vinegary octopus salad that makes the hairs stand up on the back of my neck when I come across it in the fridge. OK, I admit it, I'm a bit of an octopussy. I find its alien appearance—the purply sheen, the suction cups, the encephalitic head—rather unnverving. I've sampled some delicious octopus dishes in my time, usually by taking a bite from G's plate. It's almost always served grilled: in a salad with bamboo shoots and pickled chiles at Momofuku; with discs of buttery potato and smoky chorizo at Colicchio & Sons; and, recently, in a tasty salad at Eataly. But it's not really something I order (I still pick around the tentacles on a plate of calamari, and I can't abide the spidery crackle of a soft shell crab), and certainly not a food I have ever welcomed into my kitchen.

So when G brought home two enormous, slimy purple tentacles and announced his intent to cook them up, I was something between horrified and awe-struck. But soon I was googling away, and read about an octopus dish made at Le Bernardin, that temple of all things from the sea. It called for first braising the octopus in a rich chorizo broth, then marinating it in miso before being charring it to order. I don't know about you, but you could do that to a shoe and I would eat it.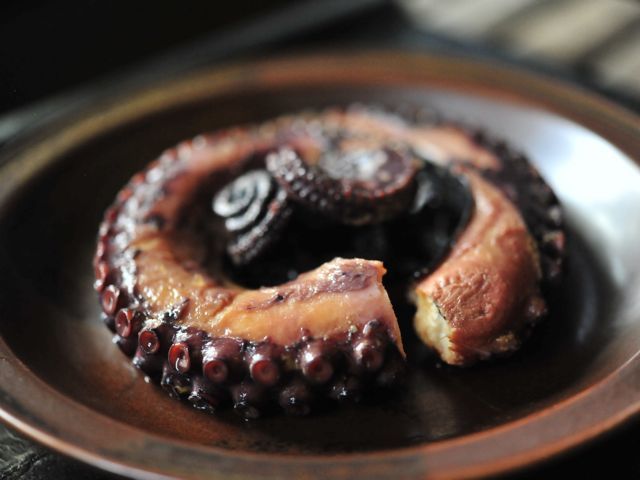 Chef Eric Ripert serves this preparation with a fermented black-bean sauce vierge and a squid ink-miso vinaigrette. I didn't think G would get quite that fancy, but I pointed him to a nice piece of chorizo we had on hand, and a tub of veal stock in the freezer, and he got to work. Octopus can be kind of rubbery and gross if you don't cook it right, and the secret is in the braising. This tenderizes it, precooking it so you can throw it in a hot pan or on the grill to get a nice crusty exterior.

G braised two whole tentacles in the veal stock with the chorizo until tender; this took longer than you would think. Then he slathered it with red miso and left it in the fridge overnight. (I tried not to look.) The next day he built a hot fire in the Weber, wiped the miso off the octopus (its high sugar content makes it burn) and gave it a nice char. We ate bites of it straight from the grill and it was pretty darned good. It's quite rich, and I think it would be best with a lemony vinaigrette of some sort and maybe a few white beans and/or some peppery greens. I may even roll out my own version this summer, when the grill is in full swing. Octopussy no more.

When the warm weather arrives (notice I said when and not if, eternal optimist that I am), this other preparation from Eric Ripert might be just the ticket for popping your octopus cherry. C'mon, be a man.
Octopus, Charred with Peach & Arugula
from "Avec Ripert: A Culinary Journey with Eric Ripert"
serves 4
— 1/2

small onion, peeled & quartered

— 1

small celery stalk, sliced in the bias

— 1/2

small carrot, peeled & sliced on the bias

— One 3-ounce piece

prosciutto

— 2 sprigs

Italian parsley

— 3

cloves garlic, halved

— 1/2 teaspoon

ground cayenne

— 8 cups

water, approx.

— 2 pounds

octopus, head removed and tentacles separated

— 2 tablespoons

olive oil

—

Fine sea salt & freshly ground black pepper

— 1/2 cup

baby arugula

— 1

peach, halved, pitted & thinly sliced

— 4 tablespoons

aged balsamic vinegar

— 1

lemon, halved
Combine the onion, celery, carrot, prosciutto, parsley, garlic and cayenne pepper in a pot with about 8 cups of water. Season the water with salt and boil for 5 minutes to allow the flavors to infuse. Add the octopus and reduce the heat to medium-low. Simmer gently for about 1 hour or until the octopus is tender when gently pierced with a knife. Cool the octopus in the braising liquid at room temperature until cool enough to handle.


Remove the octopus from the braising liquid and drain well. Heat a cast-iron skillet or a flat griddle over high heat until it is very hot. Season the octopus with olive oil, salt and pepper. Grill the octopus until it is caramelized and crusted on all sides, about 3 to 5 minutes. Transfer the charred octopus to a cutting board and cut each tentacle on the bias into 4 slices.


Place the octopus slices in the center of 4 plates and garnish with arugula and 3 to 4 slices of the peach. Drizzle 1 tablespoon of aged balsamic vinegar over and around the octopus, and finish each dish with a squeeze of lemon juice. Serve immediately.



Download Recipe