2.8.11
Highly Illustrative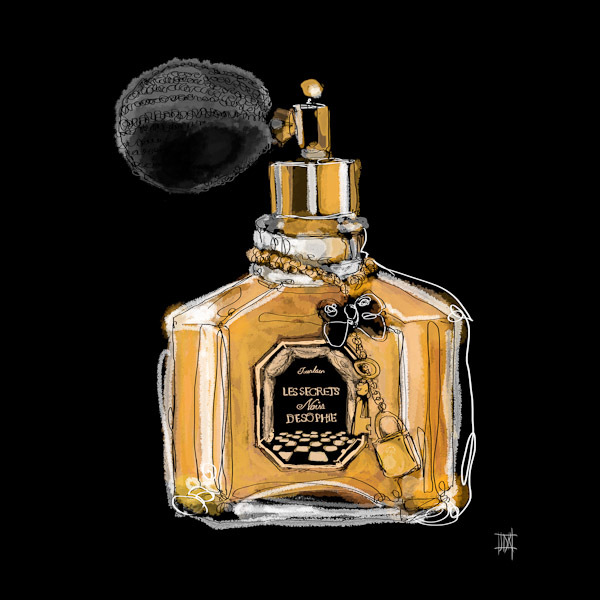 Once upon a time, I toiled in the creative department at Saks Fifth Avenue, working on high-profile advertising campaigns in the wacky and fast-paced world that is fashion retail. My boss, SVP
Janice Richter
, was a multi-talented woman who (like I) has since moved on to greener pastures. We had some fun while we were there, though she coped with the whole corporate thing much more gracefully than I ever could. Jan never lost her cool, perhaps because under the desk in her corner office she harbored the soul of an artist. In her new life as an illustrator, she reveals a talent for lyrical, vivid and always incredibly chic images that incite desire for whatever they're depicting. She's been kind enough to let me post a few here in the past, and today we have an embarrassment of riches along with her thoughtful take on, among other things, art and commerce.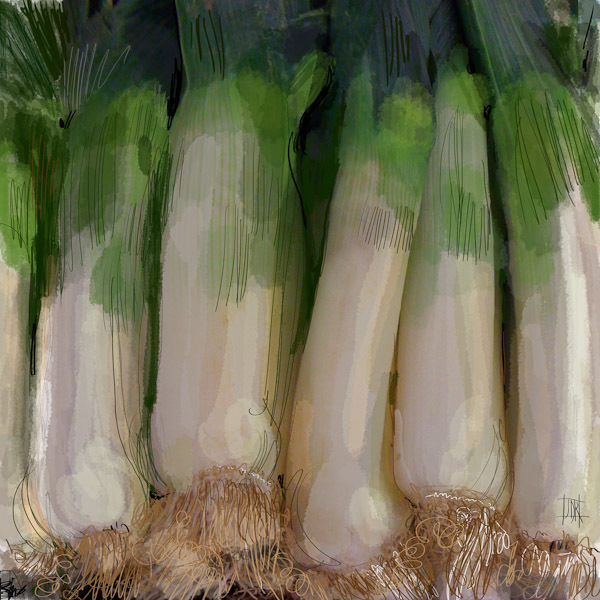 Did you train as an illustrator?
Yes, I have a BFA in painting and illustration. My grade school drawings were of the Virgin Mary dressed as a fashion model in elaborate gowns and tiaras, and centaurs with high heels in place of hooves wearing bikini tops.
You spent many years as an art director and creative director—were you drawing for your own pleasure during that time?
It was difficult with the all-consuming positions I held. But I always used my drawing talent at work for creative direction, storyboards, layouts and illustrated invitations.
How does your previous professional experience inform your work as an illustrator?
Being so close to fashion design gave me an appreciation of it as both a craft and an art. And having the opportunity to collaborate with some of the world's best talent was expansive. How designers' inspiration manifests in their work is of interest to me. I like to peruse the collections for a piece that moves me, and then spin it with my own interpretation. The pagan earth-mother spirit of the
butterfly dress
that Sarah Burton designed for Alexander McQueen was inspiring.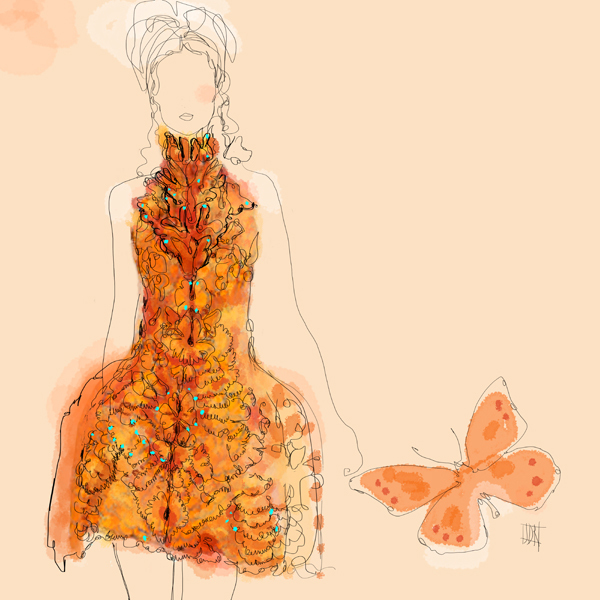 Has your illustration style evolved?I think owning a distinct style that evolves is critical. There is a plethora of grand and exceptional talent out there so you need to stand out. Adaptation and collaboration are also very important in the commercial world.Can you describe the technique(s) you use in your illustration? I have always loved using pencil, ink and watercolor. My signature expression of style is my line, so the varying pressure of the point and the fluidity is key for me. Sometimes my line is more controlled and other times it is wild and free, though there is discipline in a wild line. The stroke needs to feel just right. I now draw digitally on the Wacom tablet in Photoshop, using only 2 or 3 brushes. I like the combination of line drawing with the building of watercolor layers. I keep building the layers the same way I would with tube pigment and water. My digital technique feels as real as pencil and watercolor on paper. Nobody can believe my work is digital.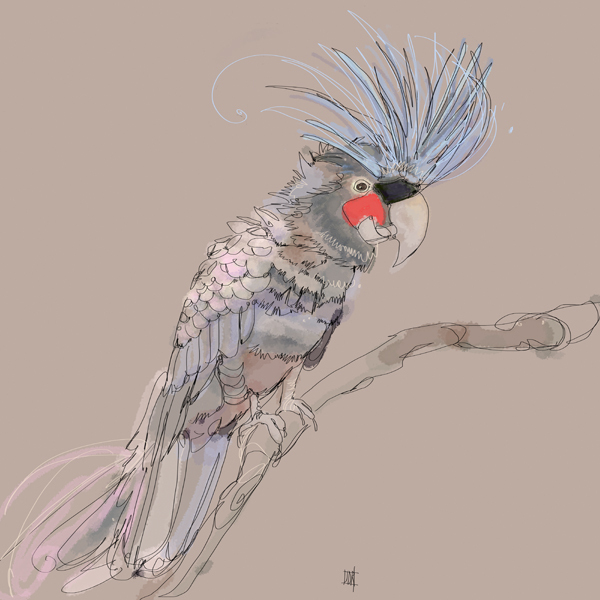 What are your sources of inspiration? Fashion: innovation in cut, color, texture, proportion. Shoes. (I don't wear high heels but I love to draw them.) Butchers. Meat is fascinating! I just adore the organic shapes of muscle and fat. Green markets. I like the shapes of vegetables and animals. I used to be intimidated by architectural objects like furniture and glassware, but now I adore drawing them. I find that I can bring warmth and fluidity to even the hardest, coldest objects. Fragrance bottles. So many shapes, facets, colors and graphics! Desserts: all creamy and sugary, spun with meringue peaks and frosted fruits in beautiful dishes—that's on my to do list.
Which other illustrators' work do you admire?
Maira Kalman
– Her delightful New Yorkiness, color and humor.
Sujean Rim
(Daily Candy) – Love her expressive style. So much character and humor.
Sirichai
– Utter simplicity. Uses shape and color as the essence of his expression.
Stina Persson
– "Perfectly Flawed" series. Divine clash of beauty gone wild.
David Downton
– Fashion elegance at its finest. The old school that endures.
Cassandre Montoriol
– Simplicity. Wit. Charm.
Jesper Waldersten
– His line—fluid!
Mats Gustafson
– The best fashion watercolorist. I was blessed to work with him on a project.
Bella Foster
– Watercolor and line met with such style.  Everyday objects elevated. Those bowls! The pens!
Rene Gruau
– The inspiration for the current Dior collection. So chic.
Bernie Fuchs
– His portraits from the 50s and 60s.
Andy Warhol
– His shoe illustrations.Zoltan+ - His whimsy and charm is sensational. His sense of design is exquisite.
How does commercial illustration differ from fine art?
I suppose that art for art's sake = fine art, and art for a client's sake = commercial illustration. But the key word here is "commercial." Does it become fine art when it is not done for a commission? Did pop art originate as fine art, or did it become fine art over time? And what about fashion—fine or commercial art? Don't many designers create fashion for its own sake? It becomes commercial when it is created for the client. I think cultural perception over time creates a changing attitude of what the critics define as fine art.
Here
is a great article that compares the work of Bernie Fuchs, a well-known illustrator from the 50s-60s, to Franz Kline, Robert Motherwell and Robert Rauschenberg. It demonstrates the same aesthetic challenges that all the artists faced at that time. It is an interesting phenomenon, how they all rejected realism for the broader qualities of abstract design and composition. Even though Bernie Fuchs' art had a commercial function, it still qualifies as great art in my opinion.
Do you adapt your style to suit different commissions, or try to maintain consistency?
My style is my style and its relative adaptations. I will always have a penchant for line. I am currently working on illustrating the 18th edition of Emily Post's Etiquette book. Since some of the illos will be very small, I went with a heavier line than what I am used to. Also, since there is no color or major tone, I am forced to be more disciplined by simplifying with fewer lines and using all black.
What would be the perfect illustration commission?
I would love to brand a fashion/lifestyle website with my drawings. Since I draw all kinds of subjects it would be my dream. I like to think I bring a sense of style and wit to all kinds of living subjects. After all, my branding mantra is "personality." I would also like to illustrate an offbeat dessert cookbook. And a candy series of heroic single candies like one Root Beer Barrel, one Licorice Allsort, one Gummy Bear, etc. And a flash card series of foods and kitchen utensils for aspiring young chefs. Another series of one-of-a-kind fashion pieces to demonstrate the concept of individuality.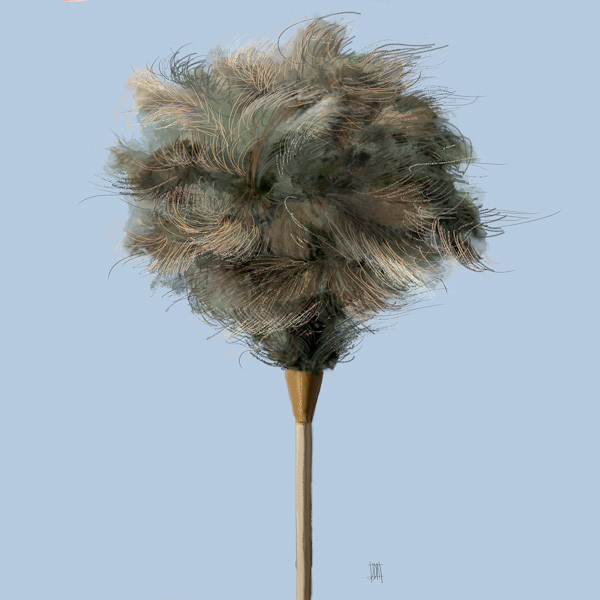 Do you have plans to create any products that feature your illustrations?I have done greeting cards and journals. I am interested in adapting my illustrations to fabric. I would like to see my feather duster on an apron. Or a series of chair drawings on sofa cushions. And wallpaper! A meat series would be so great. I can see tiny crown roasts in a kitchen. I did have a bite for my crab claws for use in a restaurant chain. Who knows—maybe a mural of shoes and perfume bottles marching across the wall? I am ready for that!