2.21.11
Meaty Monday: Lamb Vindaloo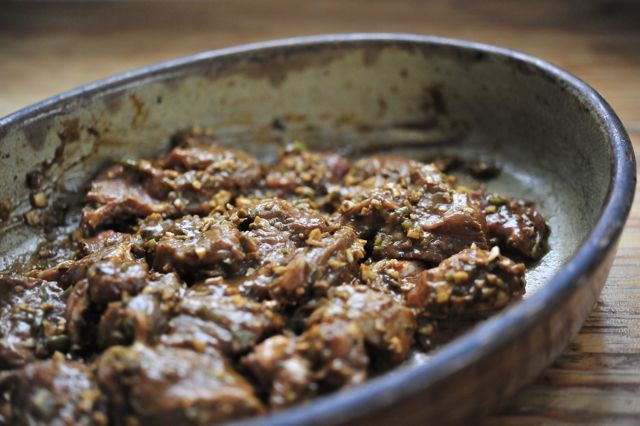 I arose this morning to the deep silence of new-fallen snow, a world blanketed white. Today is a holiday. An opportunity to putter about guilt-free, reading yesterday's paper, enjoying a leisurely cup of chai. Thoughts turn to the cubes of lamb I pulled from the freezer to defrost overnight. Something warming is in order, a comforting braise of some sort, but nothing that requires too much work. Perhaps a spicy vindaloo is just the thing. It can marinate for hours, and then G can stir it on the stovetop while I'm at yoga this evening. A group effort, and yet not much effort at all. Brown rice, sauteed spinach and a little raita. That's dinner on this Meaty Monday. A day off for you might mean ordering in, but it's actually much more indulgent to inhale the wonderful smells of aromatics and spices, knowing that a delicious curry is in your future.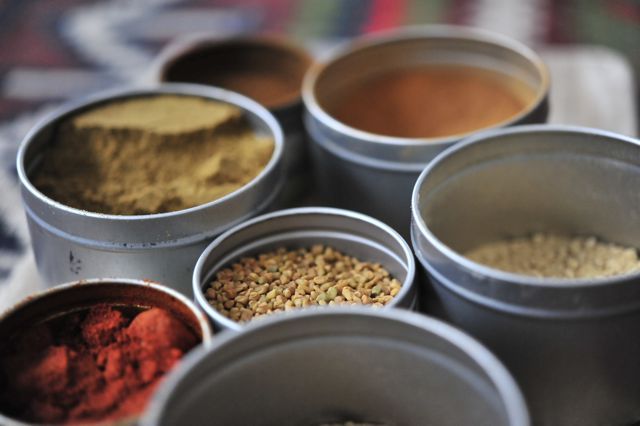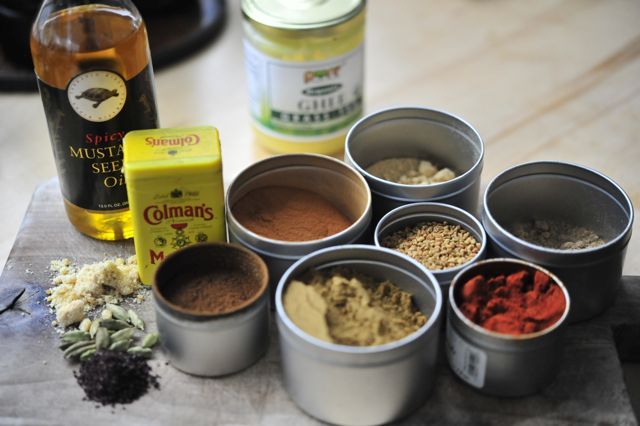 Making a curry is a great excuse to head to your local Indian market, always a delight for the senses. A visit to
Kalustyan's
, in person or online, never fails to enthrall. I'm a big fan of making a curry whenever the mood strikes you, and this means stocking your pantry with, at the very least, cumin, coriander, ginger, cayenne, turmeric, fennel, cinnamon, clove and cardamom. If you have a spice grinder (or a coffee grinder), tou can buy everything whole (except ginger, and maybe turmeric); spices stay fresher for longer like that.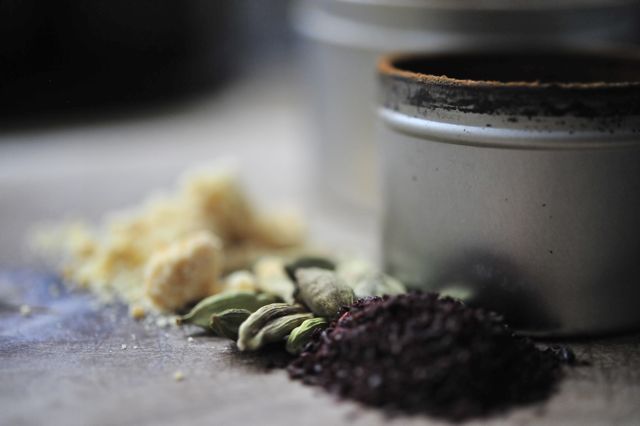 If you're not as obsessed with exotic items as I am, you may not have jaggery (unrefined Indian sugar) or ground sumac on hand, but fear not, oh intrepid cheflings! The point of the jaggery is to add a little sweetness, so you can substitute brown sugar or even a bit of molasses or light honey. The sumac adds an element of tartness, which you can replicate with a little more tamarind, or vinegar or lemon juice. It's about balancing the flavors and you don't need to be overly fastidious with which ingredients you use. Indian cooking is very forgiving this way, inviting cooks to create curries of their own devising with a classic repertoire of spices.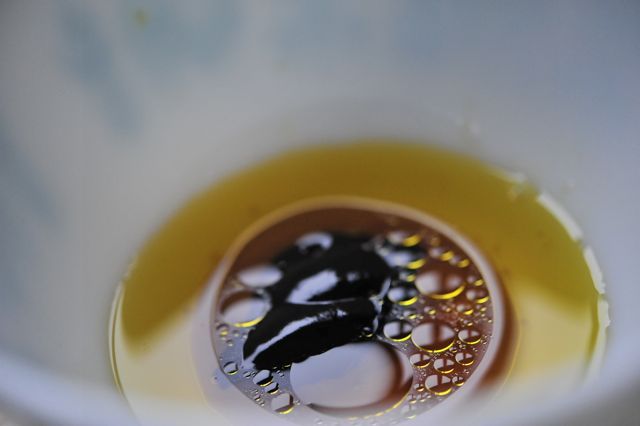 For instance, I had no red wine vinegar on hand, so I used malt vinegar, which is what chef Durga Prasad of New York's
Tamarind
restaurant uses in his vindaloo preparations. It has an earthy sweetness that enhances this dish.
Vindaloo comes from vinho de alho, an old Portuguese dish of pork preserved in red wine (vinho) vinegar, and cooked with a lot of garlic (alho). Along with red chile peppers, this preparation was brought by Portuguese traders when they colonized India's South coast in the 16th century, including the city of Goa. The idea of preserving evolved into something more like a pickle, with a mix of whole spices including cumin, coriander, fenugreek, black mustard, cinnamon, cloves, black peppercorns, red chile and cardamom. In addition to vinegar, tamarind and sumac were added as souring agents, with a bit of jaggery to cut the sharpness. As in most dishes from this area, copious amounts of ginger and garlic are present. In deference to Muslims, pork has been replaced with goat or lamb, sometimes even chicken or prawns; and ghee takes the place of pork fat. It's a fairly common mistake to think that the "aloo" in vindaloo refers to potatoes, but traditional versions of this curry do not incorporate the starchy tubers. Although they can make a nice addition, I prefer to serve mine with rice, and a creamy raita to cut the heat. Not the kind that drives you out of the kitchen, the kind that lures you to the table and warms the cockles of your heart.GOAN LAMB VINDALOOserves 6Marinade½ cup mustard oil¼ cup red wine vinegar (or apple cider or malt vinegar)2 tablespoons tamarind pulp (concentrate is fine)1 teaspoon  sea salt1/4 cup minced garlic1-2 tablespoons finely chopped ginger (depending on your taste)2 serrano chiles, seeds and vein removed2 teaspoons ground cumin1 1/2 teaspoons ground coriander1/2 teaspoon turmeric powder1/4 teaspoon ground fenugreek1/4 teaspoon ground ginger powder3/4 teaspoon ground cinnamon1/4 teaspoon ground cloves1/2 teaspoon ground black pepper1/2 teaspoon ground cardamom1/2 teaspoon ground sumac1 teaspoon hot mustard powder2 teaspoons cayenne2 teaspoons paprika2 pounds lean lamb, cut into 1" - 1½" cubes1/4 cup ghee2 cups minced onion6 tablespoons water, or more as needed2 teaspoons jaggery (or light brown sugar)Combine all the marinade ingredients in a non-reactive bowl. Stab each cube of lamb once or twice with a sharp knife and then slather with the marinade. Cover and marinate in refrigerator for 12 hours, or on the countertop for 6-8.Remove lamb from the marinade and scrape off any that is clinging to the meat. Reserve marinade and set aside.Heat ghee in a heavy saucepan or stock pot. Add marinated lamb and brown on both sides over medium-high heat, about 8 minutes. Remove browned pieces and set aside. Add the onions and fry until almost brown, about 5 minutes. Turn the heat down and add reserved marinade, being careful to protect your eyes from cooking fumes. Fry the paste for a few minutes before adding lamb and water. This should be a fairly dry curry, so don't make it too soupy. Bring to a near boil, then turn down heat and cover. Simmer on low until lamb is tender, about 20 to 30 minutes. Stir in sugar. Serve with rice or Indian flatbread, and raita.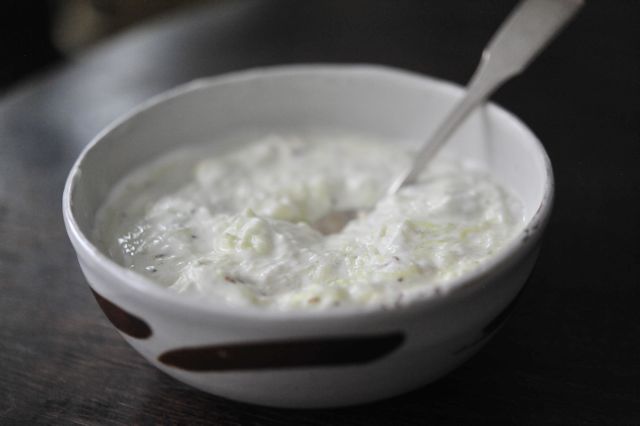 CUCUMBER RAITAmakes about 2 1/2 cups1 teaspoon whole cumin seeds2 cups Greek yogurt1/3 seedless cucumber, peeled and grated or finely chopped (about 1/2 cup)sea saltToast the cumin seeds in a small heavy skillet over medium-low heat until very fragrant, about 2 minutes. Be vigilant so these do not burn! You can incorporate these whole but I like to bruise them with the salt in a mortar and pestle. Drain excess water from the cucumber. Stir all the ingredients together. Serve cold or at room temperature with hot curry.