2.16.11
Home Run: Vintage Stoneware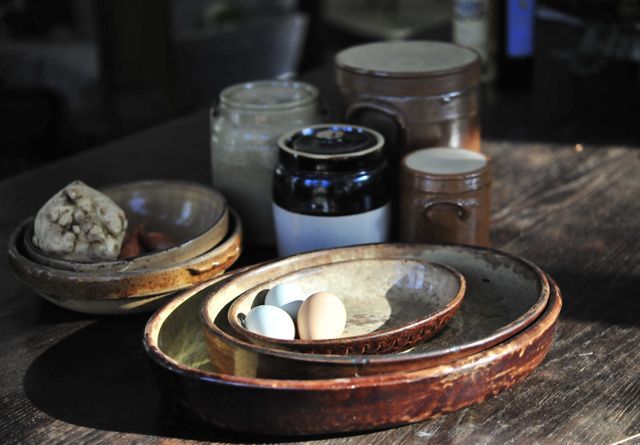 Our bathroom remodel finally got started yesterday, almost a year to the day after we first began thinking (and
writing
) about it. Sadly, due to various factors (the size of the bathroom, the size of our doorways) we had to give up the idea of a soaking tub. But we are replacing literally everything—all the tile and fixtures, even the walls. More about all that later. We are so fortunate that a dear friend has loaned us his gorgeous, spacious and light-filled weekend place, just a quick drive from our cottage. A relocated Frenchman, his home is filled with beautiful antiques, including hefty, hemstitched linen sheets and amazing stoneware pottery. I covet these rustic dishes, and have made a mental note to scour ebay and local thrift stores for the American version of them. Incredibly strong and durable, stoneware has long been used for cooking and was the predominant houseware of 19th century North America.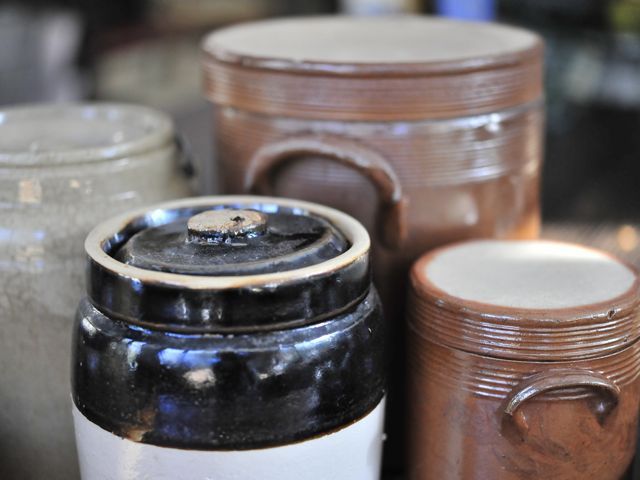 You probably recognize the dark brown glaze often used on American stoneware, as on the lidded crock above. I like the more subtle and sophisticated variations of the old French pieces. Look for unglazed pieces as well, especially old mixing bowls and casseroles. Large oval dishes are wonderful for baked pastas or gratins, like this wonderfully comforting celery root and potato version topped with lovely melting Fontina.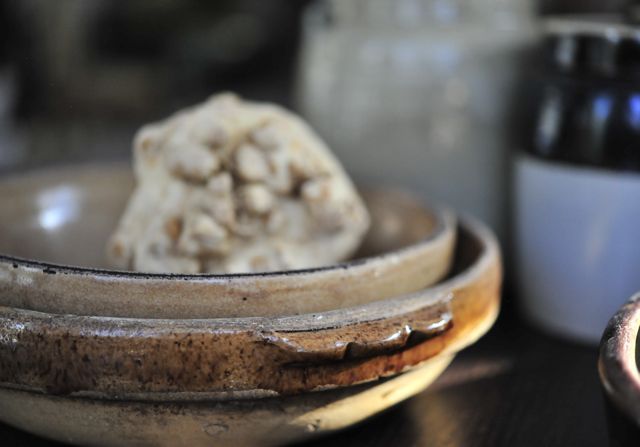 CLASSIC CELERY ROOT GRATINserves 41/2 teaspoon sea salt1/4 teaspoon peppergenerous pinch freshly ground nutmeg1/2 cup thinly sliced shallots1 large garlic clove, thinly sliced (optional)1 large celery root (about 1 pound), peeled, halved and thinly sliced1 pound russet potatoes, peeled and thinly sliced1 cup heavy cream1/2 cup chicken broth2 sprigs fresh thyme4 ounces Fontina cheese, gratedPreheat oven to 400° F.Mix salt, pepper and nutmeg in small bowl. Sprinkle half of shallots in 8-cup oval gratin dish or glass baking dish. Top with half of celery root and half of potatoes. Sprinkle with half of spice mixture. Repeat layering with remaining shallots, celery root, potatoes and spices. Bring cream, broth and thyme to simmer in medium saucepan. Remove thyme and pour over vegetables. Cover tightly with foil.Bake until vegetables are almost tender, about 45 minutes, then increase oven temperature to 450°. Press down firmly with spatula to create an even thickness. Bake uncovered until juices thicken, about 10 minutes. Top with cheese and bake until cheese melts and browns, about 15 minutes. Cool 15 minutes before serving.