12.10.10
Cottage Industry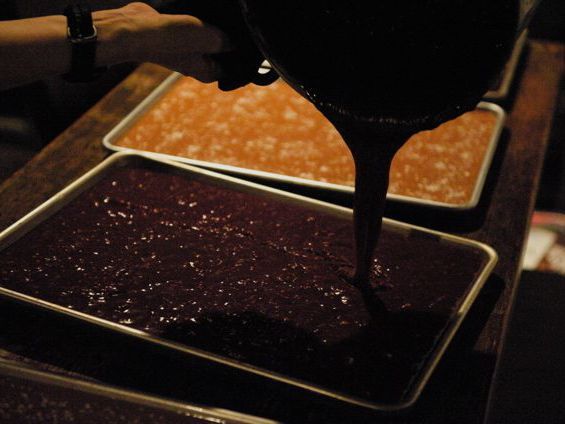 Around this time every year, our house turns into a veritable hive of activity. Of course there is the requisite wrapping of presents, but mostly it centers around the annual caramel bonanza. There is something about the convergence of salt and sweet and butter and chew (and chocolate) that makes these humble candies so addictive. We pour lots of love into them and send them out into the world as a reminder that something homemade, something from the heart, is the most wonderful gift of all. If you've never made candy, I recommend these as a starting point. All you need is a big, heavy pot, a baking sheet and a candy thermometer. It's a bit like baking in that you need to follow the instructions closely as far as temperature and proportions, but the rest is all stirring and wrapping. Always use the best ingredients because the flavors are quite concentrated. And give yourself plenty of time, because it's best to avoid panic when there is molten caramel around.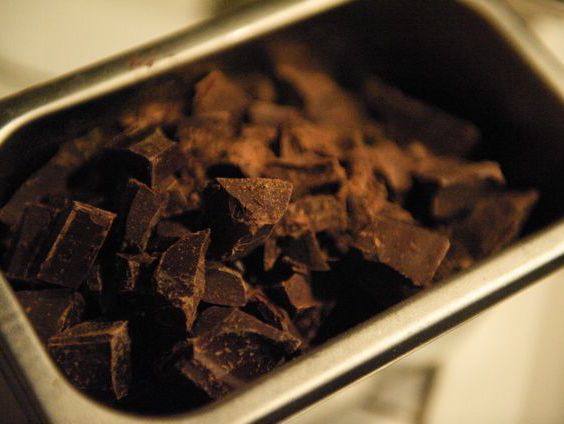 recently I've been using Jacques Torres bittersweet chocolate with stellar results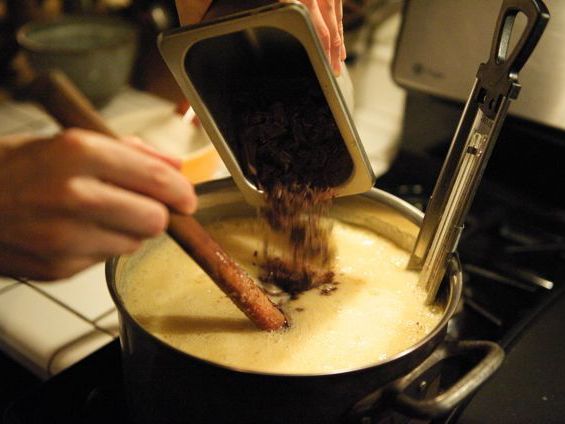 Last year I posted this 
recipe
for chile-infused chocolate caramels. They have a touch of espresso that really enhances the chocolate flavor. These are my personal favorite, although I also made a batch of the vanilla caramels (recipe below) infused with cardamom that was pretty divine. I think Chef Sister-In-Law may have whipped up a batch of pumpkin-seed caramels this year, which I hope I get to try. Once you add these to your repertoire, you'll understand the infinite possibilities. And you can get crazy with the salt! This year I used a lavender-&-orange sea salt on the vanilla, and Maldon on the chocolate. I think a smoked salt would also be delicious. Let me know if you decide to give these a try. Or just send your mailing address to me at gluttonforlife@gmail.com, and you may be the lucky recipient of my very first giveaway...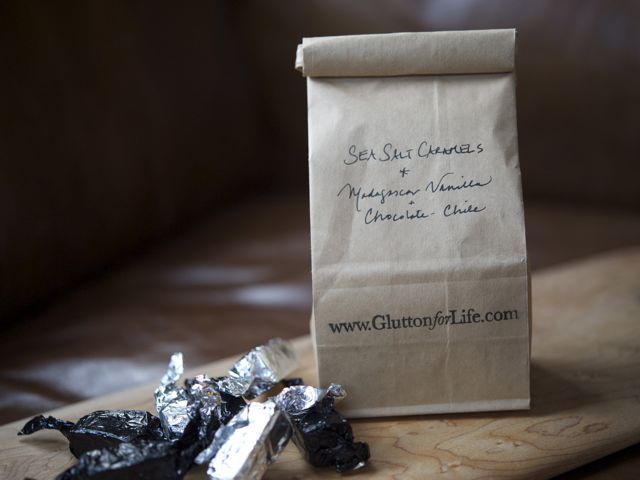 GOLDEN VANILLA CARAMELS
makes about 200-250*You can double this recipe, just make sure you use a big enough pot (I like my 15-qt jam pot). I also suggest you only cook it to about 242º in the final stage.
4 cups heavy cream1 cup sweetened condensed milk4 cups light corn syrup4 cups sugar½ teaspoon salt½ teaspoon ground cardamom½ pound (2 sticks) salted butter, cut into 16 pieces1 tablespoon plus 1 teaspoon best quality vanilla extractSea salt for sprinklingVegetable-oil cooking spraySpray a half-sheet pan with vegetable-oil spray. Set aside in a level spot where it will not be disturbed.In a 2-quart saucepan, combine cream and sweetened condensed milk; set aside.In a heavy 6- to 8-quart saucepan, combine corn syrup, 1 cup water, sugar and salt. Clip on candy thermometer. Over high heat, cook until sugar is dissolved, stirring with a wooden spoon, 8 to 12 minutes. Brush down sides of pan with a pastry brush dipped in water to remove any sugar crystals.Stop stirring, reduce heat to medium, and bring to a boil. Cook, without stirring, until temperature reaches 250 degrees (hard-ball stage), 45 to 60 minutes. Meanwhile, heat cream mixture over low flame until it is just warm. Do not boil! When sugar reaches 250 degrees, slowly stir in butter and warmed cream mixture, keeping mixture boiling at all times.
Stirring constantly
, cook over medium heat until thermometer reaches 244 degrees (firm-ball stage), 55 to 75 minutes. Stir in vanilla.Immediately pour into prepared pan without scraping pot. When caramel has cooled a bit and is slightly set, sprinkle with a generous layer of sea salt and gently press into caramel. Let stand uncovered at room temperature for 24 hours without moving.To cut, unmold caramel slab from pan, salt side up, onto large, lightly oiled cutting board. Cut into 1-by-1 1/4-inch pieces, or other shapes. Wrap each in foiled or waxed paper.