9.30.10
Hot Sauce
The last of the tomatillos came off the vine this week. You know they're ripe when the papery husk grows tight. I love how these are tinged with lavender. They're a different kind than the smaller, all-green ones we harvested last year, though they have the same vegetal yet citrusy flavor. I whipped up a large batch of sauce—a slight variation on my usual recipe—some of which I'll use for
enchiladas
, and the rest will be frozen. The light, tangy sauce is chunky with bits of onion and pepitas (green pumpkin seeds) and is beautifully spiced with jalapeño, garlic, cumin and coriander.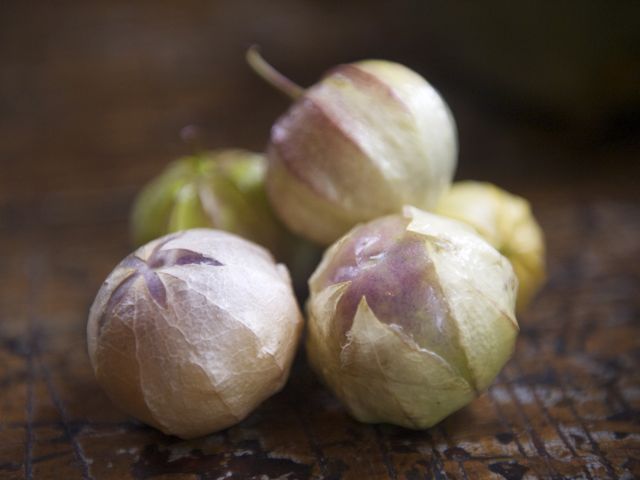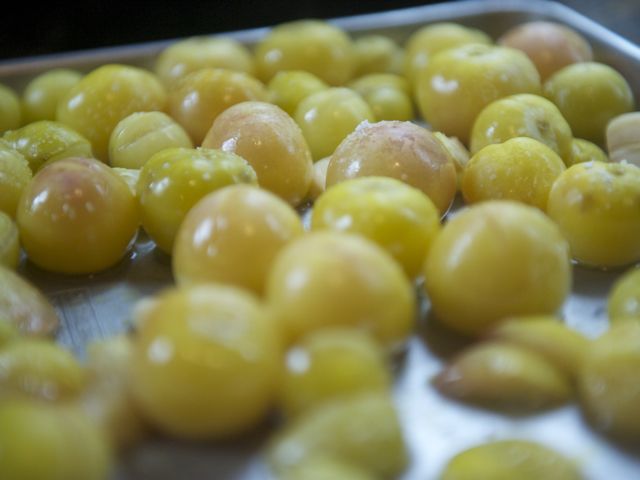 This recipe has a few steps but there's really nothing complicated about it. You roast the tomatillos whole along with a few cloves of garlic, then combine them with a sauteed mixture of onions, spices and pepitas in stock or water. Cook briefly to combine, cool a bit, and then whizz it in batches in the food processor. You can freeze this in plastic containers (try to use pthalate- and/or
BPA-free ones
) or in ziploc freezer bags.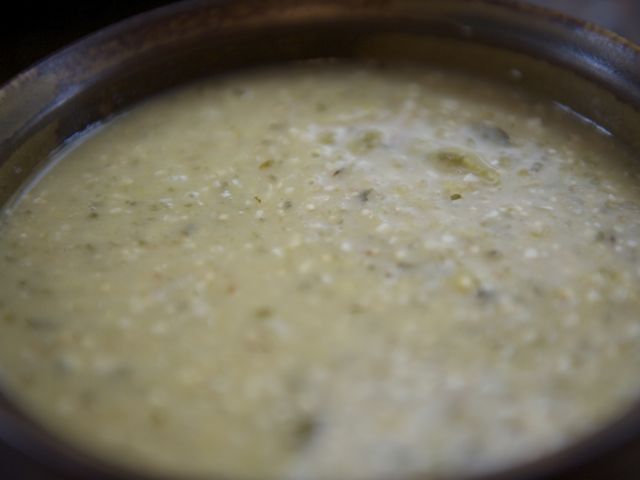 This sauce is a delicious and healthy way addition to a poached chicken breast, a grilled pork loin or a simple quesadilla. I also like to spoon it over chilaquiles (tortillas scrambled with eggs) and tamales, mix it into refried beans and use it to make enchiladas. (Entomatilladas?)
Tomatillo Sauce
makes 8 cups
— 3 pounds

tomatillos, husks & stems removed

— 5

garlic cloves, peeled

—

Olive oil

—

Sea salt

— 1 tablespoon

coriander seeds

— 1

large yellow onion, peeled and diced

— 2

jalapeños (or to taste), seeded and minced

— 2 teaspoons

ground coriander

— 1 heaping teaspoon

Mexican oregano

— 1/2 cup

pepitas, optional

— 2 cups

chicken or vegetable stock, preferably homemade, or water
Preheat oven to 350 degrees. Toss whole tomatillos and garlic cloves with 2-3 tablespoons of olive oil and spread on a large baking sheet. Sprinkle generously with sea salt. Roast for 40 minutes.


Meanwhile, heat a small skillet over medium heat and lightly toast the coriander seeds. Watch them closely as this will only take a few seconds. Cool before grinding in a spice grinder or with a mortar and pestle. Set aside.


In a large, heavy pot, heat 2 tablespoons olive oil over medium heat and sautee onion, jalapeños, spices (including 2 teaspoons of the ground toasted coriander) and pepitas, if using, until onion is soft and mixture is fragrant, about 10-15 minutes. Turn off heat.


Remove tomatillos and garlic from oven and slide into the same pot. Add stock or water and heat over medium-high heat, using a large spoon to gently break up the soft tomatillos. Cook for another 10-15 minutes to meld flavors. Remove from heat.


When cool enough (never put piping hot liquids into your food processor), process in batches to degree of smoothness you prefer. I like my sauce rather chunky, but it's also nice when quite smooth. Taste and add more salt if needed.



Download Recipe