8.1.10
Grillin'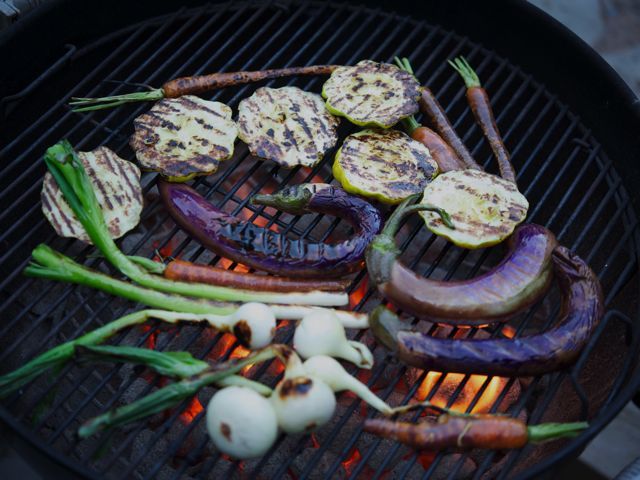 The fruits of one's own garden just seem to taste sweeter. Our first patty pan squash, Japanese eggplants and scallions went on the grill, along with red carrots and sweet onions from the farm. With a radicchio salad in a creamy dressing, that was all we needed for dinner the other night. I made a dipping sauce for the vegetables with an earthy red miso and it truly was perfection. A grill can really change the way you eat, especially if you live in LA or some other temperate climate. As irresistible as that charred flavor can be, I want you to be aware that too much blackened food is not good for you. Burning food produces a group of substances (polycyclic aromatic hydrocarbons) that are associated with cancer, cardiovascular toxicity and immune system suppression, among other adverse effects. So avoid extreme charring of your food, and don't eat from the grill every day. Moderation really is the key. (Except when it comes to exercise, of course.) But don't despair! You can use you grill to cook in a number of ways that don't involve charring but still infuse your food with that delicious smoky flavor. Low and slow, as in our
pulled pork
for instance, or indirect cooking, which really is the best way to do chicken or other foods that tend to burn quickly.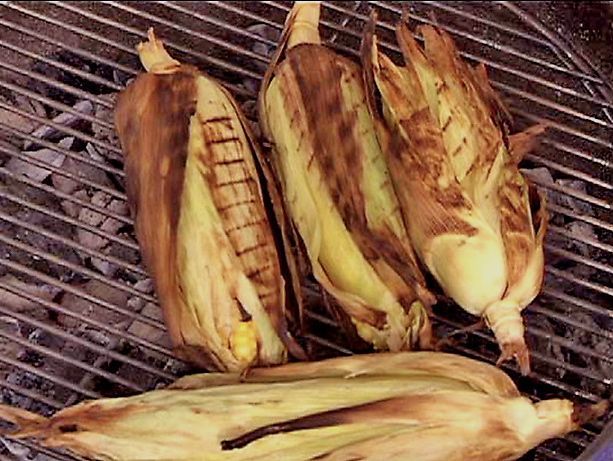 You can even wrap things in foil—like fish—without ever subjecting them to the fire, and you can throw on your corn in the husk (you might want to remove the silk first). Try cooking in your cast-iron skillet right on the grate, which protects food from the flames but takes advantage of the hot temperatures. It's a great way to make skillet cornbread, by the way. Here are a few recipes for cooking on the grill; the paella I've been meaning to try ever since the
Times
published
this piece
by Sam Sifton two years ago. Perhaps this will be the summer...
Paella on the Grill
from the New York Times, August 2008
serves 8

— A handful

wood chips, fruit or hickory (optional)

— large pinch

saffron

— 2 1/4 quarts

chicken broth

— 1/4 cup

extra-virgin olive oil

— 2 pounds

chicken thighs

—

sea salt & freshly ground pepper

— 1 pound

chorizo, cut into half-moons

— 1

medium onion, peeled and finely chopped

— 1 tablespoon

minced garlic

— 4 cups

short-grain rice, such as Arborio or Calasparra

— 1 1/2 pounds

jumbo shrimp, peeled, deveined & chopped

— 1 cup

fresh or frozen peas

— 2 dozen

littleneck clams, cleaned

— 2 tablespoons

finely chopped parsley, optional
If using, soak the wood chips in water. In a large pot, stir the saffron into the chicken broth and set over medium heat. Once hot, lower the heat and keep warm.


In an 18-inch paella pan, heat the olive oil over medium-high heat. (A large, wide, shallow, flameproof saucepan may be substituted -- or, in a pinch, an enameled Dutch oven.) Season the chicken thighs all over with salt and pepper and brown on all sides in the hot oil. Transfer to a plate. Cook the chorizo in the same pan until it starts to brown. Transfer to a second, paper-towel-lined plate. Remove the pan from the heat.


Light a charcoal grill with about a large cereal box's worth of charcoal. Return the paella pan to the stove and set over medium-high heat. When hot, add the onion and cook until translucent, about 4 minutes. Add the garlic and stir until fragrant, then add the rice and stir to coat. Season with salt and pepper.


Bring the stock, paella pan, chicken, chorizo and other ingredients to a table near the grill. When the fire is at its peak heat (all of the coals are lit, and you can hold your hand over the hottest part of the fire for only a few seconds), quickly stir the shrimp, chorizo and peas into the rice, then add 2 quarts of stock. Add the clams hinge-side up so that when they open in the heat, their juices are released into the rice. Nestle the chicken on top. Using thick gloves and a pair of tongs, carefully remove the grill grate. Drain the wood chips and drop them into the fire. Quickly replace the grill grate and set the paella pan on the grate. Cover the grill and cook the paella until all the liquid has absorbed, 25 to 30 minutes. If the rice is underdone, add another cup of stock and return to the fire for 5 to 7 minutes. Season with salt and pepper to taste and, if you choose, top with parsley.



Download Recipe
Grilled Vegetables with Miso Sauce
This is more like an idea to get you started than an actual recipe...
— 1-2 tablespoons

red miso

— 1-2 teaspoons

roasted sesame oil

— 2 tablespoons

fresh lemon juice

— 1 teaspoon

soy sauce

— 1- teaspoons

chile sauce

— 2 tablespoons

honey

— 1 teaspoon

minced garlic, optional

— 1/4 cup

warm water

—

Japanese eggplants, whole

—

summer squash (zucchini, patty pan, etc) halved

—

firm tomatoes, halved

—

sweet & hot peppers, whole

—

onions, peeled and halved

—

scallions, trimmed

—

carrots, peeled and halved lengthwise

—

cabbage, but into wedges
Whisk all the sauce ingredients together and adjust hot, sweet and salt flavors to your taste. Add more warm water if you prefer a thinner texture.


Brush vegetables with olive oil and grill over a medium flame until tender and charred. Sprinkle with sea salt and serve with miso sauce on the side.



Download Recipe
Grilled Caesar Salad
serves 2
— 1 1/2 tablespoons

olive oil

— 1 tablespoon

mayonnaise

— 1 tablespoon

Worcestershire sauce

—

juice of 1 large lemon

— 2 teaspoons

anchovy paste

—

pinch of dry mustard

— 1-2

cloves garlic, minced

— 1/3 cup

grated parmesan

—

sea salt & freshly ground black pepper

— 1

large romaine heart

— 1/2

baguette, halved lengthwise
Whisk together all ingredients except romaine and baguette. Season dressing to taste with salt and pepper.


Cut romaine lengthwise in half, and brush cut side with olive oil, sprinkle with sea salt and pepper. Brush baguette with olive oil.


Place romaine and bread cut-side down on medium-hot grill and cook 1-2 minutes, until charred, but not overly wilted.


Serve romaine with grilled bread drizzled with dressing. You can also slice the lettuce and dice the bread for a more traditional presentation.



Download Recipe
Grilled Peaches
—

perfectly ripe peaches

—

butter and/or olive oil

—

sea salt & freshly ground pepper

—

brown sugar or honey
Halve peaches, remove pits and brush with olive oil, melted butter or a combination. Sprinkle with sea salt and pepper for savory preparations; with brown sugar or honey for sweet ones. Over a hot grill, on an oiled grate, cook peaches until lightly charred, about 2 minutes per side. Serve with ricotta, fresh raspberries and mint; with pecorino and prosciutto; with roasted or grilled pork or duck; with grilled pound cake, drizzled with balsamic; chopped with tomatoes for a delicious relish, and on and on...



Download Recipe