6.28.10
Artisanal Cheese
G and I signed up for a mozzarella-making class at
Artisanal
, the center for all things cheese, located on the West side in Manhattan. It was originally an offshoot of Terrance Brennan's
restaurant
of the same name, though I'm not sure the two are still affiliated. At any rate, they have state-of-the-art cheese caves there and a staff of knowledgeable
affineurs
(cheese "agers") and educators, and a fun range of classes. We took a cheese & honey pairing class there last year that put a bee on our bonnet about raising our own bees...but that's another story. Now that I'm all up on curds and whey, what with making my own fresh cheese and all, I thought the next logical step would be making my own mozzarella. Somehow I thought we would be starting from scratch—with fresh milk and some rennet. But it turns out that making curds is a rather more involved process than they want to take a classful of cheese novices through in a 2-hour course and, like many perfectly respectable cheese-makers, they start from pre-made curds. I confess, I was a little disappointed, although at least Artisanal purchases its curds from
DiPalo,
the venerable cheese shop on Grand Street in what used to be New York's Little Italy. If you've never been to DiPalo, you must pay them a visit right away. They import amazing cheese, salume and pasta from Italy, and they make their own delicious mozzarella fresh every day. The people at Artisanal said that DiPalo will sell you a pound of fresh mozzarella curd if you know to ask for it. Once you've got the curd, making the mozzarella is a walk in the park. Of course, you know me: I
will
make my own curd one of these days, and you'll be the first to know all about it. Maybe I'll even get my hands on some water buffalo milk to do it...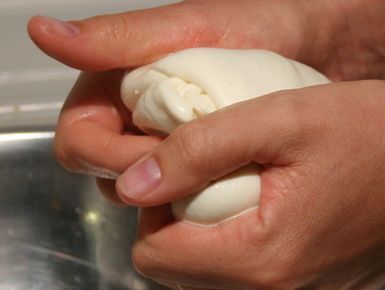 To make mozzarella, you chop the firm milk curds into smallish cubes, pour hot salty water over them and let them sit for a few moments until they melt just to the point of being malleable. Then you plunge your hands into the scalding water (grinning and bearing it) and scoop up the molten curd, which you can pull almost like salt-water taffy. You don't really want to manhandle it though, you simply fold it over on itself a few times to make a ball, as in the photo above. Then you turn it over and pinch the bottom closed—that's what makes that little pucker. You plunge it into ice water for 2-3 minutes and basta! That's all there is to making mozzarella. It tastes best fresh, eaten the same day you make it, sprinkled with sea salt, some aged balsamic and maybe a few leaves of basil. G and I went home with 3 balls of the stuff (they let you make and take as much as you want, but honestly how much can two people really eat?) and, truthfully, I'm a little sick of it. I plopped chunks of it into a frittata and I imagine it would be great on a pizza, but it will be a while before I'm ready to start investigating the process of making my own curds from raw milk. Stay tuned...