6.24.10
The Great Scape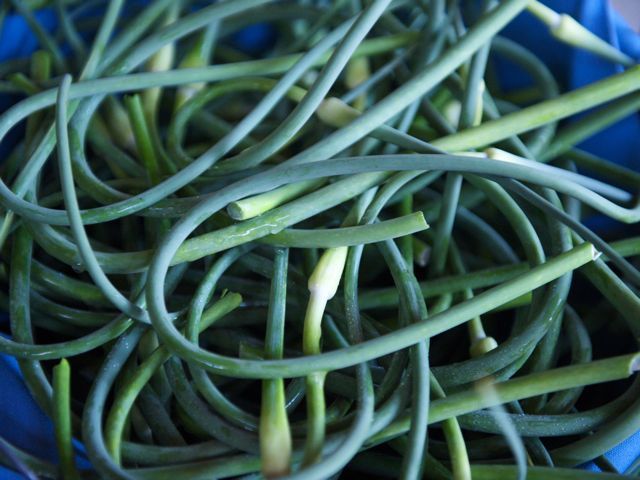 You're probably seeing garlic scapes at your local farmers markets right about now. They are those unruly shoots that spring from the tops of garlic plants (much like hair springs from my head most mornings). A beautiful, bright green, scapes have a garlicky fragrance flavor that is milder, fresher and more grassy than garlic bulbs. (The scapes are cut in order to strengthen the growth of the bulbs underground.) Try them raw, or lightly cooked in a stir-fry. This pesto recipe shows them off nicely, and is great as a dip, stirred into hot pasta, eaten with cheese or spread on a sandwich.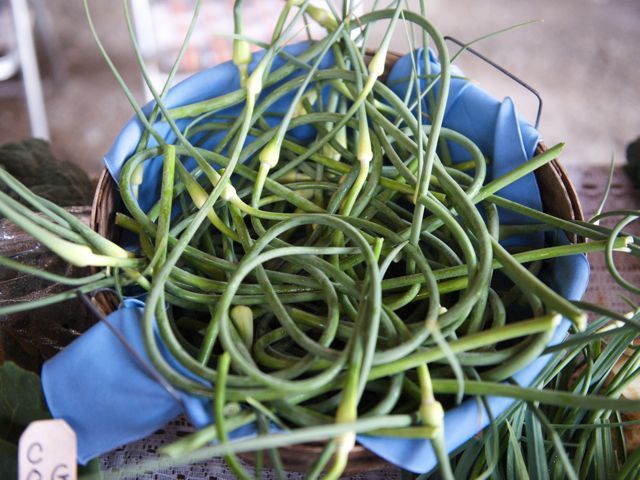 You can also chop or thinly slice scapes and add them to a tuna or chicken salad, stir them into hot rice, or scatter them over a green salad as you would scallions or herbs. They're nice in guacamole and fresh salsa, and make a stellar addition to pizza, bruschetta and stocks. In short, a welcome and versatile ingredient that will keep the vampires away.

Garlic Scape Pesto
makes about 1 cup
— 10

garlic scapes, finely chopped

— 1/3-1/2 cup

finely grated Parmesan

— 1/3 cup

almonds, very lightly toasted

— 1/2 cup

extra virgin olive oil

— 1 tablespoon

lemon juice

— 1/2 teaspoon

pimentón, mild or spicy

—

sea salt
Put the scapes, 1/3 cup of the cheese, almonds and half the olive oil in a food processor (or use a blender or a mortar and pestle). Whir to chop and blend all the ingredients and then add the remainder of the oil, the lemon juice, pimentón and more cheese, if needed. Blend again. Thin with additional oil or a splash of hot water, as needed. Season to taste with salt.


If you're not going to use the pesto immediately, press a piece of plastic against the surface to keep it from oxidizing. Store in the fridge for several days.



Download Recipe