6.16.10
In the Pink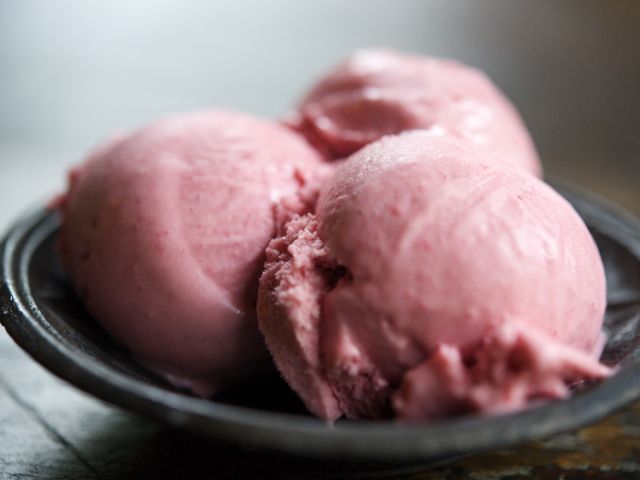 Yes, I know, you think I'm senile and posting again about that divine strawberry-fennel ice cream. Wrong. It's yet another wickedly delicious fruit ice cream. Who knew? I was never a huge fan of this genre, tending to pass over the Graeter's black raspberry in favor of the coffee or caramel or mint chip. But this is one of the most delectable flavors EVER. I don't know if it has to do with the raw milk or the brilliant orange egg yolks straight from the farm, but I'm thinking it's about the way the slightly tart and wonderfully intense flavor of the raspberries plays off the unctuous custard. Because we were impatient, I didn't wait for the custard to cool completely before putting it in the ice cream maker, and then we were unwilling to wait for it to harden in the freezer. The result was almost like frozen whipped cream (um, that's what it is, right?) and we had to shovel the stuff in quickly before it could melt.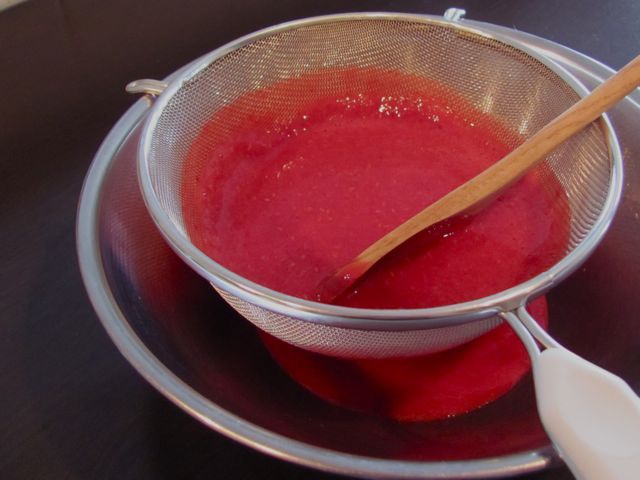 It was an impulse dessert, really, inspired by the recent success of the strawberry-fennel version, and the jar of raspberry puree left over from the Memorial Day 
lime angel food cake
. (And by the day's long, sweaty trek at
Bashakill
!) This recipe calls for frozen raspberries, but with the fresh ones that will be upon us at any moment, it might possibly be even better. I urge you to make this simple but absolutely irresistible ice cream. Don't ruin it with chocolate sauce: just spoon it slowly into your mouth until it's all gone.
RASPBERRY ICE CREAM
serves 6
1lb frozen raspberries, thawed (or equivalent fresh berries)2 tablespoons fresh lemon juice1/2 teaspoon almond extract3/4 cup agave nectar1 1/2 teaspoons cornstarch1 1/4 cups whole milk2 large egg yolks1/4 teaspoon vanilla1 cup chilled heavy creamPurée raspberries with lemon juice in a food processor, then force through a sieve into a bowl, pressing hard on and discarding solids. (I promise, this step is worth it. Stop whining.) Stir in almond extract.Whisk together agave nectar and cornstarch in a bowl, then whisk in milk, yolks and a pinch of salt. Cook custard in a heavy saucepan over moderate heat, whisking, until it just reaches a boil, then reduce heat and simmer, whisking, 1 minute. (Custard may look slightly curdled; it's OK.) Pour custard through a fine sieve into a bowl, then stir in vanilla and cool, stirring occasionally.Stir berry purée and cream into custard and chill, covered, until cold, at least 2 hours. Freeze in ice cream maker, then transfer to an airtight container and put in freezer to harden. If you can wait that long.