6.9.10
Condimental: Bubble & Squeak
This is not about that traditional English dish of fried leftover vegetables. I'm actually referring to the lovely sounds that emerge from the jar when you make your own sauerkraut. More broadly, in fact, I want to tell you about the joys of lacto-fermentation.
WTF?!
you cry.
What is she going on about

now

?!
Yes, it's more of my kooky DIY. But you can't tell me that you don't love pickles. And this is one way to make them that doesn't require all that boiling and canning hassle. This is just you, your vegetables and some free-floating healthy bacteria!
Lactobacilli
are lurking everywhere, on the surface of all living things, especially anything growing on or near the ground. Put them to your own use and you've got all manner of delectable pickles like kimchi, sauerkraut and half-sour dills. Make no mistake: lacto-fermentation is not the same as pickling in a vinegar brine. I was amazed to see that my sauerkraut was simply salt, caraway seeds and cabbage; a dry mixture that, over a period of days, became juicy and sour and fragrant.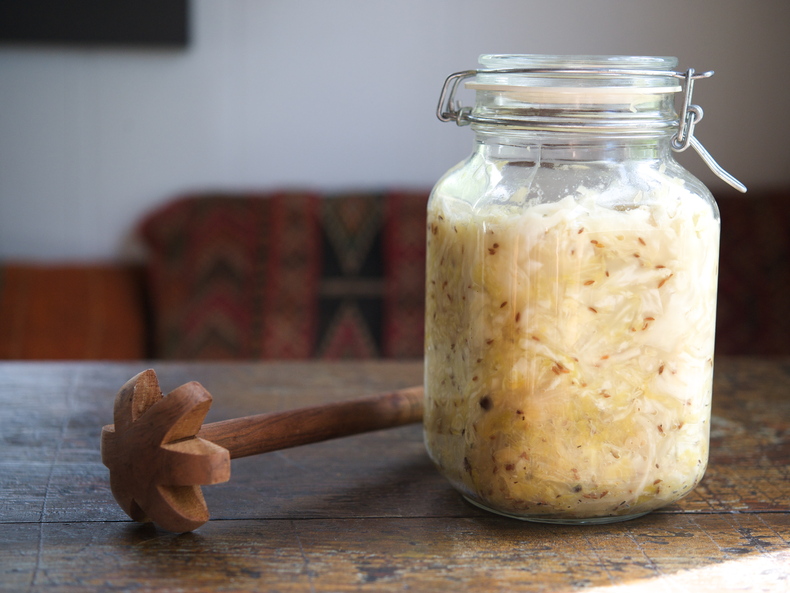 The proliferation of lactobacilli in fermented vegetables enhances their digestibility and increases vitamin levels. They also produce a number of helpful enzymes, as well as antibiotic and anticarcinogenic substances. Lactic acid perfectly preserves fruits and vegetables (I will never say "veggies," never) and promotes the growth of healthy flora throughout the intestine. Traditional American pickles like chow-chow, cucumber relish and pickled watermelon rinds were most likely originally made through lacto-fermentation. As the process became industrialized, vinegar was used as a brine, making pickles very acidic and not so nutritionally beneficial; the heat processing further destroyed valuable nutrients and helpful lactobacilli.The process is so easy: wash and cut up fruits and vegetables; mix them with salt and herbs or spices; pound them briefly to help release their juices; press into an air-tight container. A tall, wide-mouthed mason jar is perfect. If you have whey on hand (as I do, from making soft cheese), you can add a few tablespoons and then reduce the amount of salt. Homemade whey (not the commercial kind) acts as an inoculant and ensures consistently good results. Whey also makes pickling fruits possible, since you wouldn't want to mask their flavor with a lot of salt (or vinegar).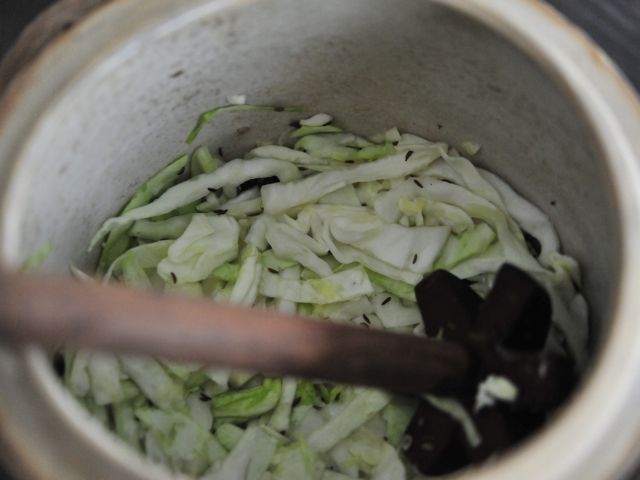 Lacto-fermented products can get bubbly, sometimes even a little foamy, but this is not a problem. There is no risk of poisoning yourself! If a batch were to go bad, it would smell so awful you would never want to eat it. Lacto-fermented vegetables keep for months in cold storage (like a basement or root cellar); fruits and preserves should be consumed within a couple of months.I was amazed to see my own batch of sauerkraut "happen." The first time I cut up just one head, but it really shrinks down. The photo above is a batch made with two entire heads of cabbage! Lacto-fermented products are meant to be consumed as condiments, not in huge quantities.SAUERKRAUTadapted from Nourishing Traditionsmakes 2 quarts2 medium heads green or red cabbage (about 5 pounds), cored and shredded2 tablespoons caraway seeds2 tablespoons juniper berries, lightly crushed (optional)2 tablespoons sea salt8 tablespoons homemade whey (or add 2 additional tablespoons salt)In a large bowl or two, mix cabbage with spices, salt and whey (or additional salt). Pound with a wooden pounder or meat hammer for about 10 minutes to release juices. Place in one or more large wide-mouthed jars and press down firmly until juices come to top of cabbage. The top of the cabbage should be at least an inch below the top of the jar. Cover tightly and keep at room temperature for 3-4 days, pressing down on the cabbage to immerse it in liquid whenever you think of it (at least twice a day). Then you can transfer it to cold storage or to your fridge. Your sauerkraut may be eaten immediately, though it will keep gaining flavor with age.Sauerkraut is delicious as an accompaniment to roast chicken, duck confit or grilled sausages. It's also delicious on a grilled cheese sandwich made with dark rye and sharp Swiss cheese.