4.6.10
Chile Today?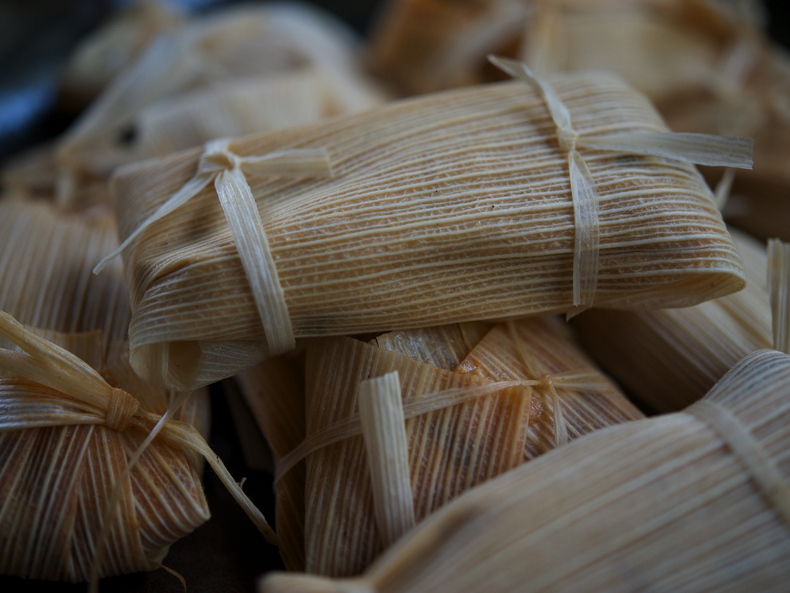 Hot tamale. It's an old joke I never tire of. And indeed, though it's a chilly, grey morning, tomorrow is supposed to be unseasonably warm. 80 degrees in April—WTF?! Tamales, however, know no season. Yes, they are rather hearty and, yes, they were a Christmas Eve tradition in our house, but I'll eat them anytime, rain or shine. Tamales were part of any celebration banquet for the ancient Aztecs, who stuffed them with snails, game, boiled fruit, broad beans and fish with chile sauce. They are truly one of my favorite foods. I love untying the little packet and peeling the husk away to reveal the rich, pudding-like steamed masa, redolent of corn and concealing some savory nuggets. I like chicken tamales, cheese-&-chile tamales and, perhaps most of all, pork tamales. They are definitely not something you throw together in 15 minutes, but then neither is a good lasagna. Grab some friends and make it a party, that's the typical Mexican way. Once the weather warms up, we'll start eating loads of fresh fruits and salads and grilled things, so this may just be the perfect time for a little kitchen-intensive slow food. And once you make this red chile pork—earthy, lightly spicy and so flavorful—it will become a staple of your repertoire, equally delicious in tacos or on its own with a shaved cabbage and avocado salad.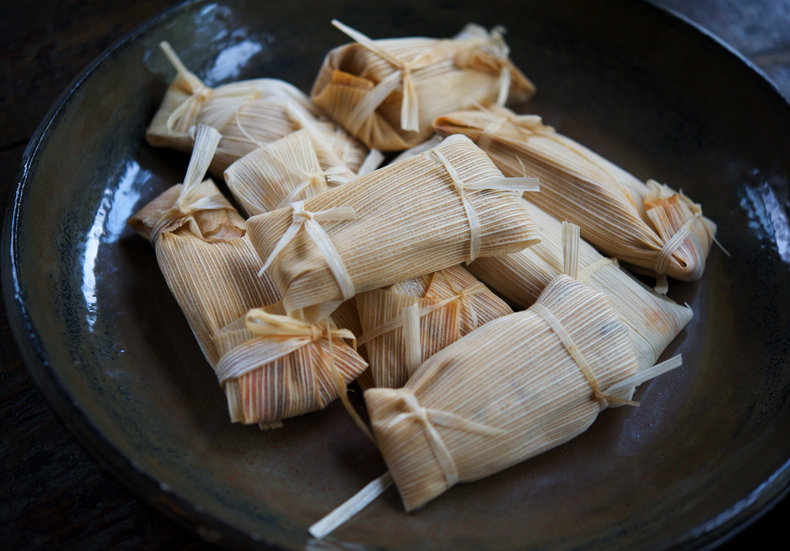 You'll need to visit your local Mexican market or a specialty shop that stocks authentic ingredients in order to get the corn husks and dried chiles for this dish. Or you can order everything you need online
here
. Tamales are basically a thick batter made from ground dried corn and lard or shortening that is stuffed with some meat and/or vegetables, enclosed in a dried corn husk and steamed. The result is definitely greater than the sum of its parts. I happened to have a frozen container of leaf lard from the Union Square farmer's market—this is fat that's taken from around the pig's kidneys and rendered; the very best thing for pie crust—but you can definitely use vegetable shortening instead.
Red Chile Pork Tamales
makes about 15
— 2/3 cup

fresh pork lard, chilled (or vegetable shortening)

— 1 teaspoon

baking powder

— 1 scant

teaspoon salt

— 1 3/4 cups

masa harina mixed with 1 cup plus 2 tablespoons hot water and cooled to room temp

— 2/3 cup

chicken stock, ideally homemade

— 8 ozs

dried corn husks

— 2 lbs

boneless pork shoulder (aka Boston butt)

— 1 tablespoon

grapeseed oil

— 1

small onion, finely chopped

— 1 teaspoon

Mexican oregano

— 1 teaspoon

cumin seeds

— 1 teaspoon

sea salt

— 1

orange, sliced

— 1

lime, sliced

— 8

large dried New Mexico chiles, stems and seeds removed

— 2

cloves garlic, peeled and finely chopped

— 1/4 teaspoon

freshly ground black pepper

— 1/8 teaspoon

ground cumin

— 1 teaspoon

sea salt
For the Masa:


In the bowl of an electric mixer fitted with the paddle attachment, combine the lard, baking powder and salt. Beat until light and fluffy. Add 1 cup masa and 1/3 cup stock; beat until thoroughly combined. Add the remaining masa and 1/3 cup stock; beat until light and fluffy, about 2 minutes. The batter should be soft but hold its shape in a spoon. Refrigerate at least 1 hour. Batter may be stored in an airtight container in the fridge for up to 2 days.


For the Red Chile Pork:


Heat oil in a Dutch oven over high heat and brown pork on all sides. Add remaining ingredients and cover with 4 cups water. Bring to a boil and then immediately turn heat down and simmer, covered, until tender, about 2 hours.


Preheat oven to 400 degrees. Remove pork from liquid and, when cool enough to handle, chop into ½" cubes. Spread in a single layer on baking sheet(s) and roast in the oven until nicely browned and crispy, about 20-30 minutes, stirring once or twice. Meanwhile, strain liquid and set aside, discarding solids.


For the Tamales:


To reconstitute the dried corn husks, place them in a deep heat-proof bowl and cover them with boiling water. Set a small plate on top of husks to keep them submerged. Soak for 1 hour, rearranging/agitating husks once to make sure all parts are soaked. Remove from water and spread on a clean kitchen towel.


Return the tamal batter to the mixer. On low to medium speed, mix the batter for a few seconds to lighten the dough. Add 3 tablespoons red chile sauce and mix again to combine. The batter should not be stiff, but slightly loose and not runny. You may need to add a few tablespoons or so of chicken stock. Remember, the lighter the batter, the more tender the tamales.


To assemble, tear (or cut with scissors) one large corn husk lengthwise along the grain to make 1/4-inch-wide strips. You will need two per tamale; if strips aren't long enough, you can tie two together. (Mother's little helper comes in handy here.)


Place another whole husk, lightly dried, on work surface, pointed end away from you. Scoop about ¼ cup masa onto the middle and spread into a 4-inch square, leaving a 1 ½" border on the pointed end and a 1" border on the other sides. Spoon 2 tablespoons filling down the center of the masa. Bring long sides together to form a cylinder, making sure the batter encases filling. Fold the pointed end under; tie loosely with husk strip. Fold the flat end under; tie. Repeat. I know, I'm making it sound easy, and you will probably find the masa sticking and the corn husk tearing, etc. But these are incredibly forgiving and it's really not about perfection here. Take your time and you'll get the hang of it! Make these until you run out of masa. You may have leftover pork. This is a good thing.


To steam the tamales, I use one of those flat, collapsible metal steamers set inside a big pot. Put a few inches of water in the pot and line the steamer with leftover corn husks. Then pile in all the tamales (they can be stacked on top of each other), cover and set the steamer over high heat. When steam puffs out, reduce the heat to medium. Steam 1 hour 15 minutes, adding more water when necessary. (Do not let the pot dry out—it's a disaster!!) To check for doneness, unwrap a tamal. If it's ready, the masa will come free from the husk quite easily and feel soft. If masa sticks to the husk, rewrap, and comtinue steaming another 15-20 minutes. Remove from heat; let stand 15 minutes for batter to firm up. Tamales will remain warm for about 1 hour. Once cooled, these can be frozen and will keep for several months. To heat, place directly from freezer into steamer.



Download Recipe