4.15.10
Better Than Bubbe's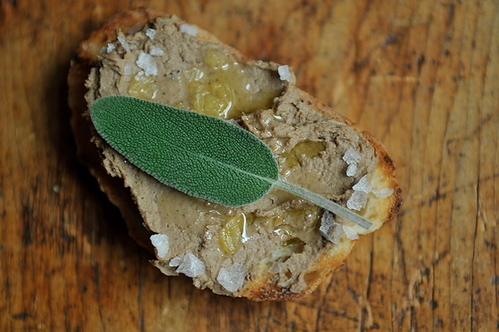 The editors of Food52 picked one of my recipes as the
wildcard winner
this week! Hooray! They called my Tuscan chicken liver paté "a rich dose of umami," which indeed it is thanks to the addition of anchovy, capers, parmesan, shallots, garlic and wine. This is not your Jewish grandmother's chopped chicken liver! It is a gussied-up Tuscan version—taught to me by a diehard Italophile—and it really is a winner, especially when served with a garnish of fried sage leaves and a glass of prosecco or, my personal favorite, Lambrusco. Amanda Hesser tweeted that it would be a good prelude to spaghetti carbonara, but I can't agree—better before a whole roasted sea bass served with broccoli rabe.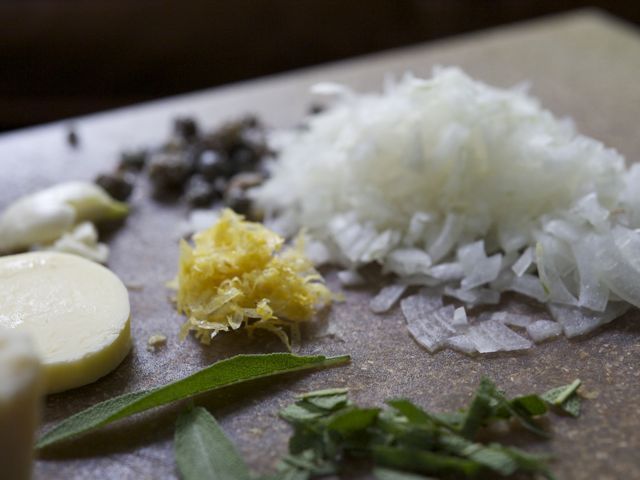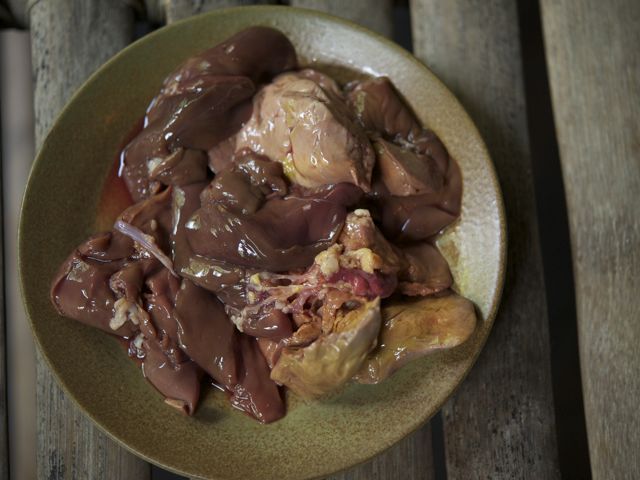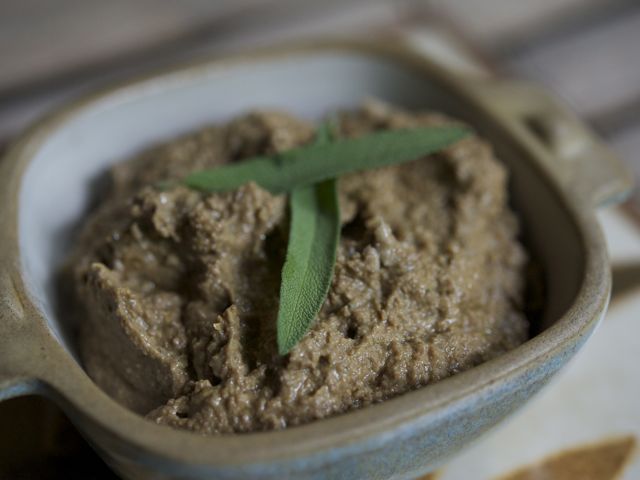 Chicken Liver Paté, Tuscan-Style
makes enough for about 2 dozen crostini
— 1 pound

organic chicken livers

— 2 tablespoons

extra-virgin olive oil

— 2 tablespoons

unsalted butter

— 2

large shallots, thinly sliced (sweet onion is OK)

— 1

large clove garlic, smashed

— 3

anchovy fillets (or 1 tablespoon anchovy paste)

— 1 tablespoon

capers, minces (rinsed well if salted)

— 4-6

sage leaves

— 2/3 cup

dry white wine

— scant teaspoon

lemon zest

— 1/2 cup

parmesan, grated

—

grilled country bread slices, for serving

—

sage leaves, for garnish
Trim any sinews from the livers and dry well with paper towels.


In a large skillet, melt the butter and olive oil over medium-high heat. Sautee the shallots, garlic, anchovy, capers and sage until shallots are lightly browned, 6 minutes or so.


Season the chicken livers with salt and pepper and add to the pan. Cook over high heat until browned, then add half the white wine (1/3 cup) and keep stirring with a wooden spoon, breaking up the livers as they start to cook through. When the wine is absorbed, add the second 1/3 cup of wine and repeat the process.


Remove from heat, cool slightly and transfer to a food processor. Process until quite smooth, then add lemon zest and cheese and process again. Taste and add salt or pepper as desired.


Serve warm or at room temperature, spread on grilled country bread and garnished with fresh or fried sage leaves.



Download Recipe