3.18.10
Adventurous Eating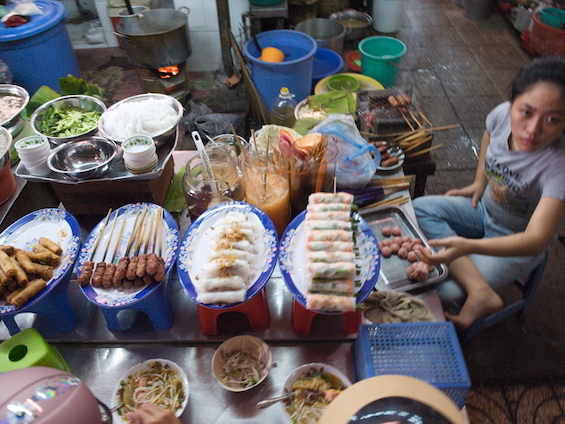 Over the Christmas holidays last year, G and I traveled to Vietnam, Cambodia and Laos with our friends Lisa and Philip. We saw beautiful temples, explored the overgrown wonder that is Angkor Wat, took a boat ride up the Mekong, strolled through the art galleries of Saigon, ate countless bowls of pho, slurped down many coconut frosties, and bought way more Cambodian silk than anyone has a right to. Among the trip's highlights were the many markets we visited. The gorgeous fresh produce, the delicious food being cooked on the spot, sparkling seafood on display and, yes, plenty of other, less appetizing things—like roasted roaches (Philip ate some and said they tasted like nuts), snakes on a stick and a few unidentifiable substances in varying states of decay.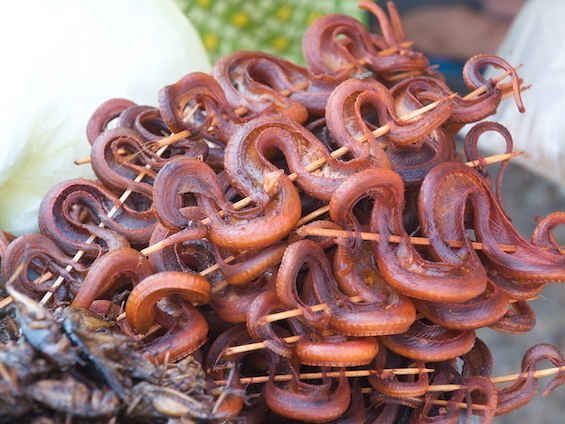 We were pretty restrained about eating on the street like that, having picked up assorted parasites on other trips (and having all become violently ill on this one after eating the homemade paté de foie gras of a French expat at his tiny bistro in Siem Reap). But thanks to the fabulous Australian
Luxe guides
we were turned on to a fantastic restaurant with branches in both Hanoi and Saigon. I think they were both called Quan An Ngon, but since the guide described them as being as big and packed as "Pam Anderson's bra," that's how we referred to them.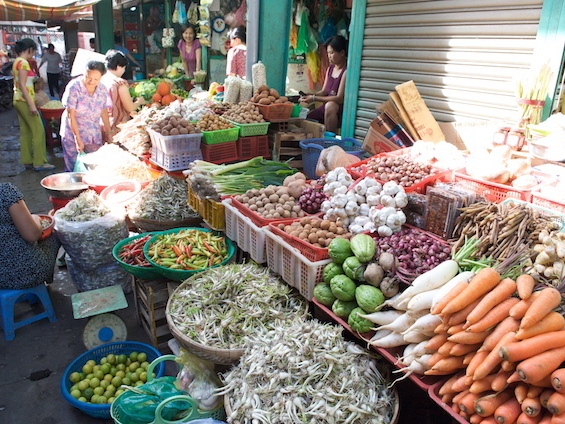 We stuffed ourselves on delicious rice noodles and soft squid grilled with chile and garlicky chicken and shrimp summer rolls with mint and cilantro and tiny fried spring rolls to wrap in lettuce with more herbs, all of it washed down with wonderful fruit juice or lemonade. (I learned right away to stay away from the Vietnamese iced coffee, which had me sweating and gnashing my teeth like I was on a cocaine binge. That stuff is strong!!)
We can't be in idyllic Southeast Asia all the time, but we can cook some of these delicious dishes at home. It's sometimes hard to recreate the exotic flavors we remember from our travels, but I want to remind you that using authentic ingredients can make all the difference. Seek out the Vietnamese or Thai market near you to find the right stuff.
An essential ingredient of this cuisine is fish sauce. Generally made from anchovies—in a process similar to what I described in my post about Italian
colatura—
fish sauce is called
nuoc mam
in Vietnam and
nam pla
in Thailand; the Laotian version, slightly chunkier, is called
nam pa.
By whatever name, its salty, funky, pungent flavor gives much Southeast Asian food—from pad thai to the dipping sauce for spring rolls—its distinctive umami taste. So pick up a bottle and don't be put off by its rather alarming aroma. Somehow, by the time it hits your palate, it is decidedly more welcome. In fact, it's the very appealing scent of Pam Anderson's bra!
Nuoc Cham (Vietnamese Dipping Sauce)
makes about 1 1/2 cups
— 1/4 cup

sugar

— 1/2 cup

hot water

— 1/4 cup

fish sauce

— 1/4 cup

white vinegar (or rice vinegar)

— 1/8 cup

fresh lime juice

—

roasted peanuts, garlic, hot chile (optional)
Dissolve sugar in hot water and combine with the rest of the ingredients. Mix well. Will keep stored in a glass jar in the fridge. Before serving, you can also add in some chopped peanuts, a minced clove of garlic and/or a minced chile.



Download Recipe