2.27.10
Lime in the Coconut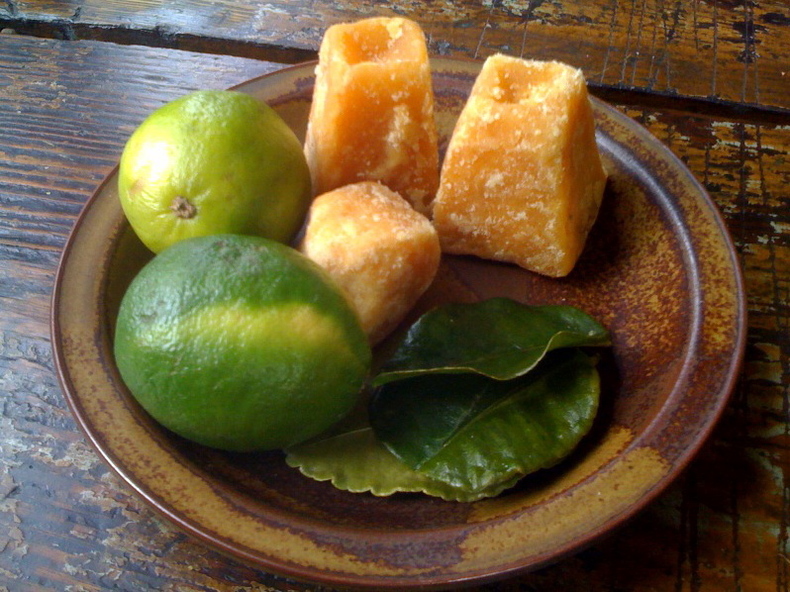 Ever since
that dinner
at Il Buco a couple of weeks ago, I've been thinking about the wonderful coconut-lime sorbet I tasted there. So creamy and rich, yet so tart and refreshing. Once I started experimenting in the kitchen, I went off on my own tangent. What I came up with is different, a bit more exotic, but I think just as delicious. It's SO easy—did you get your ice cream maker yet? This recipe does call for a couple of unusual ingredients: deeply flavorful jaggery, which I showcased
here
, and those beautifully perfumed wild (kaffir) lime leaves, which I also recommended for
this curry
. If you have trouble finding the lime leaves, you can substitute some lime zest, though the flavor will be quite different. I have seen them on occasion at Whole Foods, definitely at Kalustyan's, and at any Thai market. I've also come across them dried, but have never tried those. (Someone once asked me to do a post about how to stock your pantry, and I will attempt that soon, but what I consider to be basic essentials may seem rather arcane.) Just because this is called sorbet, by the way, doesn't mean it's especially low in fat. Coconut milk is actually rather high in fat—how else could it be so unctuous? But supposedly this vegetable fat is more easily metabolized by the body. It contains lauric acid, which is also found in mother's milk and has been shown to promote brain development and bone health. Coconut milk is considered very healthy in Ayurvedic medicine, where it is used to heal ulcers.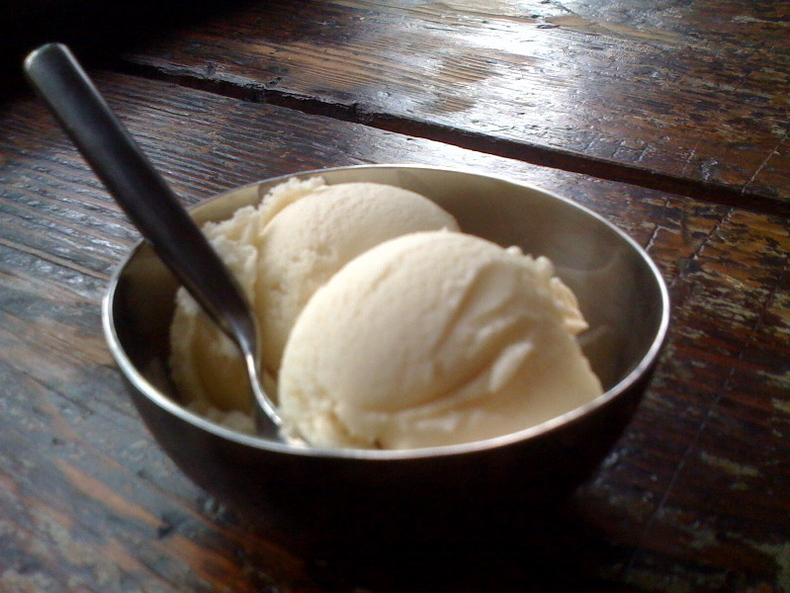 Tips
: I used one of the smaller holes on my box grater for the jaggery, which comes in those little pyramids or sometimes big chunks. You can also just chop it with a knife. Bruise the lime leaves by crushing them with your fingers before dropping them in the coconut milk. This releases the oil and allows the flavor to penetrate better. Straining the mixture removes not only the lime leaves but also any lime pulp, so that your finished sorbet is as smooth as possible.
COCONUT-LIME SORBET
serves 4

1 15 oz. can coconut milk (preferably organic)

2/3 cup grated jaggery

2-3 kaffir lime leaves

1/2 cup fresh lime juice

1 pinch sea salt

In a medium saucepan over medium-low heat, combine coconut milk, jaggery and lime leaves. Stir until jaggery is dissolved and milk is heated through, about 5 minutes.

Remove coconut milk from heat, cover pan and allow to steep as it cools. Once completely cool, stir in lime juice and strain, discarding lime leaves. Stir in salt.

Process in your ice cream maker. Serve right away, or freeze for a couple of hours to firm up more, as desired.