2.13.10
Ribs Redux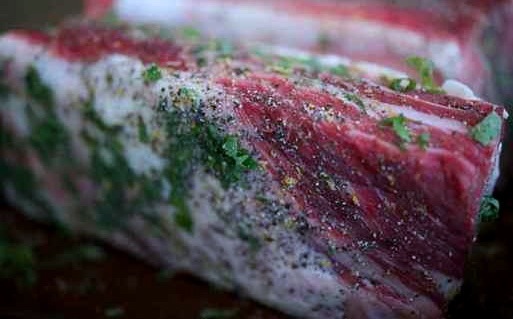 You may remember I wrote a while back about the red miso short ribs I invented, using a more
classic preparation
as a template. I'm please to say they were singled out among the editors' picks this week on
Food52
, a very fun cooking site I recommend you visit. Don't be put off by the use of slightly more esoteric ingredients like the miso, or mirin (a sweet Japanese cooking wine) or daikon (a large white radish). These can all be found at your local health food market, maybe even Whole Foods, or definitely an Asian speciality market. This is great cold-weather cooking. As with the other short ribs recipe, it's best if you plan ahead so you can have a day to marinate, and another to chill the cooked ribs which makes removing the fat much easier. So without further ado, I present my recipe.
Beef Short Ribs Braised with Miso
serves 4
— 4

bone-in beef short ribs, about 14 ozs each

— 10

shiso leaves; 6 minced, 4 left whole

— 1 teaspoon

cracked black pepper

— 1/2 teaspoon

yuzu zest

— 2 tablespoons

grapeseed oil

— 1 cup

shallots, diced

— 2

cloves garlic, minced

— 1

leek, diced

— 1/4 cup

celery, diced

— 2 tablespoons

brown rice vinegar

— 2 tablespoons

red miso, mixed with 1/4 cup hot water

— 1 cup

mirin

— 1 cup

dey red wine

— 4 cups

beef stock, preferably homemade

— One

10" daikon radish, peeled, halved lengthwise and cut into 1/2" slices
Combine shiso, pepper and yuzu zest and rub all over ribs. Refrigerate overnight.


Remove meat from fridge and let come to room temperature, about 30 minutes. Preheat oven to 325 degrees.


Heat a large Dutch oven over high heat. Pour in 2 tablespoons grapeseed oil and sear ribs on all sides. Don't crowd the pan; do this in batches if necessary. When nicely browned, remove ribs to a platter.


Lower heat to medium and add vegetables to pot. Sautee until lightly caramelized, about 6-8 minutes. Turn up heat and add diluted miso, rice vinegar, mirin and red wine. Stir well and reduce by about half. Add beef stock and bring to a boil. Turn off heat. Return ribs and any accumulated juices to the pot. Broth should almost cover ribs. Tuck 4 shiso leaves around meat and cover pot with a tight lid (or two layers of aluminum foil). Place in the oven.


After two hours, remove from oven, carefully take lid off and add daikon. You can also turn the ribs over now. Replace lid and return to oven for another hour.


Remove from oven after a total of 3 hours and check for doneness by sliding the tip of a paring knife into a rib. It should yield easily and almost fall off the bone. Cool slightly.


Remove ribs and daikon to a shallow pan. Strain broth through a fine mesh into a saucepan, pressing on the solids to extract every bit of juice. Ideally, I prefer to serve this dish the next day. If doing so, now you would refrigerate the broth separately from the ribs and daikon, and remove the solid fat that rises to the top of the broth when chilled. If you're serving it right away, skim fat from the broth now. If broth seems thin, reduce slightly over high heat. Taste for seasoning.


Turn oven up to 400 degrees. Place ribs on a baking sheet and brown for 10-15 minutes until crispy on the outside. Heat sauce with daikon in a saucepan, tasting for seasoning.


To serve, place browned ribs over rice, mashed potatoes or taro root and pour sauce with daikon on top. Pass remaining sauce at the table.



Download Recipe