2.5.10
Stick to Your Ribs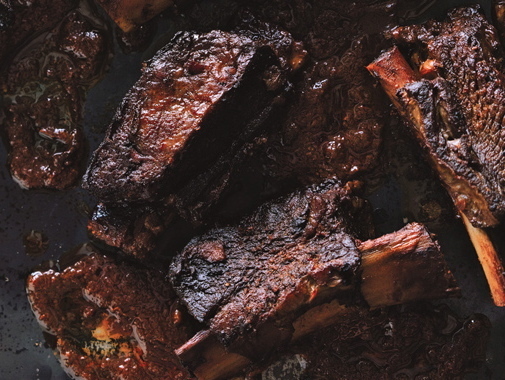 G went hog wild in Dickson's this week. Came home with some grass-fed beef stew meat, these two humongous short ribs (the butcher said they would be better if he didn't cut them—why?), a couple of squabs, a red cockerel and a Boston butt. Most of it went into the freezer, to be doled out over many weeks, but the short ribs will be featured at dinner tomorrow night. We've got a couple of friends coming over. That's exciting stuff up here in the boonies. I'm trying a new preparation with red miso, mirin and daikon radish. I'll let you know how it turns out. Usually, I favor a more classic presentation, the one from Suzanne Goin's Sunday Suppers at Lucques. I first had these at her Los Angeles restaurant on my 40th birthday.

If you've never made short ribs, I suggest you start here. They are really quite simple: just a matter of assembling the ingredients, browning the meat and throwing it in the oven for 3 hours. Plan ahead, as these are at their best when you marinate them overnight, cook them, and then let them chill overnight again so you can easily remove all that fat from the pan juices. Trust me, it's worth a little forethought. So if you want to serve them on Saturday, begin the recipe on Thursday. (It's all part of my master plan to get you to start thinking about your meals in advance, planning, scheming, daydreaming, balancing your diet and getting into a rhythm of eating well...)

I don't think I have to sell you on the irresistible, falling-off-the-bone quality of wine-drenched, slow-braised meat, do I? This is the kind of hearty dish perfect après-ski, après-hike, après-walking-around-the-city-all-day. With a puddle of buttery mashed potatoes, a heap of steamed greens and a rich rectangle of unctuous beef, all you really need to add is a glass of red wine, a big linen napkin and a beloved companion.

Braised Beef Short Ribs
adapted from Suzanne Goin's Sunday Suppers At Lucques
serves 6

— 6

beef short ribs, 14-16 ounces each (ask for 3-bone center-cut), rubbed with cracked black pepper, adorned with thyme and left to marinate overnight in the fridge

— 1 cup

diced onion

— 1/3 cup

diced celery

— 1/3 cup

diced carrot

— 2

bay leaves

— 2 tablespoons

balsamic vinegar

— 2 1/2 cups

hearty red wine

— 1 1/2 cups

port

— 6 cups

beef stock, preferably homemade

— 4 sprigs

flat parsley
Remove the meat from the fridge about 30 minutes before cooking. Once it's at room temperature, season generously on all sides with salt. Preheat the oven to 325 degrees.


In a Dutch oven over high heat, add 3 tablespoons olive oil and sear short ribs until they are caramelized on all sides. Don't crowd your pan; do this in batches if necessary. When nicely browned, remove ribs to a platter.


Turn heat down to medium and sauté the vegetables and bay leaves in the same pot, stirring constantly to pick up all the crusty bits left in the pan until everything is caramelized, 6-8 minutes. Add the balsamic vinegar, port and red wine. Turn the heat up to high and reduce by half.


Add the 6 cups of stock and let come to a boil. Return the short ribs to the pot with any juices that have accumulated on the platter. The liquid should almost cover the ribs. Tuck the parsley sprigs around the meat.


Cover the pot with its tight-fitting lid or, if you're using a braising pan instead, cover with plastic wrap (yes, it can go in the oven!) and then aluminum foil. Braise in a 350 degree oven for approximately 3 hours.


To check for doneness, remove the plastic and foil (careful of the escaping steam) and pierce the meat with a paring knife. It should be tender and falling off the bone, yielding easily to the knife.


Now, optimally, you will have planned ahead to serve this dish the next day. If so, remove the meat from the pot and set aside to cool. (If not, read below.*) Strain the broth through a fine mesh strainer into a large jar or bowl, pressing on the solids to extract all the juices. Once this has cooled, cover broth and refrigerate overnight. Refrigerate meat separately.


When ready to serve, remove ribs and broth from fridge. Preheat oven to 400 degrees. With a spoon or spatula, skim the layer of fat off the broth and discard. Transfer broth to saucepan and warm over medium heat. Place the ribs on a baking sheet or roasting pan and brown in the oven, 10-15 minutes.


*If you want to serve the ribs now, transfer them to a baking sheet and set aside. Raise the oven to 400 degrees. Strain the broth into a saucepan, pressing down on the solids to extract all the juice. Skim as much fat from the sauce as you can. If it seems thin, reduce slightly over high heat so it thickens up. Taste for seasoning. Brown ribs in the oven for 10-15 minutes.


Suzanne and I both recommend you serve these ribs with their broth over mashed or pureed potatoes; with a side of wilted spinach, kale or chard; and topped with a drizzle of crème fraîche into which you have stirred some horseradish (freshly grated or from the jar).



Download Recipe