12.28.09
Take Your Lumps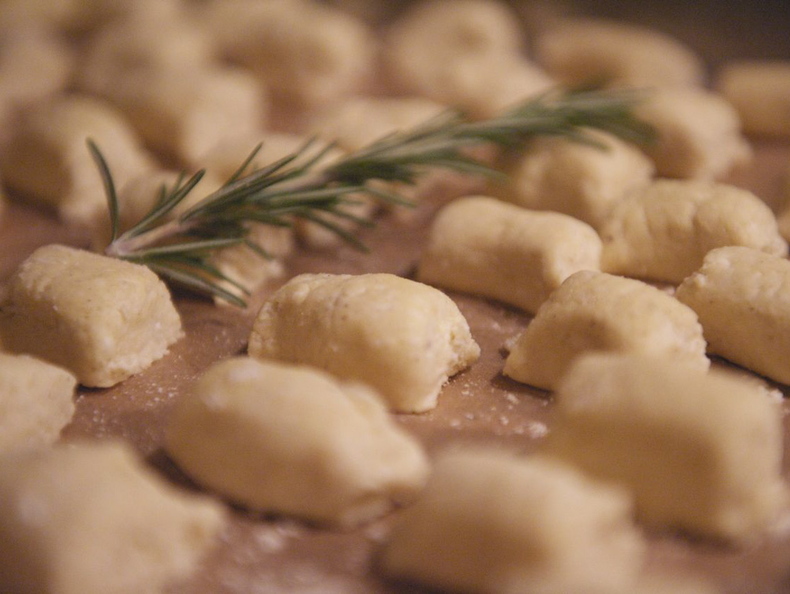 Gnocchi means "lumps" in Italian. Not an especially glamorous name, and one that doesn't seem to fit something so ethereal in texture. This traditional Italian dish has been around for a couple of thousand years at least, spread through Europe by the Roman Legions and made according to whatever was at hand: potatoes, wheat flour, semolina, bread crumbs, ricotta. The French even make a version with choux pastry, but that's neither here nor there. I make mine with a delicious sheep's-milk ricotta and serve them with brown butter and a light sprinkling of smoked sea salt and tangy
tomato powder
. I suspect they may suffer slightly from the addition of gluten-free flour. They were perhaps not as light and springy as they will be for you, using unbleached all-purpose flour. Next time, I may try gnudi instead, as they call for even less flour (but also require that you drain the cheese and refrigerate the dough at several points), or perhaps just pair the gnocchi with a heartier sauce (roasted tomato? porcini?) that can stand up to the slightly denser texture.
We ate ours with a simple salad of mixed greens tossed with a few oil-cured black olives and a dressing of champagne vinegar, Dijon mustard and walnut oil. Since it was just the two of us, I froze half of the gnocchi. Any that you won't eat right away can be frozen immediately right on the baking sheet. Once they've firmed up considerably, pop them into a ziplock bag for storage. They're best eaten within the month, if you can wait that long.
Ricotta Gnocchi
serves 4

— 2 cups

whole-milk ricotta (I use sheep's milk ricotta)

— 2

large eggs

— 1 cup plus 1/2 cup

grated Parmigiano-Reggiano divided

— 1 1/4 cups

all-purpose flour (or Bob's Red Mill gluten-free)

— 1/2 stick

unsalted butter

—

smoked sea salt (Maldon has a good one)

—

tomato powder
Stir together ricotta, eggs, 1 cup cheese, and 1/4 teaspoon each of sea salt and freshly ground black pepper. Add flour, stirring to form a soft, wet dough.

Shape dough on a well-floured surface with lightly floured hands into two (or more) 1-inch-thick ropes. Cut crosswise into 1" pieces with a lightly floured knife. Put in a single layer on a lightly floured parchment-lined baking sheet.

Cook gnocchi in 2-3 batches in a pasta pot of boiling salted water (3 tablespoons salt for 6 quarts water), stirring occasionally, until cooked through (they'll come bobbing to the surface), about 3 to 4 minutes per batch. Lift out with a slotted spoon and drain in colander.

Meanwhile, melt butter in a heavy skillet until it turns a rich brown and emits a nutty aroma, about 5 minutes.

Toss gnocchi with brown butter in skillet and sprinkle with remaining 1/2 cup cheese and a light dusting of smoked salt and tomato powder.



Download Recipe