11.7.09
Grindhouse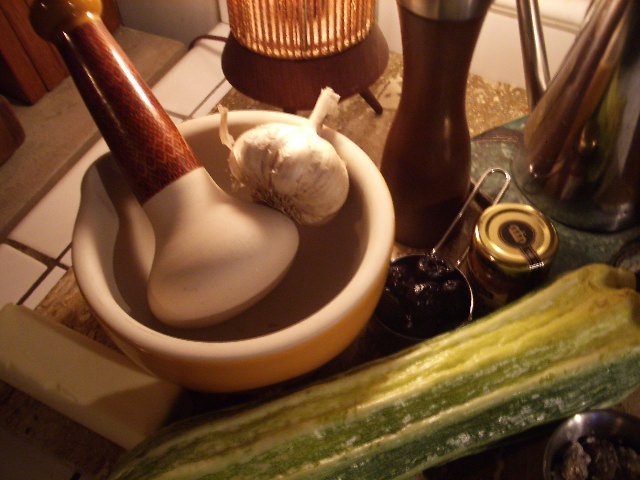 You can really connect with your inner cave woman when using a mortar and pestle. Or maybe it will take you back to Baba Yaga, that terrifying witch of childhood fables who flew around in a mortar, using her pestle as a rudder. There's something very primal about them, although you can see that the one I have, above, is pretty civilized. I also have a deeper one made of something very hard (cement?) that I use for making papaya salad Thai-style, and a small wooden one I use for crushing herbs. Real pesto aficionados always rely on a mortar and pestle.

These indispensable tools are available in a wide range of materials, from porcelain to marble. Your kitchen really shouldn't be without one. Any time you need to smash or pulverize anything, in smallish quantities, your mortar and pestle will give you greater control than a spice grinder or food processor. Use it to make spice mixes and salt blends, to crush peppercorns, mix compound butters, make a garlic-salt paste, and on and on. Alice Waters says it's actually a bit ambitious to make a lot of pesto in your mortar and pestle. So she offers this compromise: use a food processor to puree the basil leaves then add them to garlic and nuts you've pounded yourself. Below is her more purist recipe...
Pesto
from Alice Waters' Chez Panisse Vegetables
makes about 2 cups

— 2-3

cloves garlic (I prefer to go a bit lighter on the garlic, unless you have very young cloves)

— 1/4 cup

pine nuts (or walnuts or a combination)

— 2 cups

basil leaves

— 1/2 cup

extra-virgin olive oil

— 1/2 cup

grated Reggiano Parmesan cheese

—

salt & pepper
Peel and slice the garlic. Pound it with the nuts in a mortar to make a paste. Add the basil leaves by small handfuls, continuing to pound and grind in the mortar. Add oil as needed with the leaves as you work the paste. When all the leaves are ground to a somewhat smooth texture (part of the charm is the uneven consistency), stir in the remaining oil and the cheese, and season to taste. The pesto is best used the same day but will keep in the refrigerator for a few days with a thin layer of olive oil on top, tightly covered.



Download Recipe